After hiking boots or hiking shoes, a quality backpack is easily the most critical piece of equipment a hiker can take on the trail. The best backpacks can mean the difference between a great hike and a miserable one, so it's worth investing in a good ruck that can efficiently haul everything you need while being easy on your shoulders, back, and hips across any terrain. For minimalist hikers and those who rarely overnight in the backcountry, a daypack is the way to go. These compact, lightweight alternatives to traditional outdoor backpacks are designed to carry everything you need and nothing you don't. These are our favorite daypacks for toting your most essential gear in 2022.
REI Co-op Flash 22 Pack
REI has a knack for nailing the essentials on a budget, and their Flash 22 daypack has always been a favorite of ours. The Flash 22 (and its smaller/lighter Flash 18 sibling) got a complete overhaul for 2022, and we're loving the latest version. The 22 liters of internal space is right on the money for long days on the trail, the shoulder pads and hip belt are light yet supportive, and the twin side pockets are perfect for storing large water bottles for quick access. At just 14 ounces, the Flash 22 is a certified ultralight, yet provides better padding, packability, and ventilation than most daypacks in this range. Pound for pound, this might be the best daypack on a budget currently available.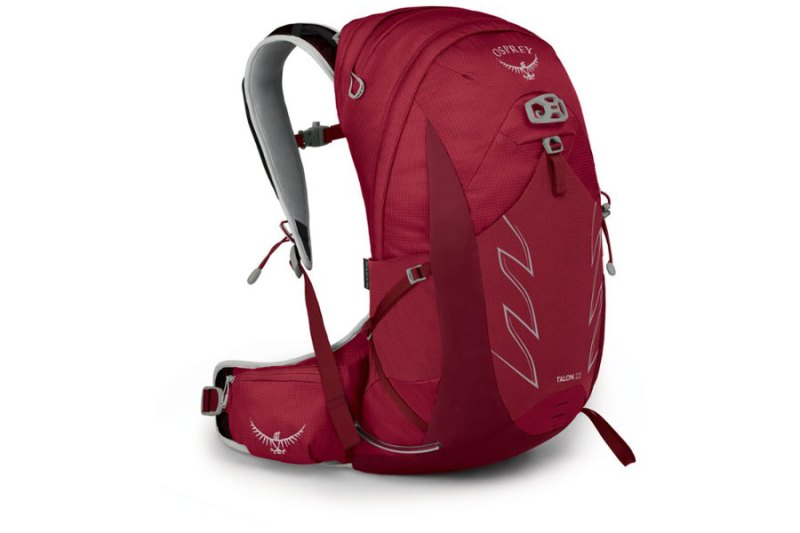 Osprey Talon 22
You can't talk about hiking packs without mentioning Osprey, and their Talon 22 day pack has been a perennial favorite for years. This pack is built from tough materials top to bottom, includes a proper hip belt with plenty of cushioning, a generous smattering of exterior storage pockets, and even includes bike-friendly attachments for helmet and safety lighting. The Talon 22 is definitely on the spendy side, but just like any Osprey pack, it's a smart investment that will last you for years of heavy use.
CamelBak Rim Runner 22
CamelBak cut its teeth making the world's best hydration bladders for outdoor adventure lovers. The brand's catalog has evolved to include a selection of excellent daypack,s too. The CamelBak Rim Runner 22 is our go-to hydration-centric daypack. With a 22-liter cargo capacity, it's just right for day hikes. Plus, it includes a built-in 2.5-liter Crux Reservoir for quick hydration top-ups with H20 or your favorite on-the-go drink mix.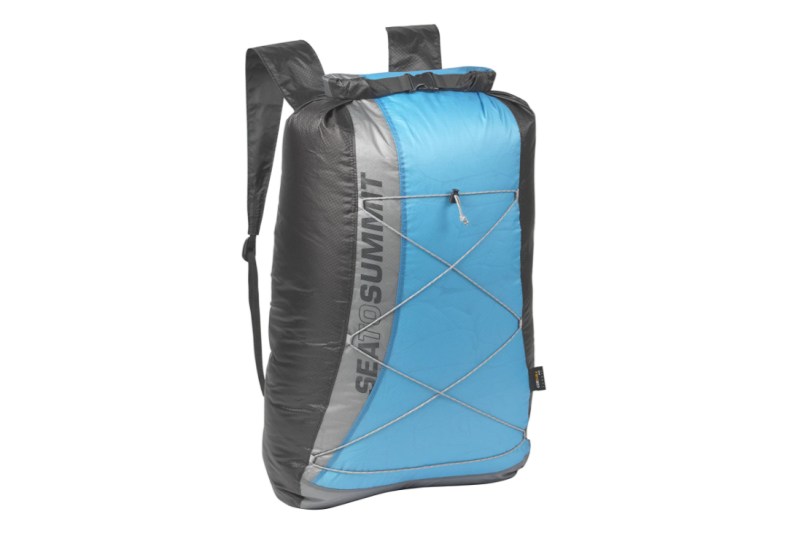 Sea To Summit Ultra-Sil Dry Day Pack
The Sea To Summit Ultra-Sil Dry Day Pack builds on the popularity of the award-winning Ultra-Sil Day Pack but adds a little extra space and a lot of extra water-resistance to the formula. The result is a 22-liter pack that's not afraid of rain, yet still packs down into a pocket (or keychain) friendly stuff sack. In addition to the added waterproofing, Sea To Summit also reinforced the shoulder straps on the Ultra-Sil Dry (which were a common complaint with the original model), so although it still lacks a hip belt, it's noticeably more comfortable when loaded down. The extra features add a little weight, but at 3.8 oz, it's still feather-light and impressively compact, and makes for a great all-rounder you can stash anywhere from a hip belt pocket to your glovebox.
Sea To Summit Ultra-Sil Dry Day Pack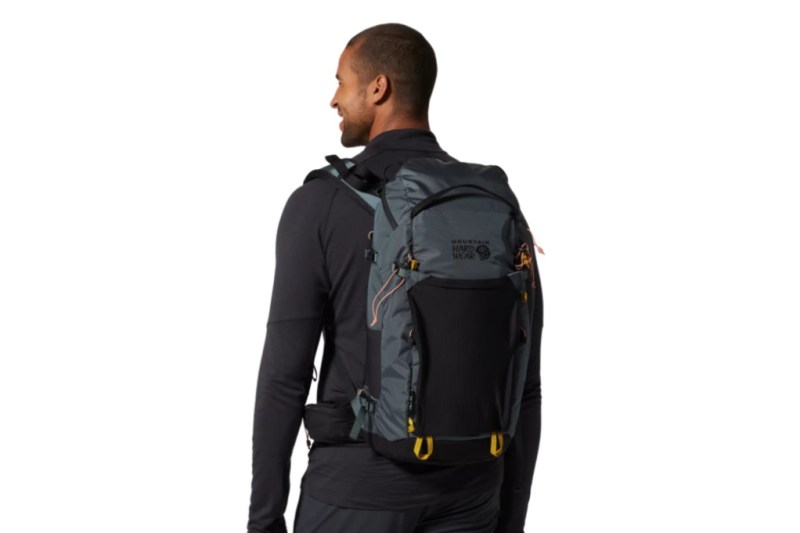 Mountain Hardwear JMT 25
The hallmark of a great do-it-all daypack is outright versatility, and the Mountain Hardware JMT 25 is one of the most versatile packs we've seen to date. In essence, the JMT 25 feels like a full feature backpacking bag that's been shrunken down for single-day use. The back panel and shoulder straps are well-padded and ventilated, the exterior is covered in versatile storage options including dual mesh side pockets and a stowaway front mesh compartment, and there's even an integrated spring steel frame that's well suited to hikers carrying heavier loads. We're also huge fans of the stowable hip belt, which includes dual hip belt pockets for quick access items like electronics and snacks on-the-go.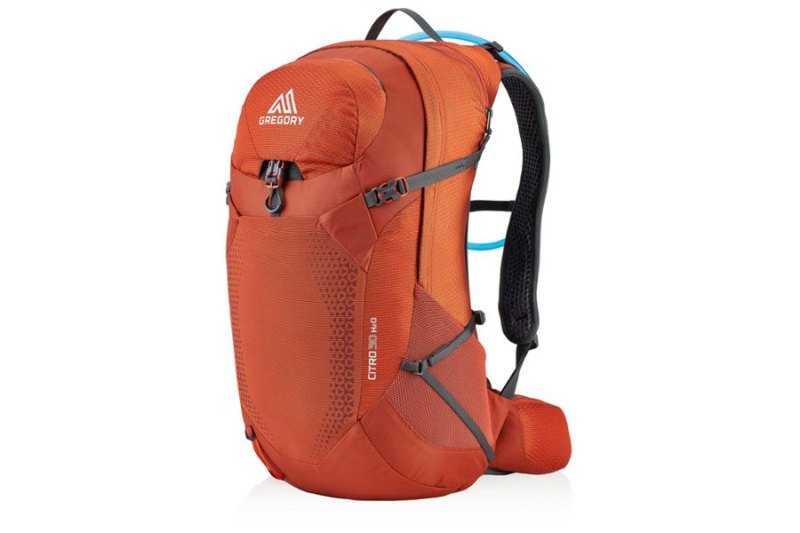 Gregory Citro 30 H2O Hydration Pack
Hardcore day hikers will no doubt balk at the idea of a 30-liter daypack. But for a versatile pack that's lighter than an expedition-worthy bag but larger than a traditional daypack, Gregory's Citro 30 is near perfect. The size is ideal for overpackers, for anyone who appreciates the luxury of bringing extra layers (or hiking snacks), or as a light overnight bag. It's surprisingly lightweight at just over 2 pounds, yet it's roomy enough to fit the included 3-liter soft-molded hydration reservoir. The long list of features includes innovative comfort tech, plenty of organizational pockets and pouches, and bungee attachment points for toting tools and trekking poles.
Gregory Citro 30 H2O Hydration Pack
Hyperlite Mountain Gear Daybreak
For day hikes in less than ideal conditions, it's hard to beat Hyperlight's aptly named Daybreak. In rain, hail, sleet, and locust swarms, this daypack is built to take a beating thanks to a Dyneema Composite Fabric shell that's durable and water-resistant. The 17-liter capacity might seem meager -- indeed, it's one of the smallest on this list -- but multiple expandable pockets on the outside provide plenty of extra storage space. The only downside is its $200-plus price tag.
Hyperlite Mountain Gear Daybreak
Salomon XA 15
The Salomon XA 15 is one for the serious trail runners out there who need a little extra storage. We love the XA 15 because it essentially functions as a running vest, housing a flexible water bottle inside each of its wide shoulder straps for fast access. Combine that with 15 liters of internal storage, a versatile mesh front pocket, and Salonmon's truly dialed Sense Pro compression system, and you've got a highly technical and reasonably versatile pack that's built to go the distance without weighing you down. We're particularly fond of the high degree of water resistance Salomon built into the XA 15 thanks to its roll-top design, highly water-resistant exterior fabrics, and a 100% waterproof interior pocket for worry-free electronics storage.
Editors' Recommendations