How long has it been since you last got your recommended dose of nature bathing and convivial happy-hour conversation around the campfire?
Probably too long.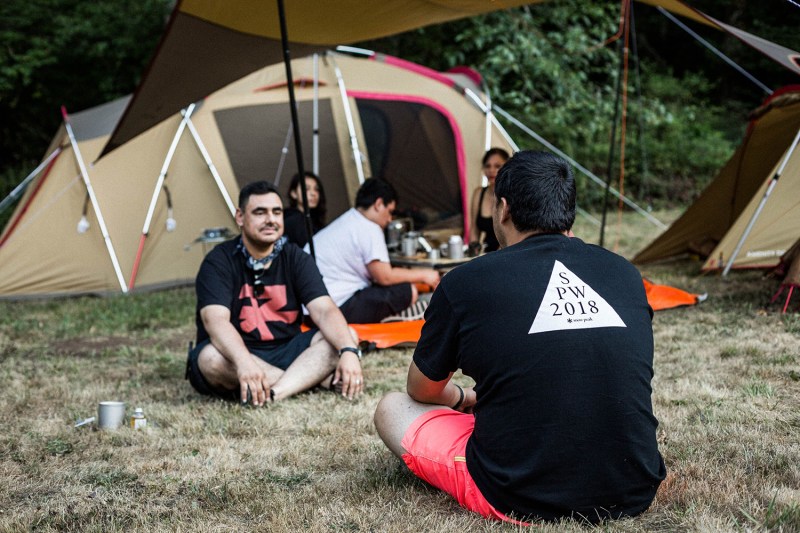 Snow Peak can help. The Japanese outdoor gear manufacturer has been running an annual campout, mingling staff and customers, in Japan since 1995. Last year saw the first annual United States Snow Peak Way in Stevenson, Washington. Campers set up their tents in Beacon Rock State Park campground and experienced the latest Snow Peak products, workshops, and campfire chats with Snow Peak staff and special guests. Snow Peak Way returns for 2022 on May 31 to June 2, again at Beacon Rock State Park.
What Is Snow Peak Way?
Over the two nights in the park, campers can choose from a variety of activities. And lounging around the campground waiting for happy hour is a perfectly valid itinerary.
For more active options, get a great view of the entire area on the Hamilton Mountain or Beacon Rock hikes. Or see some of the biggest waterfalls in the Columbia Gorge on a waterfall tour. For something more creative, design a tent flag with old Snow Peak tent material or try your hand at the centuries-old tradition of shibori tie-dye.
Workshops and new Snow Peak product demonstrations will fill in the gaps: learn new recipes for the trail from Dirty Gourmet, forage for new natural perfume ingredients with Juniper Ridge, try your hand at the fine art of fly casting with Fly Fishers Place, or start each day with some morning yoga in the fields.
What do you get by going?
Two-night camping stay
SPW USA Edition Mini Sierra Cup
Snow Peak Titanium 450 Mug
Oatmeal bar and coffee each day for breakfast
Open bar
Access to the camp field, workshops, demo area, and official activities
A Brief Snow Peak History
The name Snow Peak was inspired by Mount Tanigawa where founder Yukia Yamai challenged himself physically and mentally as a young man. Beautiful but deadly, Tanigawa is only 6,500 feet tall but has killed four times as many climbers as Everest.
During the 1940s and '50s, Yamai would take his European climbing equipment and ideas to the experienced metal craftsmen of the Tsubame Sanjo region to make improvements. Yamai never stopped tweaking the designs for their pitons, hobnails, and hammers; literally anything that was metal. In 1958 he founded Yamai Shoten which later became Snow Peak.
Since 1980, Yamai's son, Tohru Yamai, has expanded the elegant, metal outdoor gear manufacturer to the global company we know today with a full lineup of camping gear and apparel, and a soft spot for titanium.
Editors' Recommendations