Have you ever built a big, toasty fire inside your tent for some extra reading light? Or maybe tried carrying a burning torch down the trail to help you find your way after dark? Ever used a campfire to charge your phone? We're going to assume the answer is a resounding "No" because those are all terrible ideas. Look, we love a good fire as much as the next person, but there are some things they just aren't the best at (or the safest, for that matter). A few good camping lanterns on the other hand? Well, they'll do all that and then some.
Whether you're here looking for your first LED lantern or have an old kerosene Coleman getting a little long in the tooth, we've compiled everything you need to know to find the perfect torch in 2022. Below you'll find our in-depth buyer's guide on what makes the best camping lanterns worth having, as well as our top picks for the year on lanterns of every description.
Compact Lanterns and Backpacking Lanterns
Portable, packable, and convenient, compact lanterns are ideal for campers who like to travel light or anyone who wants a secondary light to carry around with them. In addition to backpacking applications, these lanterns are great for keeping on/in your tent after hours.
There's really nothing better to toss in your gear loft for some soft lighting before bed (great for reading or organizing your sleeping arrangement). And of course, when nature (or some rabid animal) calls in the middle of the night, you'll have a lantern within arms reach to shed some light outside the tent.
Best Overall: Olight Olantern Mini Lantern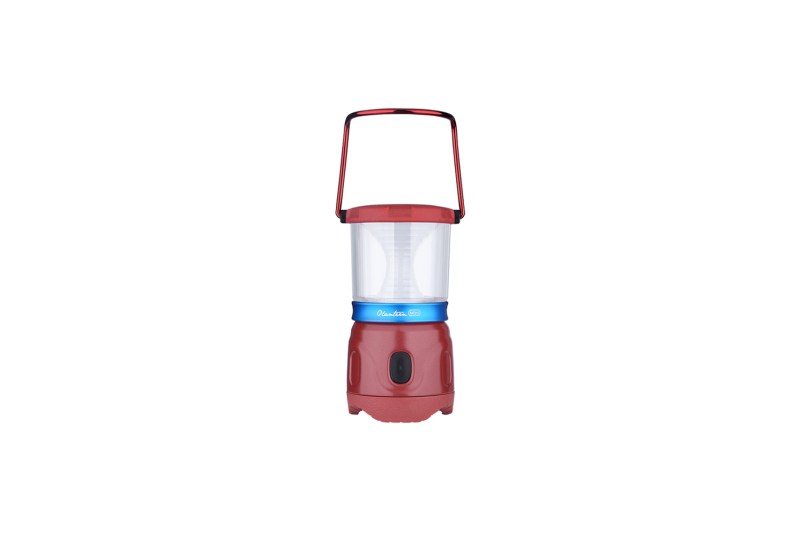 You really can't talk about rechargeable LED lights without talking about Olight. Their products are innovative and practical, which is why you'll hear more than a few EDC flashlight enthusiasts say "Olight or no light."
That may sound a bit biased, but we love Olight products, and this palm-sized lantern is no exception. The Olantern Mini is light and compact at just 8.4 ounces but packs a fantastic punch for its tiny size. Several brightness modes are available, with the brightest being a 360-degree, 150-lumens output. That's less than you'd want for a larger campsite but is about perfect for smaller spaces, or for a group of friends to sit around a table playing cards after dark.
We wouldn't recommend leaving the Olantern Mini out in a monsoon, but with an IPX4 waterproof rating, it should be fine in light rains or for a full 10 minutes or more in a full downpour. The Olantern Mini also gets bonus points for its soft red light mode, 48-hour runtime, and magnetic charging base.
Best Value: Black Diamond Moji Lantern
If the Olight is a little too spendy for your tastes, or you just prefer traditional batteries, take a look at the Black Diamond Moji. This tiny camping lantern weighs a scant 4.3 ounces (that includes its three AAA batteries), but can still crank out a full 100 lumens at maximum output. It's also got a handy dimmer switch which turns the Moji's output down as low as just 4 lumens, allowing this tiny torch to burn for up to 100 hours straight on a single set of batteries.
Dual hanging hooks are incorporated in the base of the lantern, so you can hang it wherever you please — whether it's the entrance of your tent or to the strap of your backpack. The Moji also shares the same IPX4-rated waterproofing as the Olight above, so while you wouldn't want to submerge it in water, a little rain isn't going to hurt it either.
Rechargeable LED Camping Lanterns
Rechargeable LED camping lanterns are the full-size, full-brightness alternative to classic gas-powered lanterns. Preparing food after dark, leading a group up to the bathhouse, and setting up the tent after hours are all in the wheelhouse of the rechargeable lantern. If you're looking for one lantern to rule them all, chances are you'll be shopping in this category.
Best Overall: Goal Zero Lighthouse 600 Rechargeable Lantern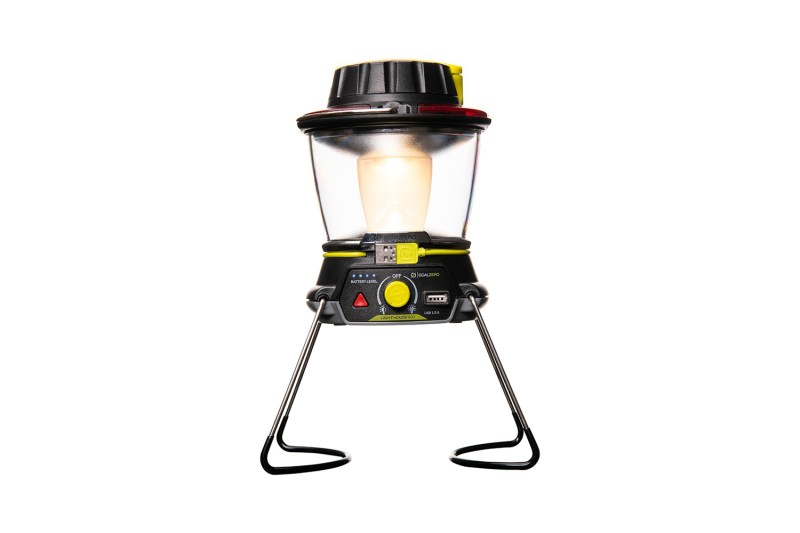 It doesn't get much more versatile than the Lighthouse 600 from Goal Zero. For starters, it's a powerful 600 lumens camping lantern that runs off a big ol' 5200 mAh internal battery (which doubles as a power bank) that'll run for up to 320 hours on a single charge. It's also surprisingly compact for such a powerful torch, weighing just north of one pound and packing down to about the size of your favorite Nalgene water bottle.
It uses an integrated USB cable for charging, but can also be recharged in an emergency using a collapsible hand crank. Output is adjustable to either a full 360-degrees or a 180-degree pattern if you only need light in one direction. Both light modes use a dimmer switch to fine-tune output, which helps you get the most out of the battery.
That being said, it should come as no surprise that the Lighthouse 600 also happens to be Goal Zero's best-selling lantern. In fact, they're so popular retailers have had a tough time keeping them in stock, so if you find one available online… You might want to jump on it.
Best Alternative Rechargeable Lantern: Lander Boulder Rechargeable Lantern
While the Lander Boulder LED lantern doesn't pack a punch quite as bright as the Goal Zero above (it tops out at 350 lumens), it's got so much cool stuff going for it we had a tough time deciding which we'd prefer. It's Bluetooth enabled, for instance, and can be controlled remotely from your smartphone using the free Lander app. The Boulder also features improved dust and weather protection with a more robust IP65 rating. Inside this sleek camping lantern, you'll also find a stow-away charging station with a retractable cord that can charge up to four electric devices simultaneously.
Also, if you get tired of boring old white light or are feeling a little mood lighting around camp, you have a full spectrum of colored light options to choose from instead. That means the Boulder checks our bonus feature box for a red light and makes for a great outdoor dance party companion if that's your thing. Lander rounds out the package with a solid 300-hour runtime on a full charge, which isn't quite up to par with the Goal Zero, but it's still plenty to get through a full weekend of camping while also keeping your phones charged.
Battery-Powered Camping Lanterns
Rechargeable camping lanterns may be all the rage, but that doesn't make the humble alkaline battery obsolete. There's something to be said for the simplicity and convenience of just swapping out replaceable batteries. Most notably, it doubles the advertised runtime of the lanterns below. So, if you want a reliable light and don't need modern conveniences like apps and USB ports, a battery-powered lantern could be the perfect fit.
Best Overall: UST Duro 30-Day LED Camping Lantern
Speaking of runtimes, how does thirty days of light sound? Well, there's only one lantern on our list that delivers that kind of punch, and it does it the old-fashioned way… With three giant, D-size batteries. Yes, the UST 30-Day Duro delivers a full 720 hours of illumination at a respectable 30 lumens output on a single set of batteries. That's an impressive feat, but it's not the only trick the UST has up its sleeve. This camping lantern can also blast out a full 1,000 lumens of light on its highest setting, which is the most of any lantern we considered, battery-powered or otherwise.
For your money, you'll get three light modes (high, medium, and low) plus a fourth emergency strobe function that automatically signals "SOS" for emergency/search and rescue teams. IPX4 water resistance also comes standard here, meaning this lantern goes toe-to-toe with several of the more expensive options on our list. If there are any real downsides to the 30-Day Duro, they'd have to be its size and weight, but at 7 by 4 inches, it's not exactly unwieldy, and weighs in just under 2 pounds with the batteries installed.
Best Value: Streamlight Siege Compact Hand Lantern
While the UST above isn't exactly extravagant, if you don't need a full 30 days of runtime or 1000 lumens of brightness, you can take home the Streamlight Siege Compact for $10 to $15 less. All things considered, the Siege is very similar to the UST in that it features three power levels, dual hanging hooks, and power provided by three D-size batteries. Light output is lower but still very bright at 540 lumens on its highest setting, and runtime is much less (but still plenty) at 295 hours. Where the Streamlight Siege distinguishes itself, however, is with its rugged build quality.
For instance, it's fully submersible in water with a full IPX7 waterproof rating, and will even float top-side up if you do happen to drop it in a lake, river, or hot tub. Its body is built with a rubberized coating around any impact points, which gives the Siege an impact resistance rating of up to two meters. It's also got a red light option to preserve your night vision in low light scenarios (plus, ya know, fewer bugs).
Solar Camping Lanterns
Rechargeable lanterns are convenient, but solar lanterns are convenient and then some. The lanterns below feature the same lithium battery technology as the rechargeable models above, but they can also be charged using the sun's rays. Additionally, these lanterns can be used to gather and store solar energy during the day to recharge phones, tablets, or GPS devices, making them extra useful for long-distance backpackers.
Best Overall: LuminAid PackLite Titan 2-in-1 Camping Lantern
Chances are you've seen a LuminAid camping lantern before either at REI or on an episode of ABC's Shark Tank. If you haven't, that's cool too, because the PackLite Titan 2-in-1 is by far their best yet and absolutely deserves our top pick for solar lanterns.
As the name suggests, the PackLite packs down flat to just 1″ thick and weighs just 12.5 ounces, making it just as useful for backpackers and car campers. The Titan features LuminAid's largest solar panel to date, which fully charges its 4000mAh battery in as little as 16 hours. Considering that the Titan packs a full 100-hour runtime on a single charge, you could essentially run it indefinitely, assuming you're charging during the day (and the weather is nice and sunny).
Brightness wise the PackLite Titan packs a surprising 300 lumens max and can be adjusted down to as few as 10 lumens for maximum runtime. It's also water and dustproof with a fantastic IP67 rating, which means this lantern is fully submersible in water up to a full meter.
The battery is also strong enough to recharge phones or tablets in as little as two hours, depending on the battery size. We've also got to give it to LuminAid for their focus on humanitarian efforts. Their "Give Light, Get Light" program works with organizations like Doctors Without Borders and Convoy of hope to get solar-powered light and charging to areas without access to electricity.
Best Value: MPowered Luci Outdoor 2.0 Pro Inflatable Solar Lantern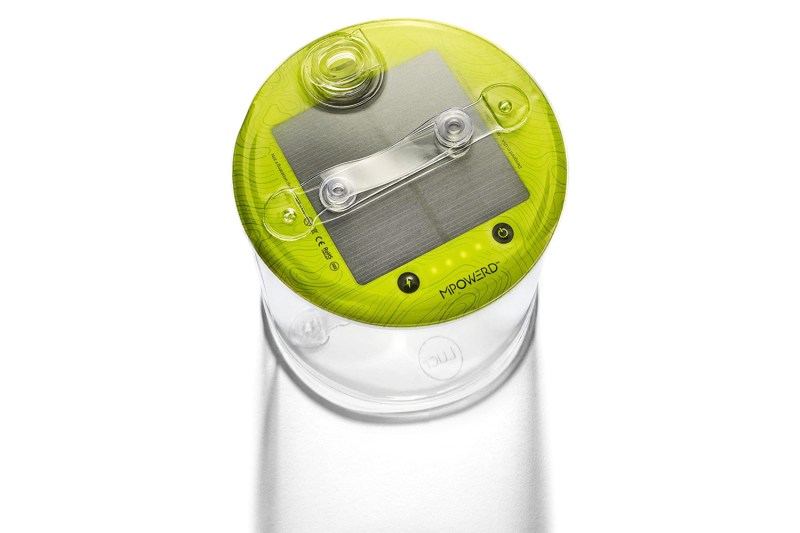 If you're shopping solar but don't need the extra brightness and runtime of the LuminAid Titan, MPowered's Luci Outdoor 2.0 Pro model is a comparable alternative for around half the price. Design-wise it's very similar, with a collapsible body and top-mounted solar panel, making it ideal for strapping onto an outdoor backpack to charge as you hike. The Luci is a little thicker at 1.5 inches collapsed, but it's also substantially lighter (thanks to a smaller capacity battery) at just 6.1 ounces.
It's got the same IP67 waterproof performance as well, and MPowered claims the Outdoor 2.0 Pro model is rugged enough to withstand up to 150 of pressure, so you won't have to worry about it getting thrown around in your pack or vehicle. The rechargeable battery packs a respectable 2000mAh capacity, which provides up to 150 lumens of brightness or up to 50 hours of runtime on a full charge.
Gas Powered Camping Lanterns
Tried-and-true, the classic gas-powered camping lantern brings a little extra warmth and nostalgia to your campsite as nothing else can. They're not the most compact, as they tend to be a bit on the heavy side, and they certainly won't charge your phone. But for many of us, the experience of firing up a rugged gas lantern just can't be beaten. Here are our top contenders if you're looking to go old-school.
Best Overall: Coleman Powerhouse Dual Fuel Lantern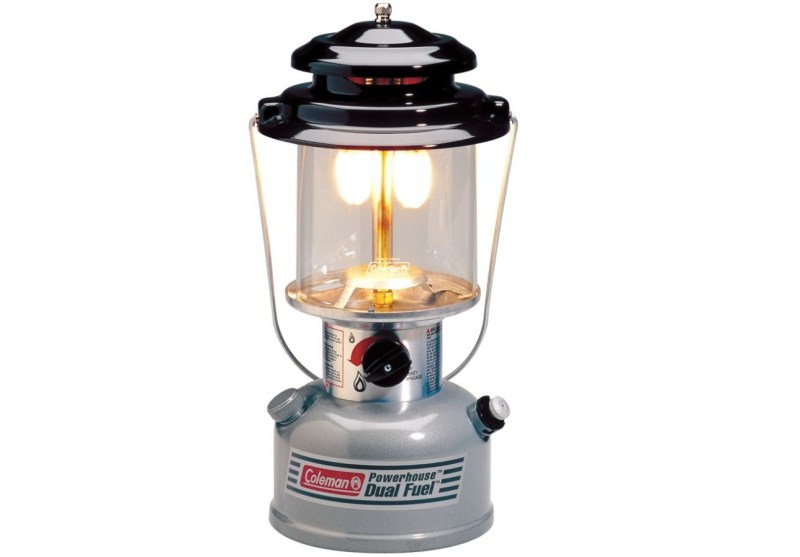 Nothing says classic outdoor gear like a Coleman product. Big flannel-lined sleeping bags, propane grills, thick air mattresses… Some things are just quintessentially Coleman, but nothing screams Coleman quite like a gas-powered lantern.
We can't say we're surprised Coleman is our top pick here (spoiler: It's also our second pick), considering there is a gas-powered lantern incorporated into their logo. If you want the best gas camping lantern available, we're betting our money on the Coleman Powerhouse Dual Fuel Lantern. It's got all that classic gas lantern charm with a dual mantle design, a real glass globe, a porcelain-coated ventilator, and a nice long carry handle that doubles as a secure anchor to hang your lantern overhead.
However, what sets the Powerhouse apart from your usual Coleman lantern is the "dual fuel" design, which enables you to fill the included fuel tank with either standard white gas/lantern fuel or good ol' fashioned gasoline straight from the pump. That may sound like a trivial detail, but it's one you'll appreciate when you're out of town camping hours away from your nearest outfitter.
Best Value: Coleman QuickPack Propane Lantern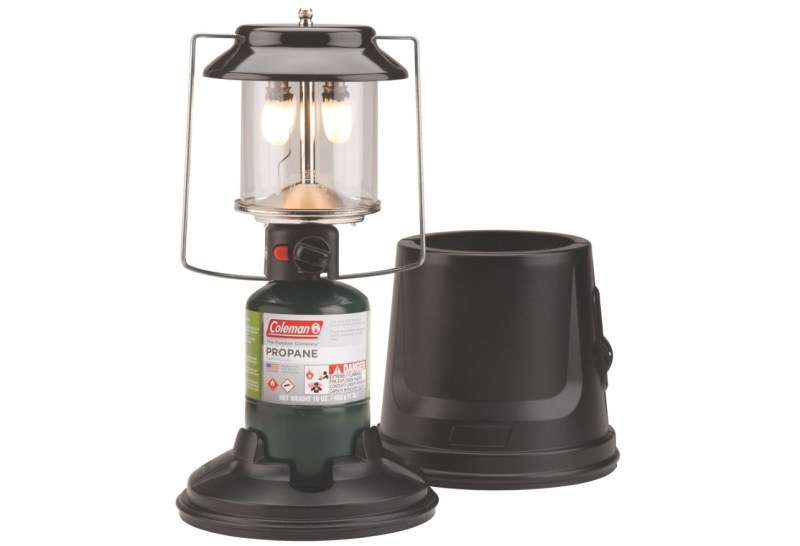 If you're looking to enjoy the warm light of a gas lantern but don't want to mess with the classic hand priming and match lighting that comes along with it, give the Coleman Quickpack Propane lantern a gander. The Quickpack mounts directly to a propane canister and has an auto-ignite button similar to a propane grill that allows you to turn the gas on, flick the switch, and dial in your preferred brightness.
Speaking of brightness, we like the powerful 1000 lumens max brightness of the Coleman Quickpack, which Coleman says will cast light as far as 22 meters. The Quickpack also gets bonus points for its sturdy base and included carrying case, which protects the globe (and helps preserve the mantles) when the lantern is in transit. We're also fans of the added convenience of using pre-made propane cylinders, so there's none of the potential mess associated with refilling kerosene or dual fuel lantern.
How To Choose A Camping Lantern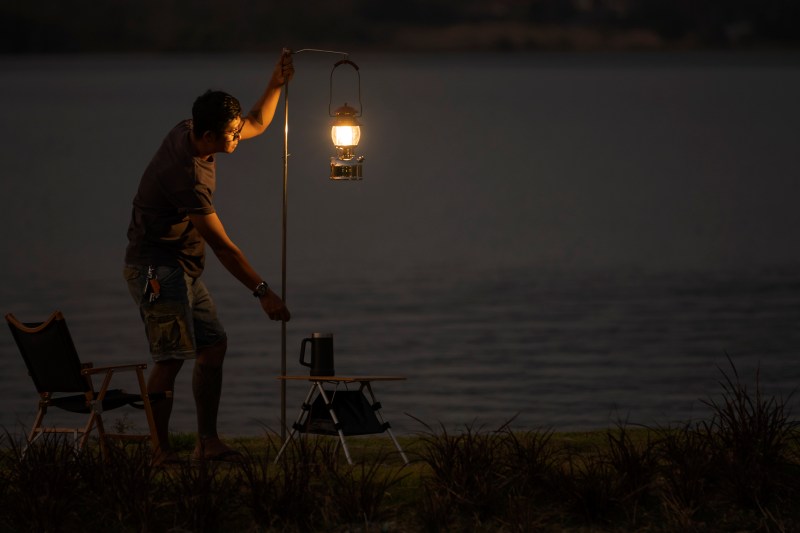 While the ultimate purpose of any useful lantern is roughly the same (ya know, lighting up your campsite), there are a few features that set the best options apart from your average lantern. When deciding on a purchase, keep the following factors in mind.
How Bright Should A Camping Lantern Be?
This one goes without saying, but you don't want to take a manufacturer's word when they say a lantern is "super bright." So how can you tell if one lantern is brighter than another? Well, lucky for us, there's a standard measurement for brightness called "lumens."
There's a long-winded (boring) scientific explanation behind how lumens are calculated, but for now, all you need to know is this: More lumens = brighter light. You'll want around 400 lumens to light up a decent area, although more is always better if you're in a larger campsite or want a brighter space. With that being said, you wouldn't want a camping lantern that blasts out 1,000 lumens all the time either, which brings us to our next topic.
How Important Is Adjustability?
The key to a truly versatile camping lantern is adjustable brightness. Some lanterns achieve this with a dial (similar to a dimmer switch in your home), while other use pre-set brightness modes like low, high, turbo, or even strobe.
The best camping lanterns are extra bright when you need them to be, and much more subtle when a little mood light is all you want. Lanterns with adjustable outputs also tend to live longer on a single charge or fuel canister because lower settings use less energy. The amount of time a lantern stays lit is also an important factor, and we call that "runtime."
How Long Should A Camping Lantern Last?
The amount of time a camping lantern will produce light without recharging, refueling, or swapping out fresh batteries is referred to as its "runtime." Several factors impact a lantern's maximum runtime, but generally speaking the longer the runtime, the easier a lantern is to live with. For example, an LED lantern with a rechargeable lithium-ion battery might have a runtime of 48 hours on a low setting or 8 hours on its highest setting.
Meanwhile, a propane lantern may only have a runtime of six hours on a lower setting before you have to refill, repressurize, and relight it. Hence, the power source of a lantern has a major impact on its real-world runtime, so let's dive into those while we're on the topic.
Size and Weight
In a perfect world, every lantern on this list would be exceptionally bright, long-lasting, waterproof, and small enough to fit into your pocket. Adding features to any camping lantern tends to add to both its size and weight, so you'll want to take that into consideration when making a purchase.
If you're looking for a lantern for car camping only, and won't ever need to carry it long distances or fit it into a backpack, you'll have a much higher selection of runtimes, fuel types, and brightness levels. Campers looking for a backpacking or compact lantern, on the other hand, should expect to make a tradeoff of either brightness or runtime in exchange for a more portable light source.
Which Is Better, Gas or Electric?
There's no debate here. Electric LED lanterns with rechargeable lithium-ion batteries have become the golden standard of camping lanterns. Battery technology is constantly improving, and that's great news for campers. Every year battery capacity increases, recharge times get shorter, and rechargeable lanterns get brighter, longer-lasting, and more convenient. The short answer to the gas v. electric question for 99% of campers is to go with electric, and rechargeable electric specifically. That said, there are still a few good reasons to consider the alternatives.
Conventional alkaline batteries, for instance, are still a popular option. Unlike rechargeable batteries, these fuel cells will hold their charges for years at a time, whereas lithium batteries will gradually lose their capacity sitting in your gear room. Plus, once a lithium battery runs out, you have to wait on it to charge, which isn't ideal in the middle of the woods. Alkaline batteries, alternatively, can just be swapped out on the go, drastically improving a lantern's effective runtime.
And what about gas lanterns, you ask? Well, truth be told, the benefit of a gas lantern nowadays is more in the experience itself than anything else. They're the vinyl records of the camping lantern world. Sure, electric models are smaller, lighter, more convenient, etc., but nothing quite compares to the warmth of a real flame or the experience of sitting around one of these classic beauties. It's also worth mentioning that a good gas-powered lantern is the kind of thing you'll hand down to future generations, even if it just goes up on the mantle as a decorative antique.
Are All Lanterns Waterproof?
This one often gets overlooked. Like any other piece of outdoor gear, your camping lantern is going to be exposed to the elements at some point. Some lantern manufacturers list their products as either "waterproof" or "water-resistant" but don't actually support those claims with any hard data.
When a product has been intentionally tested for waterproofing, it can be given an "IP" rating. IP ratings (also known as Ingress Protection ratings) use a standardized scale to identify how well a product resists water. IP ratings are assigned on a scale of 0-8, with an "IPX-0" rating signifying no water protection whatsoever, while an IPX-8 rating signifies a product that can be completely submerged for any period of time without being damaged by moisture.
Ideally, outdoor electronics like camping lanterns will have an IP rating of at least IPX4, which signifies they're safe to be splashed or rained on for short periods of time without being adversely affected.
Other Features To Consider
The features mentioned above are by far the most important to consider, but we've found there are a few "bonus" features some outdoor lanterns have that make them much easier to live with around camp.
Harshness/color: Everyone wants a nice bright light to gather around, but some lights are too bright for their own good. Be wary of exposed LEDs, harsh white lighting, or any lantern without some sort of diffuser to soften or tone its light. You don't want your cozy campsite looking like a field hospital.
Red/green light modes: This one is especially important for lanterns you plan on taking into the tent with you after hours, like compact or backpacking lanterns. Switching over to red or green lighting instead of brighter white or yellow light will preserve your night vision, making it perfect for a little reading in the tent before bed. As a bonus, red and green lights won't attract mosquitos and other buzzing/biting insects after dark.
Emergency strobe/beacon: Having a blinking/flashing function as an output mode on a camping lantern can come in handy for emergencies. Not such a big deal for casual car camping around dedicated sites, but if you'll be taking your lantern to more remote locations, a strobe/beacon mode can be used as an "S.O.S" to signal rescue teams.
Editors' Recommendations