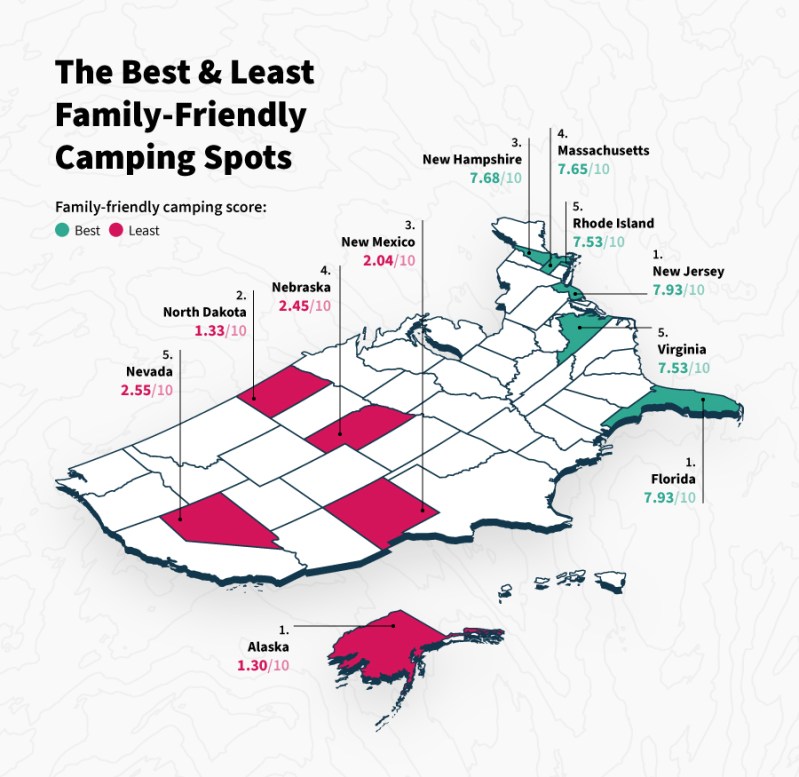 There are always problems you can run into when you go camping, but when you're bringing kids along (especially for their first trip), you want the experience to be memorable. Camping with kids takes a ton of preparation, but the Family Vacation Guide took out all the guesswork by analyzing eight crucial traits that could affect your camping experience. They considered everything, from activities to family-friendly camp spots and crime rates, and tallied the score to a final number out of 10. Other factors considered include social media data, hiking trails, safety scores, and annual temperatures. These are the best states for camping, according to the analysis.
Top 10 states for family camping
We're all for camping pretty much anywhere and everywhere, but Family Vacation Guide's report says these 10 states practically guarantee an extraordinary camping experience for your entire clan in 2023.
Florida
Florida, the sunshine state, takes the lead with a score of 7.93 out of 10 for safe camping spots. With its year-round sunshine and an average temperature of 70.7 degrees, this state offers a playground of diverse campsites, many of which receive four-star ratings.
New Jersey
Scoring neck-and-neck with Florida, New Jersey beckons with its beautiful inland camping spots in proximity to the sea. Immerse yourself in the state's white-sand beaches while partaking in many activities. With numerous family-friendly walking trails, New Jersey offers an outdoor wonderland for both young and old.
New Hampshire
New Hampshire earns a score of 7.68 out of 10, impressing families with its abundance of family-friendly camping grounds and activities. With an average temperature of 43.8 degrees, this state provides a refreshing retreat from the ordinary (especially in summer). Notably, New Hampshire boasts the lowest crime rate among the top contenders, ensuring peace of mind for a safe vacation.
Massachusetts
The third Northeast state on the list is Massachusetts, where families can revel in a camping experience that seamlessly blends seaside charm with dense forests. With a score of 7.65 out of 10, this coastal state offers an array of thrilling activities, from captivating boat tours to exhilarating jet skiing and parasailing. Explore the highest number of family-friendly hiking trails for this state's size and discover hidden treasures with your little ones.
Rhode Island
Rhode Island may be the smallest state, but it packs a punch with a score of 7.53 out of 10. History buffs will definitely appreciate everything this state has to offer. Rhode Island boasts the highest number of activities per 10,000 km2, with an astonishing 1,178 options to keep the fun going.
Virginia
Scoring equally as high as Rhode Island, Virginia emerges as a dream camping destination for families seeking a harmonious blend of natural wonders and engaging activities. Don't forget Virginia has some of the best colonial destinations in the United States, so don't miss the chance to bring your kids to places like Williamsburg.
Maine
Scoring 7.4 out of 10, Maine secures the second-highest number of Instagram posts in the top 10 after Florida, a testament to the breathtaking beauty found within its borders. With an average yearly temperature of 41 degrees and the third-lowest crime rate, Maine guarantees a safe and enchanting haven for your family camping vacation.
Vermont
Vermont, with its score of 6.84 out of 10, offers stunning scenery, from rolling hills to majestic mountains, as you partake in almost 300 activities per 10,000 km2. (And, if you need a break from the kids, it actually has a pretty cool wine scene.)
Delaware
Delaware has over 500 activities per 10,000 km2, so your family will never run out of things to do. With an average temperature of 55 degrees, this state offers comfortable weather for outdoor adventures.
Hawaii
While Hawaii holds the highest crime rate among the top 10 states, at 5,077 per 100,000 people, it compensates with its unparalleled array of activities per 10,000 km2. Second only to Rhode Island, Hawaii is a tropical paradise teeming with opportunities for adventure and relaxation.
From the sun-soaked beaches of Florida to the historical allure of Rhode Island, each state offers a distinctive blend of safety, adventure, and natural wonders.
Editors' Recommendations