The ocean's mystique has long captivated the human spirit, and the Australian brand SCORKL is making underwater exploration more accessible than ever before with its latest innovation, the SCORKL 2.0 Electric. This revolutionary breathing device promises up to 10 minutes of underwater breathing time, bringing the magic of the underwater world within arm's reach. Designed to redefine the way we experience the depths, the SCORKL 2.0 Electric presents a game-changing advancement in underwater exploration technology that combines scuba diving and snorkeling. Check out the video below to learn more.
Unlike its predecessor, the SCORKL 2.0 Electric boasts a significant enhancement—an electric air refill system that can be seamlessly integrated into various power sources. This innovation eliminates the constraints of traditional SCUBA air compressors, which are bulky and costly. Now, with the SCORKL, divers of all shapes, sizes, and budgets can explore the depths of the sea.
David Hallamore, the driving force behind SCORKL, comes from a deep-rooted passion for the water. He envisions the SCORKL Electric as a catalyst for sharing the beauty of water with everyone he touches. Growing up as a swimmer, diver, sailor, and more, Hallamore believes in sharing this indescribable freedom with the world, regardless of age or experience.
"I love the water, and the feeling of breathing underwater is truly incredible. My dream is to give everybody else the opportunity to experience that. SCORKL makes it possible—regardless of age or experience, anyone can now feel that indescribable freedom," he said in a statement.
SCORKL's mission of making underwater freedom accessible to everyone takes a monumental leap with the SCORKL 2.0 Electric. The Electric Compressor simplifies the process to an unprecedented degree, allowing users to more easily explore, clean hulls, untangle propellers, relocate anchors, or other underwater tasks. Whatever you're doing, the SCORKL Electric Compressor will revolutionize how you approach underwater adventures.
Unlike scuba diving gear, Hallamore explained that the Electric Compressor isn't just lightweight and portable but also versatile. It can be plugged into a wall outlet, connected to a boat or car battery, or even powered by the SCORKL Battery Pack. This flexibility means that underwater enthusiasts can experience the thrill of underwater exploration without being tethered to dive stores or stationary setups.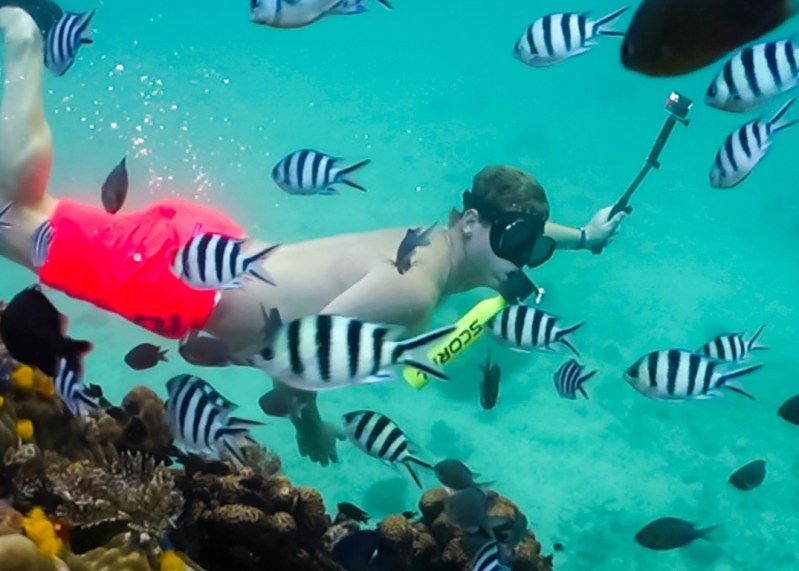 The SCORKL Battery Pack is designed with a sleek profile and marine-grade fittings, and this pack harnesses the power of common 18V power tool batteries. Compatible with reputable battery brands like Milwaukee, Makita, DeWalt, and Bosch, the SCORKL Battery Pack ensures that adventurers can refill their SCORKL Electric Compressor anywhere on the planet. With added features like LED lights and USB ports, this breathing device is designed for adventurers like you.
The SCORKL 2.0 Electric is a testament to human ingenuity and the desire to make diving more accessible. Its electric air refill system and battery-powered options pave the way for all kinds of underwater adventures. Whether you're a seasoned diver or someone looking to dip your toes into the sport, this device is sure to pique your interest.
Editors' Recommendations