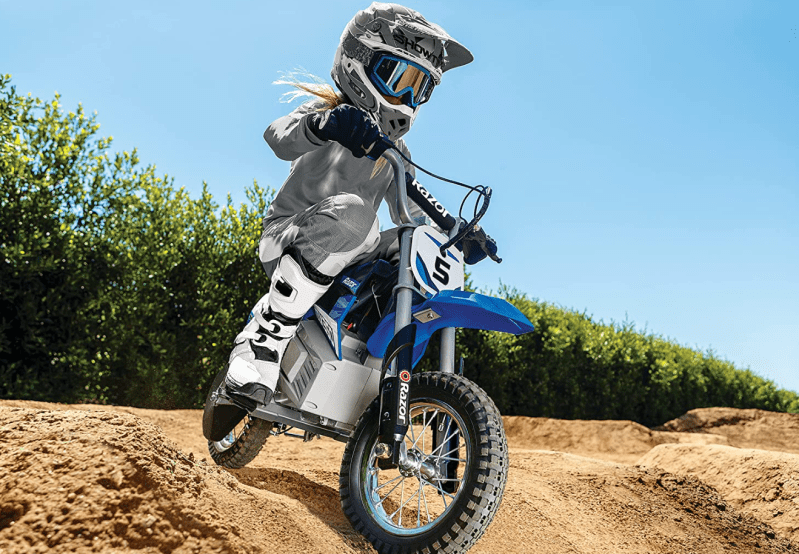 Nothing beats a high-speed bike ride on a beautiful day, wind in your hair, road at your back — or some dirt — except maybe a good cup of coffee. Of course, not everyone likes coffee so you'll have to settle for that bike ride because, right now, Best Buy is offering a fantastic deal on an electric dirt bike. The Razor MX350 Dirt Rocket, with a 14 miles per hour max speed, is just $300 today. Down from $400, that's a total savings of $100, and this beast is ready to pick up today in most areas. On a single charge, it offers up to 30 minutes of continuous use, on the trail or off. Let's take a closer look under the chassis to see what you get with it.
Why you should buy the Razor MX350 Dirt Rocket eBike
Dirt bikes aren't usually electric-powered, but this one certainly is. It offers up to 30 minutes of continuous use on a single charge and will reach speeds up to 14 miles per hour. That's made possible thanks to the built-in 24v sealed lead-acid rechargeable battery system. Like one of the best electric motorcycles, it's better for the environment and produces no emissions. That's a huge plus since conventional gas-powered bikes, like dirt bikes, tend to produce a lot of emissions. You can have fun on this beast without feeling guilty about it.
Most importantly, with a bike of this caliber, you want to know it can handle those extreme off-road adventures. After all, where's the fun in the experience if it can't? Don't fret, because the Dirt Rocket is built for rugged terrain. The pneumatic knobby tires can take on just about anything from mud to soft dirt, all while providing excellent support and performance. Meanwhile, the rear-wheel, chain drive, and twist-grip throttle, with hand-operated brakes, all provide added benefits while riding off-road.
If you or your family are into motocross and want to give it a try for yourselves, somewhere suitable, this Razor MX350 is just what you need.
The best part is that it's on sale at an incredible discount at Best Buy today, saving you $100. Normally $400, you can grab it for $300, and either have it delivered or pick it up in-store — depending on where you live. Don't miss out, because this deal is not going to be available for long, and word on the trail is it's selling out super quick. When it's gone it's gone for good.
Editors' Recommendations