What is sidewall construction and why does it matter? What is Titanal and do you want it in your skis? Do you need to go with one of the best ski brands and spend thousands of dollars on gear and the best skis or to have fun on the hill? These are all questions a shopper for new skis may have to answer.
The variety of skis available to the urban shopper is both a blessing for the 100-days-a-year shredder and a curse for those who just want something decent to have fun on in between trips to the lodge bar and buffet. Here, we will decode the major technical aspects one has to consider before picking their planks and heading to your local ski resort.
Ski shape
Skis are slippery planks that come in different levels of float and sensitivity that allow you to control input from your feet through different shapes, sizes and degrees of stiffness.
Narrow-waisted skis of around 80-millimeters wide will not float over powder like a pair of big mountain or "all-mountain wide" skis, but they are nimble and well-suited to fast-twitch, agile styles or users in need of low-effort changes of direction. These skis target beginners or on-piste chargers as they require smaller lateral shifts in your center of gravity to push the arced edge of the skis into the snow and initiate a turn. Narrow skis are suited to the denser snow conditions of the Eastern United States, or for front-side resort groomers in most places.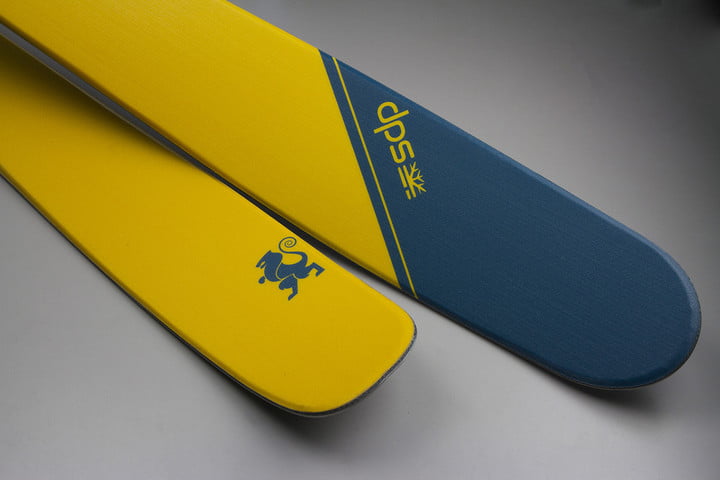 Wide-waisted skis with widths of about 95 millimeters or larger have the surface area necessary to distribute your body weight and keep you afloat in the powdery, low-density snow often found in the backcountry or popular resorts in the Western United States. The increased flotation from wider skis rewards a skier with the ability to surf down a mountain under optimal conditions, but the increased distance you must shift your weight from side to side to knife into a turn demands greater physical exertion from the skier.
Manufacturers counteract the increased physical demand of handling wider skis by offering products that employ a rockered, upturned shape in the tip and tail that make a ski behave as if it were smaller when riding on harder snow conditions. The result is a minimized effective edge in contact with the snow that allows for wide skis to carve a tighter arc. A little bit of tip and tail rocker makes for versatile capabilities in a myriad of conditions where the skis might otherwise be too difficult to turn when not on powder. The more tip and tail rocker a ski has, the shorter the ski will ride compared to other skis of the same length.
Cores and composite layers
Ski manufacturers produce ski cores with different combinations of weight, torsional rigidity, and lengthwise flex to provide an assortment of skis for skiers with different styles and ability levels. Most skis designed for the mass market remain constructed with wood cores, as they were when people first took to the hills. Wood-dominant cores are available at a variety of price points, and offer a popular blend of pop in the turns and stability in the straights that pleases habitual skiers.
Skis designed for entry-level abilities or budget-minded users tend to be made with softer, gentler, more forgiving polyurethane foam cores with less-snappy rebounding characteristics that keep the riding smooth and controllable. These cheaper cores are often low-density when compared to metals and denser woods, and tend to load up with less energy when the camber is compressed by your body weight during a turn. Foam skis unload energy on turn exit with less kickback than stiffer skis. These characteristics translate well to a beginner or intermediate user developing their strength, form, and technique. Foam skis are made to be enjoyable at slow to moderate speeds down groomed runs, as their ease of flex also leads to a less responsive ride at higher speeds.
To accommodate the experienced skier with an aggressive, fast-riding style, manufacturers produce stiffer skis by mixing in composite layers with exotically titled materials like Titanal, triaxial fiberglass, and carbon fiber to reinforce the wood core. The inclusion of stiff and light carbon fiber stringers. as well as layers of Titanal — an aluminum alloy that is counterintuitively sans titanium — produces a lively, low swing weight product that is stable but maneuverable, and more suited to high-speed carving.
When shopping for skis, keep in mind that the more Titanal, fiberglass, and carbon fiber you see advertised in a ski, the more torsional and longitudinal rigidity it will have. Rigid skis with lots of reinforcement are sought after by capable users in search of aggressive skis that accelerate out of turns and respond to even the tiniest adjustment of control inputs. However, they should also be avoided by those shopping for their first pair.
Sidewall construction
Beginning or budget-conscious skiers should consider "cap construction" skis in which the top layers of a ski are molded down over the sidewall of a ski to the base. A cap construction ski offers higher durability at a lower price and lower weight than a ski with full sandwich construction. Cap skis have less resistance to torsion, and thus have reduced edge hold given they're more often in entry-level skis.
Full sandwich construction is expensive to manufacture but results in a ski that bites into hard pack when the effective edge of a ski is fully engaged. The added sidewall material used in a sandwich construction makes for a heavier ski, but the result is a ski stiffer than one with a rounded cap-style top sheet. The stiffer design minimizes unwanted twist and wobble in the ski at higher speeds.
"Hybrid cap" construction offers sandwich construction along the effective edge of a ski and cap construction on the tip and tail. Manufacturers who offer this option do so to provide aggressive edge hold underfoot but lower swing weights where it matters. This makes for a durable and playful ski with bite and agility that is well-suited for the one-ski quiver of an intermediate rider.
Which skis are right for my activity?
Have you reached your limit of free time spent learning about your favorite hobby? Think of your skill level, the type of conditions you ski the most in, and how much time you plan to spend going both uphill and downhill with your skis. Do you love making turns all year and aren't afraid to pay for the privilege of skinning up a hill? Consider the Tour1 series from DPS, which feature ultra-lightweight balsa cores and layers of carbon to keep the hiking up just as fun as skiing down. Are you an adventurous free rider who loves slaying fresh powder but needs versatility for crispier days? Check out the Rossignol Soul 7 HD , which come with a goldilocks 106 waist width and patented Air Tip technology for float and versatility that should keep you happy west of Denver.
Are you buying your first pair of skis but looking to invest in something that will keep you smiling for a few seasons down the greens and blues? The K2 Konic 75 has a forgiving core with friendly tip rocker and a low weight to help you progress in your abilities — and you'll also still being able to afford groceries at the end of the month. Picking a setup with the right traits is key to having fun, not throwing money at a primo pair.
Looking for more ski gear? We've also found the best ski backpacks, ski boots, and ski helmets you can buy right now.
Editors' Recommendations