With the ski season in full swing, we found some of the best ski backpacks to carry all your gear. Whether it's a holiday you have been planning for months or a spur of the moment trip, now is the time to make sure you have all the right skiing and snowboarding equipment. There is still time for last-minute purchases before you head off on the slopes. If you're an avid skier, you no doubt already have the basics — skis (or a snowboard), goggles, a ski helmet, and winter laters. But what about a good backpack to stash all that gear?
The right snowboard or ski backpack is lightweight, durable, and weatherproof. A versatile bag will lend itself to days on the slopes, alpine touring, and those lofty summit attempts. What makes these bags so special is the snow-specific functionality they offer. Special pockets keep your shovel and probe at the ready in case of an avalanche. An inflatable airbag will help you float high in the snow in case you are caught in an avalanche yourself. While spendy, this life-saving technology should seriously be considered for anyone venturing into the backcountry.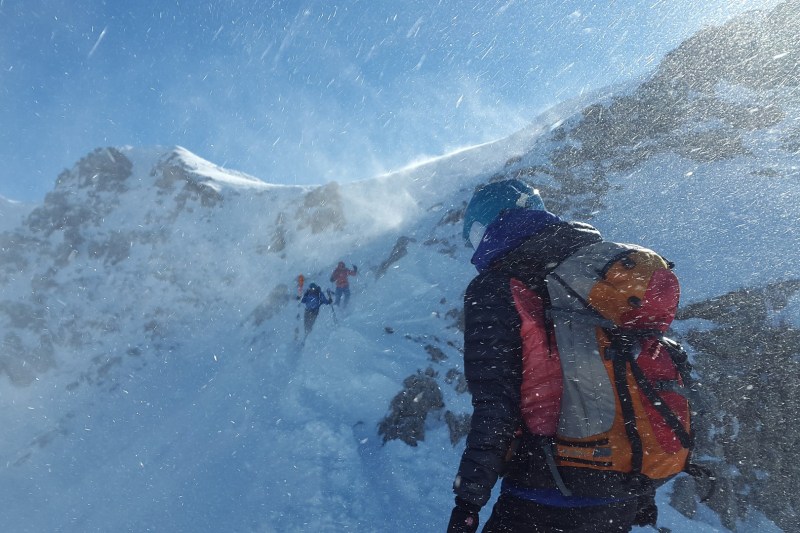 To help you know which pack is best for your winter adventures, we've sifted through what's available and tested a slew of models from the best outdoor brands on the market. Here are our picks of the best men's ski backpacks.
Deuter Freerider Pro 34+ Snow / Ski Backpack
Deuter is best known for its hiking and backcountry packs. But the German brand's Freerider winter backpack series is just as solid. The Freerider 34+ is the largest on this list, with a base capacity of 34 liters. Plus, an expandable collar in the roll-top closure unfurls to add 10 more liters when needed. It's an excellent solution for backcountry enthusiasts who like — or need — to pack tons of extra gear for a day or a long weekend on the trails. Plenty of lash points and well-placed loops are available to secure ice tools, skis, helmets, gloves, and more.
Black Diamond JetForce Pro Avalanche Airbag 25L Ski Backpack
For hardcore backcountry skiers, avalanche preparedness is critical. Knowing what to do in the event of an avalanche is the first step, but having the right gear is just as important. Black Diamond's flagship JetForce Pro boasts a battery-powered airbag that deploys — and potentially saves your life — if the worst should happen. It's powered by a rechargeable battery-powered airbag (arguably better than one-time use gas canister-powered airbags) yet is surprisingly lightweight. The 25-liter capacity hits the sweet spot of compact but practical enough for all but the heaviest packers.
Osprey Soelden 32 Ski Backpack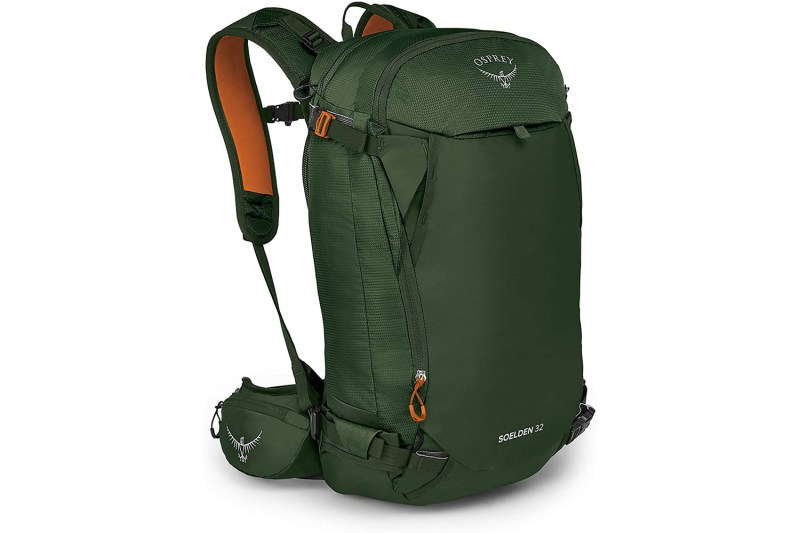 Whether you're into leisure travel, hiking, or snow sports, Osprey makes some of the best backpacks on the market. The Soelden 32 is one of the most versatile and best all-around ski backpacks for every style and experience level of skier and snowboarder. The smart design provides full access via a back panel to the main dry storage compartment and a large front panel with J-zip access to your essential tools. What sets it apart from the competition is that it's purpose-built with all-day comfort in mind.
Black Diamond Cirque 45 Ski Backpack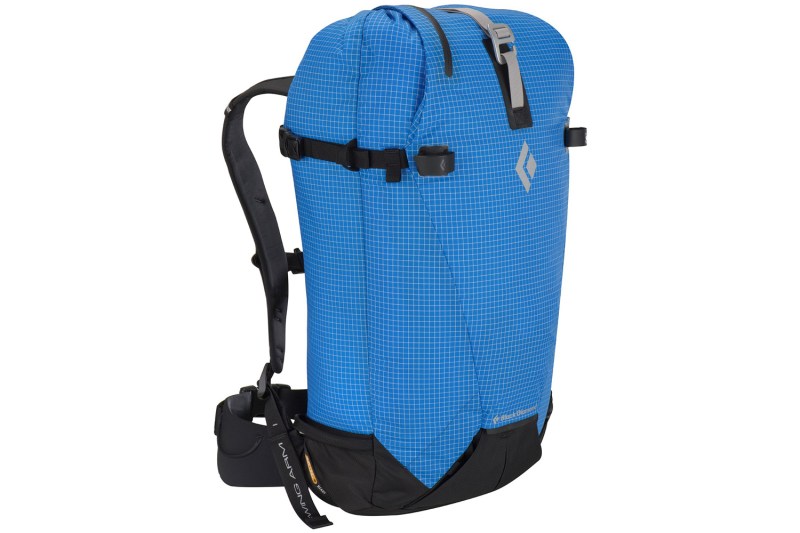 If you prefer more hardcore backcountry pursuits, Black Diamond's Cirque 45 is one of the best ski bags for intense off-trail assaults. The flagship 45-liter capacity is big enough for hauling your essentials up and back down the mountain with ease. It features a helmet flap, dual ice ax loops, A-frame and diagonal ski carry straps, and a rope strap beneath the lid. The only thing missing is a snowboard-carry option. But for skiers, it's hard to overlook the featherweight design, which weighs just 2 pounds, 5 ounces.
Backcountry Access Float 42 Avalanche Bag
Exploring avalanche territory requires serious gear. The Backcountry Access Float 42 is designed to keep hardcore skiers and snowboards safe in a worst-case scenario, which is why it's been an industry favorite for years. Unlike battery-powered alternatives, the Float 42 relies on compressed air canisters, so it's lighter, inflates faster, and costs significantly less.
Black Crows Dorsa 20 Ski Backpack
Many Statesiders haven't yet heard of Black Crows, but they will as the name is quickly gaining traction in the U.S. It's already recognized as one of the best ski brands in Europe. The Dorsa 20 is an urban-inspired ski backpack for streamlined assaults where fast is better than fully equipped. The lightweight (just 1 pound, 12.2 ounces) design wears easy with enough room for all your essentials for quick day runs in the backcountry.
CamelBak Powderhound 12 Hydration Pack
For skiers and snowboarders who really want to pare down, sometimes a hydration pack is all that's required. CamelBak is well known for making some of the world's best hydration packs, and the aptly named Powderhound 12 is no exception. In addition to a 3-liter water reservoir, it boasts 12 liters of storage space. That's just enough for hauling all your required kit, like an avalanche shovel, probe, and other miscellaneous effects.
How to Pick the Right Ski Backpack
It's easy to assume that "a backpack is a backpack is a backpack." Sure, any ol' backpack will mostly work on the slopes — mostly. But we wouldn't recommend it. You want a ski backpack with the right fabric to maximize water resistance. Because, face it: If your bag gets wet, then your equipment gets wet, and you'll be forced to lug all that soggy, heavy gear up and down the mountain.
The weight of your backpack might be another concern. It might look as though the differences are minimal, but when you're loading up gear, you start to notice those pounds, especially if you're heading out for long days in the backcountry. Keep an eye toward the smallest possible bag with the necessary room for your ski essentials. As with any gear-heavy outdoor adventure, minimizing weight will make your next outing much more enjoyable.
For around-the-mountain transport, the type of bag you select doesn't matter as much. If you plan to ski or board while wearing the bag, a better quality, purpose-built ski backpack will be much easier to manage. The best bags will have straps to fasten around your waist area that help distribute the load better and minimize shifting — both of which can be problematic when you're on the slopes.
What Do the 'L' Numbers Mean?
Lastly, if you've been shopping for ski backpacks (or any outdoor backpack for that matter) long enough, you'll have noticed most have an "L" rating after their name. This is the industry standard for measuring the volume (in liters) of each backpack. So, for example, 30L and 45L backpacks offer 30 liters and 45 liters, respectively, of interior "room" for your ski equipment.
Most skiers who aren't planning to overnight in the backcountry will do just fine with a bag that's around 28L. This capacity provides plenty of room for your essential ski gear, yet it's compact enough to wear comfortably for an entire day on the slopes.
Editors' Recommendations