This content was produced in partnership with Growatt.
Modern portable electronic devices are undeniably convenient, but there's a catch: You need to keep them powered up. That can be a challenge when you're on the move a lot, especially when you're on the road, on vacation, camping, and in other environments where a power outlet might not be handy (or people are fighting over the few that are available). The popularity of mobile devices has naturally coincided with the rise of portable charging solutions, and if you're in the market for what might be the perfect portable charging station, then the new Growatt VITA 550 is worth a look. This compact power station launched at CES 2023. The original price is $529, but the Early Bird Price drops $100 off, bringing the pre-order to $429. From now until January 31st, 2023 when you use coupon code GroVita550 you'll get an extra $30 — bringing the Growatt VITA price to $399.
The Growatt VITA 550 is not your average portable power station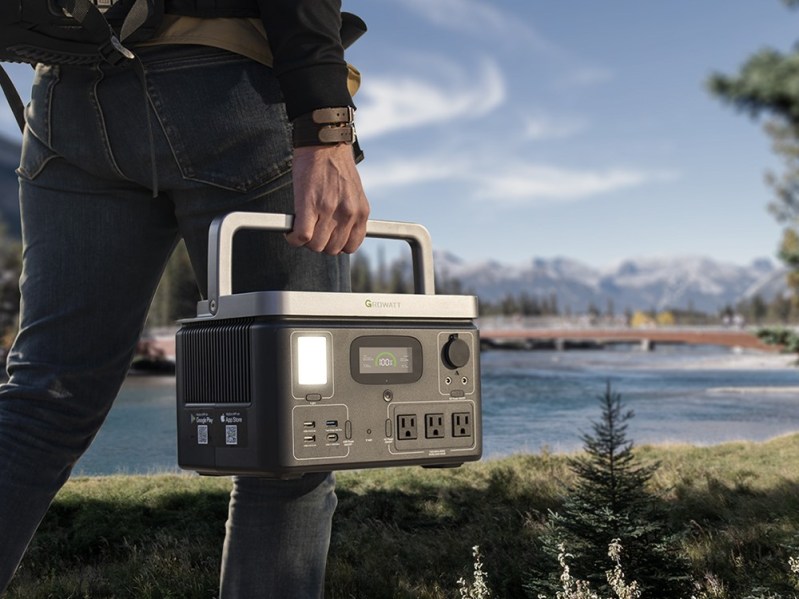 Growatt is a leading brand in the market of smart home energy management and portable charging technology. The VITA 550 is Growatt's second power station following the launch of its INFINITY 1500 earlier this year, with the VITA 550 representing a more compact alternative to larger charging stations like the INFINITY. Its light weight and portability make the VITA 550 an ideal power station for travel and the outdoors, and it sports some novel technologies that set it ahead of the competition and live up to Growatt's pedigree as an industry leader.
The Growatt VITA 550 features a LiFePO4 with a 538Wh capacity. This LFP battery offers fast charging but is rated for 3,000 cycles, giving it a significantly longer lifespan than similar fast-charging power stations which are typically rated for around 800 charging cycles, realized through the LFP battery – LFP batteries have a longer lifespan than most others. Thanks to a 99% Maximum Power Point Tracking (MPPT) efficiency, which is the conversion efficiency between solar energy and battery power, the VITA 550 is able to be charged in 2.5 hours with a 240-watt solar input. Features like temperature protection, voltage protection, charging/discharging protection, and short-circuit protection also keep things running smoothly and safely. When plugged into an AC outlet, the bidirectional inverter enables the VITA 550 to be fully charged in just over an hour and a half, a stark improvement over the typical four to five hours it takes to charge a similar power station.
Adaptability for all your charging needs
The Growatt VITA 550 portable power station features an output of up to 600 watts with 11 different charging points for juicing up various devices. Up top sits a multi-coil wireless charging pad. On the front, you've got three AC outlets, three USB-A ports, a USB-C port, a car charging outlet, and two DC 5521 ports. An easy-to-read LCD display is also located on the front of the power station and gives you a precise readout of charging activity and power levels at a glance. Right next to the LCD display is an adjustable LED light so you don't have to fumble around trying to find outlets in the dark, and the lamp can double as an SOS signal if needed.
Growatt is also an expert of solar charging technology, and the VITA 550 power station is compatible with a solar charging panel for even more outdoor versatility. With a solar panel, you can juice the VITA 550's internal battery up to a full charge in as little as two and a half hours — the fastest solar charging speed in the industry for a power station of this capacity.
Smart features for the mobile age
The Growatt VITA 550 boasts some impressive smart features as well, including both Wi-Fi and Bluetooth wireless connectivity that allows you to monitor, manage, and control the power station remotely. The MyGro companion app is available for iOS and Android. You can check wattage and battery levels, turn outlets on and off, schedule charging times, and even adjust charging speeds so you can direct the available power exactly where you want it.
Growatt just pulled back the curtain on the all-new VITA 550 at the CES 2023 trade show on January 5, and for a limited time, this cutting-edge smart portable power station is available for preorder with a nice discount attached. Normally $529, preorder the Growatt VITA 550 before January 31, for the Early Bird Price at $100 off, bringing your pre-order to $429. Also, from now until January 31st, 2023 you can use code GroVita550 to receive an extra $30 off — bringing the Growatt VITA price to $399. Whether it's for your next trip or you just need a compact backup energy solution for your home, the Growatt VITA 550 is a powerful, versatile, and highly portable power station that's fit for just about all your charging needs.
Editors' Recommendations