Going camping, whether by yourself, with friends, or with your entire family, can be a lot of fun. It can also be a massive headache, mainly when you don't take the time to prepare beforehand. By preparing, we're talking about ensuring that you take all the essentials with you. Creating a camping packing list is the best way to do that.
Now, if you're the type who wants to make sure your trip goes off without a hitch, then check out the family camping packing list we've put together below. Feel free to use it as a template to make your own! It's sure to save you time and might even save you money, too.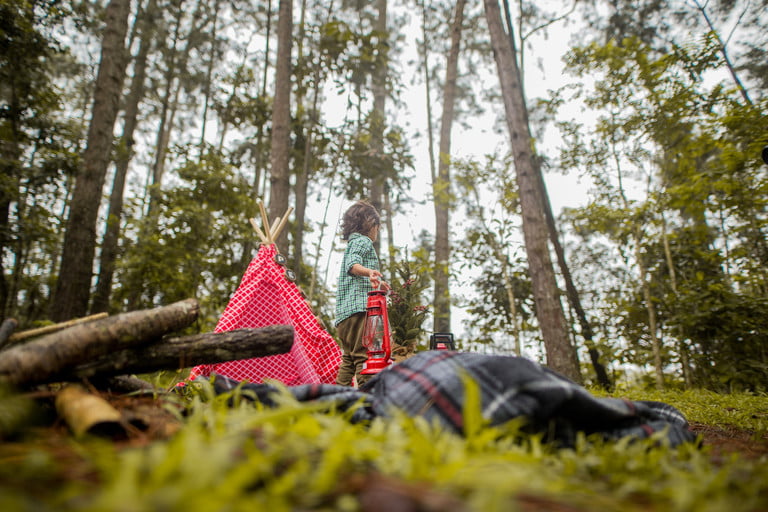 Family camping tips
When do you plan on going camping? The first step to planning is to get a date set on your calendar. Remember that campgrounds tend to fill up pretty quickly. It's not unusual for lots of people to have the same idea that you do. It's a best practice to get a jump on the flood of traffic that's heading out to the campgrounds.
To do that, you'll want to leave during the week, well before the weekend, if possible. If it's not, then still try to leave early on a Friday so that you can beat the rush. Doing so can enable you and your family to arrive at your destination and potentially set up camp well before dark.
You may also want to invite some friends along. You may not think so, but having another family along can help reduce stress by keeping all the kids occupied and happy. Remember to check the rules of whatever campground you go to. Some have regulations concerning the size of your group. Finding that info can be as easy as looking it up on a search engine.
Get your gear together
You'll want to take what you need, but don't overpack. Be sure to go over all the equipment you'll use for cooking and lighting campfires before you leave. You don't want to show up and realize that something is broken and unusable.
OK, we know you're chomping at the bit. Here's the list you've been waiting for!
Ensure you have the essentials
Even though many campsites these days include running water, bathrooms, and even showers, there are some things you should always take with you just in case:
Bottled water
Parachute cord (you can use it for a clothesline and lots of other things — super handy to have).
Swiss army knife
Lantern
Flashlights with long-lasting or rechargeable batteries.
Family first aid kit
Sleeping pads (no one wants to sleep on the hard ground if they don't have to).
Sleeping bags (to place on the sleeping pads; rated for the climate and temperature).
Pillows
Camp chairs
Camp stove (you could theoretically cook over your campfire, but if you've never done that before … stick with the camp stove for now).
A couple of tarps in case of rain and to use as a layer between the ground and the tent floor.
Tent and tent stakes (make sure yours is large enough for your family to sleep in, or have one for the parents and one for the kids, etc.).
While you can rent some of the gear mentioned above, it's always a better option to buy your own. Knowing how to use these things is important. If you don't know how, you should learn before heading out.
Gear and clothes for camping
Now, you could camp out in your car if being rugged isn't for you. If that's the case, then you could simply use a good, hard suitcase to carry your clothing in. However, if you're going to hike out to a campsite, then you'll want to use a good backpack that's designed for camping. When it comes to camping gear and clothes, keep the following in mind:
Take clothes you can layer for warmth (T-shirt, long-sleeve shirt, hoodie, sweater, jacket, winter coat, etc.; this is especially important for younger kids).
Wool socks — more pairs than you think you'll need.
Rain gear or a raincoat as the bare minimum.
Three outfits for babies and toddlers per day (remember, babies and kids who are potty training go through multiple sets of clothes even when you're not camping, so be prepared).
Underwear — more than you think you'll need.
A waterproof bag for dirty laundry.
The right footwear for the terrain, climate, and planned activities.
Also, be sure to break everything in before your camping trip, especially your shoes or boots!
Don't use your camping gear for other things
You'll want to ensure that you keep your camping gear for camping alone. Don't use it for backyard sleepovers or cookouts. Don't lend it to others when they go camping. If you do, it's almost a surety that you'll discover there's a host of things you need to replace.
Outside of that, just remember that you don't need to bring everything with you when you go camping. Create a camping packing list of all the essentials, and you'll be good to go. Be safe, and have fun!
Editors' Recommendations