Some people consider winter a valid reason to dispense with exercise. It's cold, wet, and dark outside. Your social engagements dwindle to the bare minimum, especially after the holidays. And you're definitely not showing any skin for the next few months. You may find it natural to confine your workouts to the gym. However, exercising outdoors in the winter brings a unique set of benefits you can't access at any other time of year.
Along with boosting your depleted Vitamin D levels — thanks to all the indoor hibernation— outdoor exercise during winter boosts your immunity, a big plus when the entire office comes down with the flu. Exercising in extreme cold strengthens the heart, lungs, and circulatory system, and it has also been shown to enhance endurance and mental edge. Regular exercise keeps your circulation strong, your metabolism humming, and endorphins running through your veins, making you much more resistant to freezing temperatures and seasonal depression. But just how can you make the most of those winter months
Nordic Skiing
Health benefits: There are many health benefits associated with Nordic or cross-country skiing. These include cardiovascular health, leg strengthening, balance and coordination, and more.
Gear: You'll need to rent or buy skis, boots, and poles. For clothing, you'll want base layer pants and some type of ski pants. For your upper body, a base layer, an insulation layer, and a shell are typical options, though there are others. Don't forget that you'll need a hat and gloves for any outdoor winter activity.
Tips for the novice: The most common mistake for a novice or first-time cross-country skier is dressing for standing in the cold instead of skiing in the cold. In other words, they dress too warmly. It is not uncommon to sweat while skiing, even in temps between 20 and 30 degrees Fahrenheit, and that sweat can cool quickly on your body. So you want breathable clothing that keeps your body temperature regulated.
Nordic skiing is renowned worldwide as one of the best workouts for cold weather months, but it also gets you out exploring the local trails at a time when you might otherwise stay indoors. There is nothing quite like skiing through the woods just before sunset when everything in sight is coated in snow. Also, flying down hills with your skis firmly in a Nordic trail's grooves is immensely fun.
Where to do it: Many northern states have excellent cross-country skiing areas. Minnesota, Wisconsin, and Michigan's Upper Peninsula have stellar Nordic ski areas. If you're really zealous about Nordic skiing, take a trip to Scandinavia, where it's more than a sport, it's a way of life.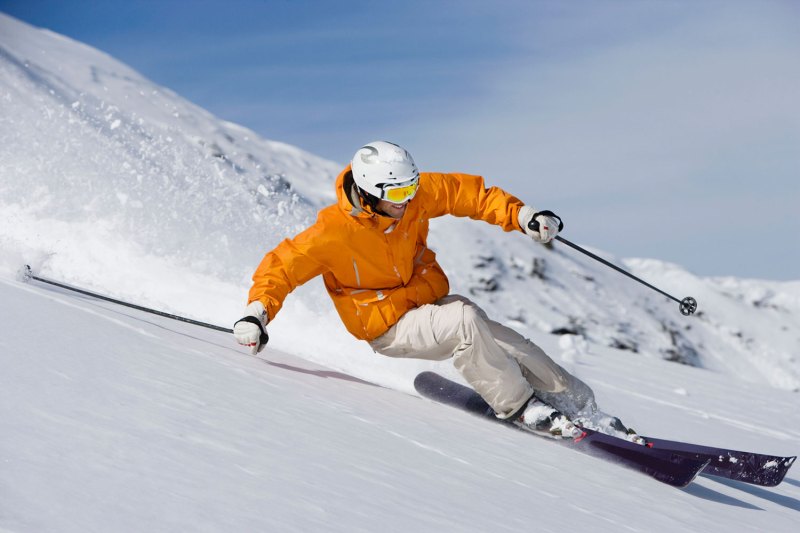 Alpine Skiing
Health benefits: Alpine — downhill — skiing is a sport that is both extremely fun and a great workout. Your legs will certainly feel the effects of alpine skiing the most, but the health benefits don't end below the belt. Downhill skiing is one of the best ways to work your core and can also improve flexibility throughout the body.
Gear: There's a load of gear involved in alpine skiing, and the best ski gear can easily run to thousands of dollars. Fortunately, you can usually rent an entire setup when you head to a resort, including skis, boots, poles, and a helmet. You'll need your own ski jacket, pants, and warm layers.
Tips for the novice: Two words: ski school. If you're downhill skiing for the first time, you will not get very far without a lesson. Also, there is a very steep learning curve. Learning to ski can be frustrating at first, but stick with it, and you'll soon find yourself carving those runs and getting a full-body workout.
There's skiing, and then there's skiing powder out west. This is the Shangri La of alpine skiing. There's no better feeling on earth when you're waist-deep and getting face shots with each turn. Floating down the mountain in deep powder is a very addicting activity. Let it snow.
Where to do it: Anywhere it gets cold enough to snow — and where there are some slopes — will usually have a ski resort. There are beginner best beginner ski resorts across the US, and you don't have to head to the Rockies' fabled slopes to get your alpine skiing experience. In fact, those smaller resorts are usually a better shout, with quieter slopes giving you more space to learn.
Snowshoeing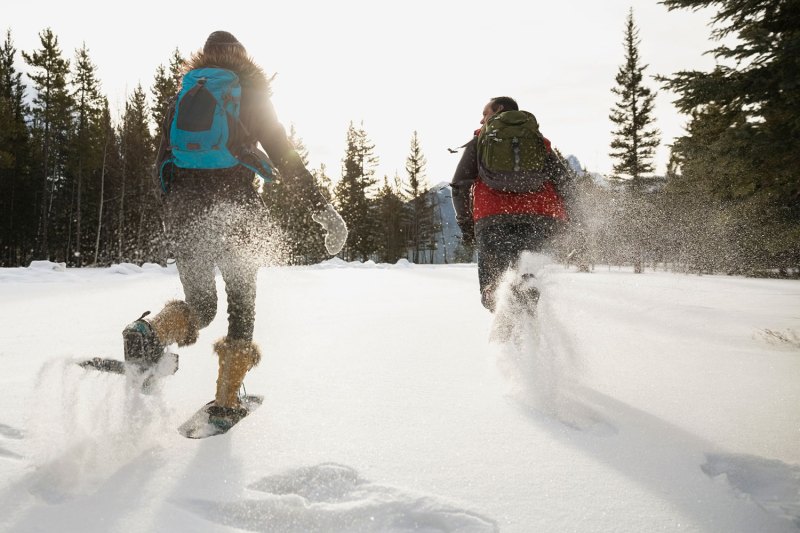 Health benefits: Snowshoeing is a great leg workout and can be a serious cardio exercise.
Gear: In addition to warm winter clothes and boots, you will need a pair of snowshoes. They can be rented or bought, depending on your adventure needs. Many ski resort towns will have ski rental shops that will rent snowshoes. It's always a good idea to bring a backpack with food, water, and extra clothes.
Tips for the novice: However far you're trying to go on your first snowshoe adventure, cut it in half. You typically can't go as far as you think on snowshoes, especially your first time. Snowshoes make it easier to traverse deep snow, but it's still a relatively slow-moving activity. So start small. Do it once, and you'll understand your limits if you want to try a longer hike.
The coolest part of snowshoeing is getting out in nature during the winter when there's a ton of snow and enjoying the beauty of your surroundings. Snowshoeing in Grand Teton National Park is one of the most exciting, beautiful ways to see the park and spend an afternoon. Plus, there's no shortage of wildlife and panoramic vistas — bring your camera. Anywhere with deep snow is a great place to try snowshoeing.
Chopping Wood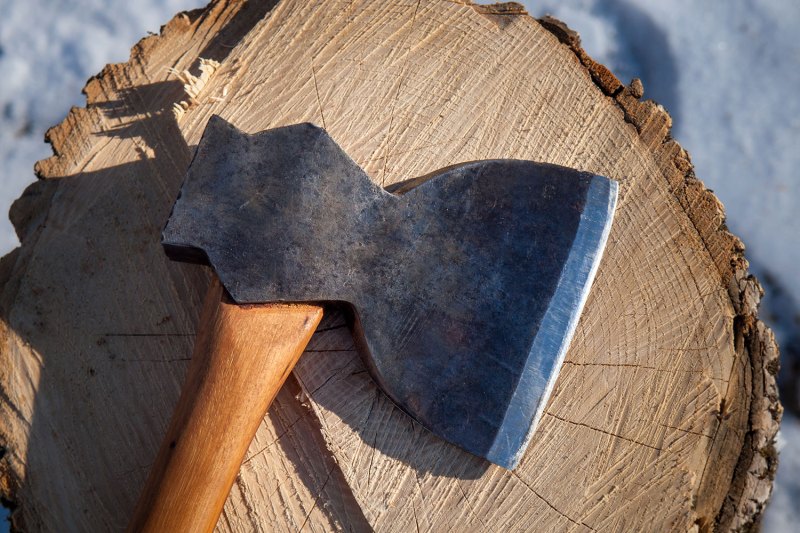 Health benefits: Chopping wood is one of the greatest total body workouts you could ever do. Arms, legs, back, shoulders, core — you're using all of them and strengthening them all at once.
Gear: Work clothes. Tough, made-to-take-a-beating work clothes. Closed-toe shoes or preferably boots (never barefoot). Most importantly, it helps to have an axe. Some people use splitting mauls, but a good Michigan axe can be your most versatile one-quiver splitting tool.
Tips for the novice: Chopping wood can be dangerous and result in great bodily harm if mistakes are made — the least of which are back injuries if proper form is not used. Learning how to split wood is important before you start. Stand with your legs slightly wider than your shoulders and cut down onto a block. If you're still not sure, find a grizzled old mountain man to teach you the ways.
Chopping wood is not so much of a destination winter workout as it is a fantastic fitness byproduct of keeping your home warm and toasty. Whether you heat your home with a wood stove or just want to enjoy a fire in the hearth on a frosty night, splitting wood offers tremendous health benefits and a great excuse for a cozy night in.
Editors' Recommendations