Unless you want to go full-on Daniel Day-Lewis prepping for Last of the Mohicans and learn to track animals, living entirely off the land, it's good to find nutritious, filling, but easy food for a camping trip. Below are some of our favorites that require nothing more than some fire and water at most.
If you love fluffy, delicious pancakes, you need to know about Birch Benders. They have created a pancake and waffle mix that simply requires water. No need to bring eggs or milk. Each lightweight pouch is resealable and makes about 40 four-inch pancakes. Birch Benders also makes some of the healthiest pancake mix around– they use no GMOs, no trans fats, are low in cholesterol, BPA free, and are low in fat.
You've got options like chocolate chip pancakes, buttermilk, and six grain, but perhaps the greatest camping option is their protein pancake mix. These flapjacks are packed with protein–more than 10 grams– to keep you feeling full and fueled for hours to come. They also offer organic and gluten free options.
Birch Benders' mix is highly versatile and they offer recipes of all the different meals you can make with the pancake mix– chicken and dumplings, pizza, Grilled Cheese Waffles, even Pigs in a Blanket.
They take up little room in your bag, weigh almost nothing, and easily create some really delicious and healthy meals.
You can get literally anything you'd need for your camping trip at Patagonia– including food. We've already raved about their food line, Patagonia Provisions, but it's worth talking about their salmon. Salmon is an excellent source of protein and its omega-3 fatty acids are good, natural ways to help with stiff and achy joints– the perfect camping food!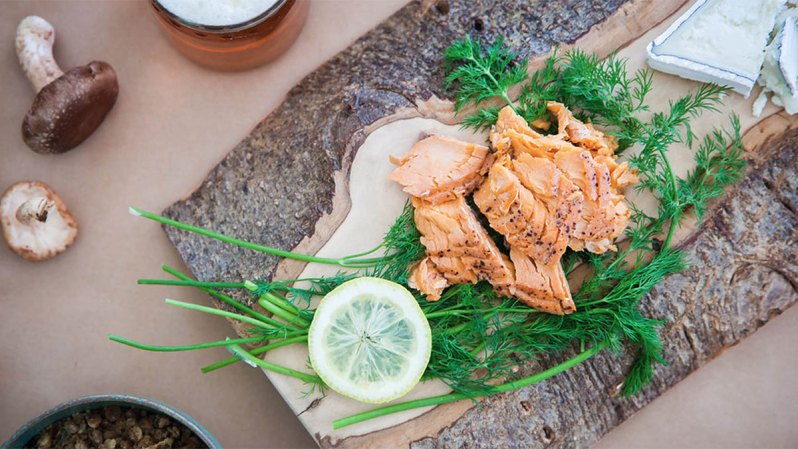 Not to worry if you're not a seasoned angler or have decided to camp in places without readily stocked streams: Patagonia Provisions offers sustainably sourced salmon that comes deliciously seasoned and ready to eat. Unopened packs of their salmon require no refrigeration. You simply open the four ounce package and start chowing down or feel free to heat it up by just putting the entire package in hot water for around seven minutes.
Speaking of wildly convenient pouches– Bannock offers really delicious, restaurant-quality meals in a cookable pouch. Open it, add water, wait, and then eat! They offer everything from breakfast to dessert and focus on making these the healthiest cook-in-pouch option out there. Bannock meals focus on providing good proteins and fibers and use a blend of 55 super foods to keep you moving. Each cookable pouch is about two and a half servings and they have an amazing five-year shelf life.
Entrees include options like Beef Stroganoff, Spicy Southwest Stew, and Asiago Pasta Primavera. Breakfast options include Peaches and Cream Oatmeal and, for dessert, save room for the likes of No-Bake Peanut Butter Balls or even rice pudding.
Don't worry about the packages as you hike, climb, ski, or paddle through the wilderness: they use really thick Mylar packaging that helps keep the food safe.
Soylent contains no humans (fortunately!), but one serving does have 20% of all your daily nutrition needs. It's a blend of protein, carbs, lipids, and micronutrients. A Georgia Tech student began formulating it when he felt he was spending too much time and money on food. He's further developed the formula and it's surprisingly good. You can buy the pre-made drinks or the powder, which is much easier and lighter for camping– just add water. The powder is made of soy protein for a nice texture, canola oil gives you that Omega-3 fatty acid and good lipids, and Isomaltulose, a kind of sugar taken from beets that gives you slow-metabolizing, sustained energy. Plus it has all your vitamins and minerals. It's basically how the government wants us to eat, but it's convenient. And tastes like nothing. They used the logic that you can't get tired of no taste. After all, who has even gotten sick of water?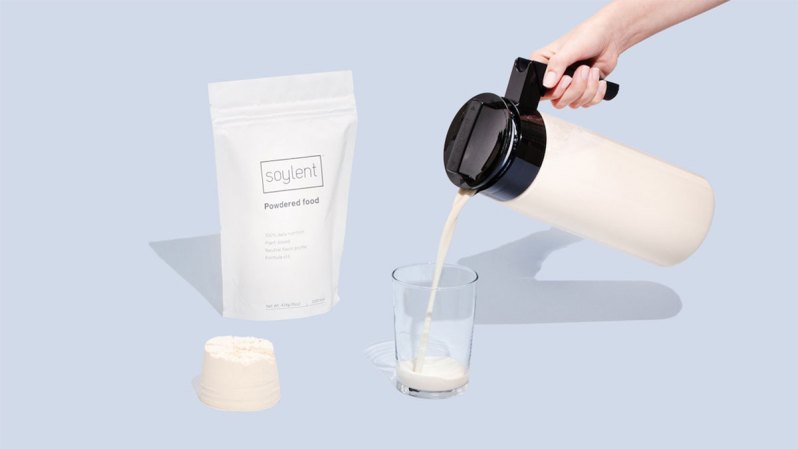 Soylent is vegan and completely animal-free, has no nuts, and is made in the US. It's 400 calories per serving and can completely sustain you. So feel free to just pack Soylent powder and some water and you're fed.
Maybe thanks to Soylent you've gotten used to never having to cook, but you miss getting to chew: get some Greenbelly Meal bars. These incredibly lightweight bars are a complete meal, formulated to give you exactly what you need in terms of fat, fiber, protein, carbs, sodium, and calories. At a whopping 650 calories a bar and 17 grams of protein, these keep you full all day and account for a third of your daily nutritional requirements. Each pack has two bars, which equals two meals.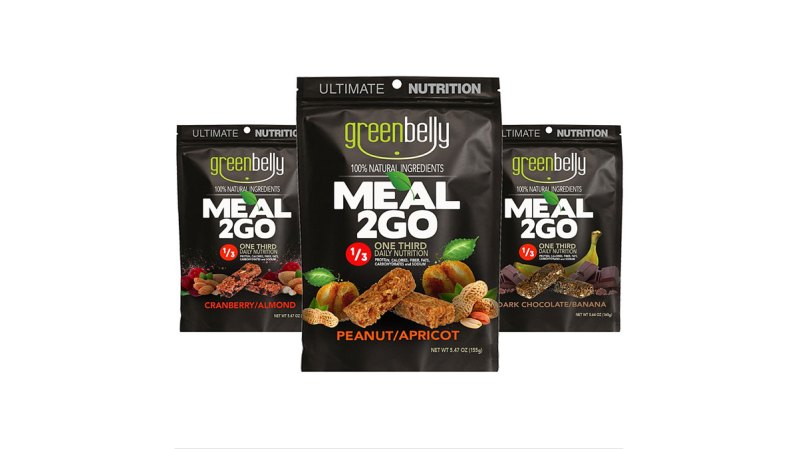 The bars will keep for six months but are easily frozen for longer. They're gluten free and made from big pieces of fruit and nuts: the flavors are Peanut Apricot, Cranberry Almond, and Dark Chocolate Banana. They were even developed by a French-trained chef! Fancy.
Editors' Recommendations