Patagonia is well known for keeping you warm, dry, and sheltered in the great outdoors, but they also keep you fed. Patagonia Provisions offers everything from cereals to snacks to beer all while helping the Earth.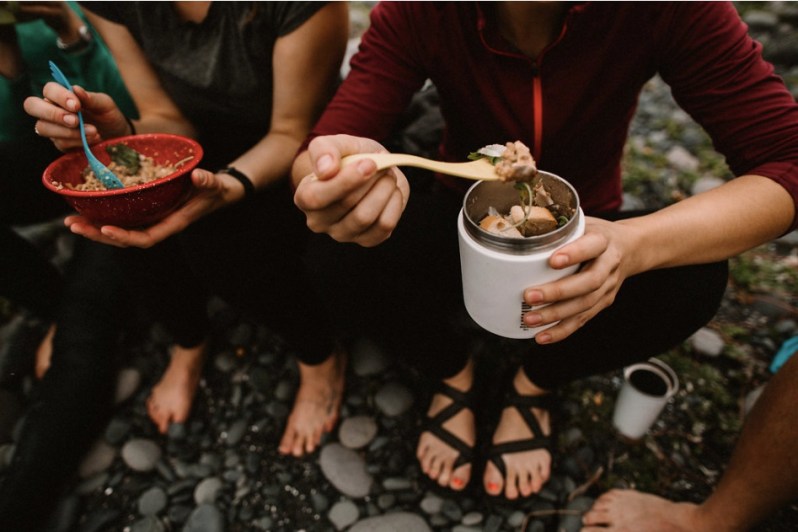 To get out and enjoy nature, something Patagonia is obviously all in favor of, we need to eat. Well, frankly, we need to eat to do anything, so it's important that our agricultural practices are sustainable and good for the planet if we want to keep the gig going. Unfortunately, that's not the case– modern agriculture is one of the major factors contributing to climate change. We use techniques that reduce biodiversity, we destroy healthy soil, and pollute the air. Government subsidies have made certain crops into cheap, unhealthy food, while fresh fruits and vegetables are often economically out of reach. Certain fish are fished to dire levels while other, perfectly delicious fish, are ignored because of lack of PR. Patagonia decided to do something about this. Put simply, they want to make food that's good for people and the Earth.
Patagonia Provisions has partnered with innovative farmers, fishermen, ranchers, and manufacturers to create nourishing, delicious food you could eat on the trail or the office while effecting concrete change in agricultural practices and the planet's overall health.
Take, for example, salmon. People love the stuff. Sockeye and Chinook are some of the most famous and desired and the fish are paying the price— they're in peril from bad practices and pollution. Farm-raised salmon isn't a fantastic alternative– they are given artificial coloring to give the gray-whitish flesh that patented pink color that would come from a natural diet of pink things, like shrimp. Patagonia and its partners think outside the box, opting to use Wild Pink Salmon, a scrumptious and abundant species. Lummi Island Wild and the Wild Fish Conservancy work with Patagonia Provisions to ethically source Wild Pink Salmon just off the Washington shore, using reef nets, a long standing tradition in the area, which drastically reduces by-catch mortality– the fish and creatures they didn't intend to grab– and requires much less fuel. They anchor just offshore without needing to run their engines and use solar power for their equipment. Wild Pink Salmon is a lesser known fish with a subtle flavor, ideal for any dish: Patagonia Provisions gives it a little pop of pepper and lemon that's ready to eat out of the pouch or feel free to heat it up. With Patagonia Provisions' salmon, you'll feel good about it and because of it.
The company also offers buffalo jerky from buffaloes that get to roam the range: all that hoofin' and grazing and defecating keep the Great Plains great. Patagonia also offers cereals made with 100 percent whole grains and fruit; including ancient grains mixed with kale and mushrooms; black bean soup; red bean chili– all with the convenience of fast food but with the nutrition and incredible taste of high-end health foods. Hell, they've even got a treasure trove of recipes that include things like pancakes! We have been using ours on a daily basis for breakfast, lunch, and dinner. If you aren't planning a camping trip, think of these packages as a replacement for canned food in the cupboard. And much healthier for you too.
Don't think we've forgotten about the beer! Patagonia Provisions and Hopworks Urban Brewery created Long Root Ale, which is a delicious pale ale made from Kernza, a very long-rooted grain. Kernza has been developed by The Land Institute, which is solving a lot of our problems. Kernza is incredibly self-sufficient: it's a perennial, we don't have to till its soil (tilling kicks up a huge amount of carbon released into the atmosphere), it's got insanely long roots, which make it good at using rainfall, and helps soil stay healthy so we don't need to rely on crazy pesticides and chemical fertilizers. This is some powerful beer. In addition to the mighty Kernza grain, Long Root Ale uses organic barley, organic yeast, organic (sensing a theme here?) Chinook, Mosaic, and Crystal hops. Thanks to Patagonia, you can now drink beer and save the earth!
Patagonia Provisions' food isn't just about providing you with healthy, delicious food that's easy to take on a camping trip. It's about paving the way to sustainable, eco-friendly agricultural practices that will combat climate change and benefit us all, foot, feather, or fin. What you buy sends a powerful message to producers, so here's a win-win: Eat incredibly well and drive positive change.
Editors' Recommendations