The beginning of winter is a time for sports highlights. Baseball is in the midst of free agency, the NBA season features marquee matchups throughout the holidays, and the NFL is tilting toward the playoffs. Whether it's in your hometown or an excursion on the road, heading to a sporting event is an iconic way to experience a locale. Sports stadiums like to show off local culture, and there are few better ways to do this than with stadium food.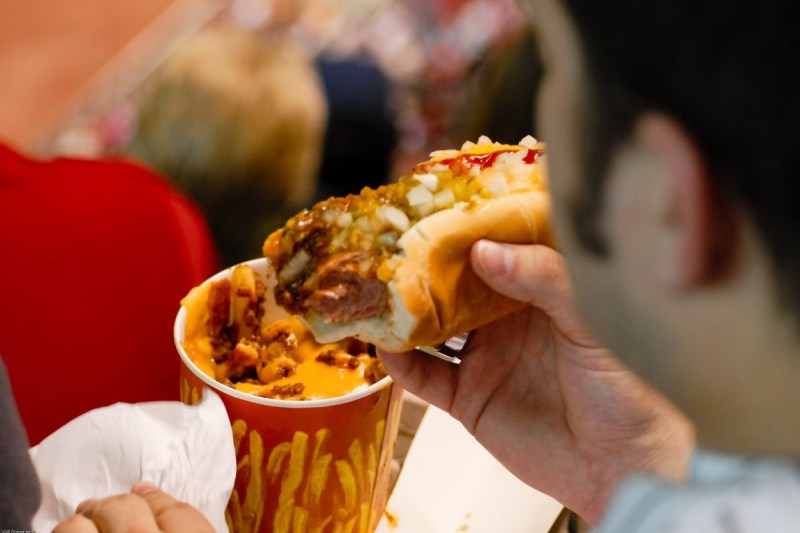 The best stadium food
Oriole Park at Camden Yards
American Family Field
Comerica Park
T-Mobile Park
PetCo Park
Great American Ball Park
Target Field
Kauffman Stadium
PNC Park
Riders Field
From chili dogs to crab cakes, athletic organizations flex their marketing muscle through iconic eats. Just like the restaurant business, however, some of these are better than others. How do we compare tacos to pizza slices, though? Glad you asked. This past July, the data analytics team at Betting.com collected and collated over 100,000 reviews of the food at major United States sports venues. The resulting list revealed what people, on average, consider the best and the worst eats across professional baseball, basketball, football, and hockey.
The number one best-reviewed venue? Camden Yards in Baltimore. The baseball food here is a collision of Southern BBQ sandwiches from Boog's BBQ and Eastern seaboard eats at Harris Creek Oyster & Seafood, along with classic loaded hotdogs from Stuggy's.
The love for Baltimore didn't stop there, though. Betting.com found ranked M&T Bank Stadium, the home of the Baltimore Ravens, the fifth-best NFL stadium for food. Right across from Camden Yards, fans can find iconic pit-beef via Pratt Street Hoagie, classic burgers at Shake Shack, and Frank's buffalo chicken burgers along with Dogfish Beer to wash down the feast.
Detroit, the land of coney dogs and deep-dish pizza, also doubled down on the love with Comerica Park, the home of the Tigers, and the shared Little Caesar's Arena. Comerica was ranked third overall for its incredible array of food options, which includes coney dogs, indulgent eats like the Notorious P.I.G. (smoked pulled pork, mac n' cheese and pickled jalapeno peppers, drizzled with barbecue sauce on a pretzel bun), and tasty local greens like fresh Greek salads. At Little Caesars Arena (home of the Pistons and the Red Wings), the main course is, of course, luscious, cheesy pizza, but that's just the beginning. The Ilitch Group also features a catfish Po'boy, jambalaya, a taqueria, and even Philly cheesesteaks.
Other notable entries include the many cheesy delights warming up the frozen tundra at Lambeau Field in Green Bay, Wisconsin, and the many brat options at American Family Field (formerly Miller Park) in nearby Milwaukee. And across the country to warmer pastures, there's plenty of Asian and Mexican influence at the plethora of Southern Californian options at PetCo Park in San Diego.
The worst stadium food
FedEx Field
FirstEnergy Stadium
Oracle Arena
Prudential Center
Soldier Field
RingCentral Coliseum
Target Center
Paul Brown Stadium
Lincoln Financial Field
Barclays Center
So who made the more notorious worst food options list? Not surprisingly (given the seemingly endless amount of criticism for the Washington Commander's leadership), FedEx Field was almost universally excoriated. According to Betting.com, the football team finally responded to years of complaints about the food by bringing in better options. It didn't work. In addition to circumscribed options, reviewers found the food to be "shockingly bad" and "overpriced."
The Browns, another beat-down franchise, aligned with its reputation with beat service at FirstEnergy Stadium in Cleveland. Respondents there reported that the arena simply ran out of food by halftime. The stadium goers that could lay down loot for expensive snacks and overpriced brews apparently only found cold hot dogs and crappy suds.
Surprisingly, two iconic venues made their way onto the list: Oracle Arena in the Bay Area and Soldier Field in Chicago. Seeing as each is an aging dame, the feedback wasn't too surprising. Betting.com found accounts of Oracle being a "chaotic venue" that made it difficult to find limited and expensive concessions. And per an ESPN investigation of stadium health inspection records, Soldier Field was bottom of the barrel with over 60% of vendors violating food safety regulations.
Whether it's food at a major arena or even at a little minor league ballpark, it's always fun to check out the concession options for the local cultural fare before you head down to the game. And if you're heading to the Prudential Center, the home of the New Jersey Devils, or any other poorly-reviewed place, you might want to smuggle in a sandwich lest you lay down a mint for soggy nacho chips and/or stale giant pretzels. Betting.com has the full results.
Editors' Recommendations