Just last week, I pitched and then broke down a six-person tent complete with a screened-in vestibule in preparation for a camping trip my son and I will soon go on. (Do my 4-year-old and I need a six-person tent? No, but why not, right?) I didn't time the setup, but I did use a stopwatch to record the breakdown and stowing process. It took me about 12 minutes and 15 seconds. Now, I was working methodically, as it was the first setup of this particular hardware and I wanted to do each step well. I'd say now that I know the tent's ins and outs, I could have it pitched in about six minutes, and probably taken down about that fast again.
The Cinch, on the other hand, takes about one minute to break down, and less with practice. As for setup? That takes about five seconds. That's because Cinch, which comes in two-, three-, and four-person sizes, is a pop-up tent. But it's no casual-day-at-the-beach or picnic popup — it's an honest to goodness piece of camping gear that's waterproof; bug-blocking screen windows and a durable, puncture-resistant floor; and offers wind and sun protection.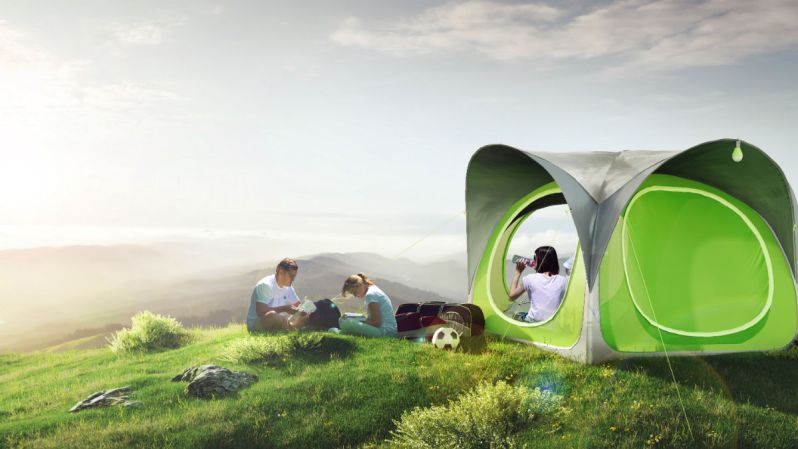 And if that was all the Cinch was — a well-made popup tent — I'd say it was a fine option to consider for your next car camping outing. But folks, we haven't even scratched the surface.
The Cinch tent is one of the first smart tents ever developed. The company, which first launched in 2014, recently scored a considerable amount of crowd-funding via Indigogo: over $404,000, to be exact, which means consumers can expect quite a few improvements to the original design.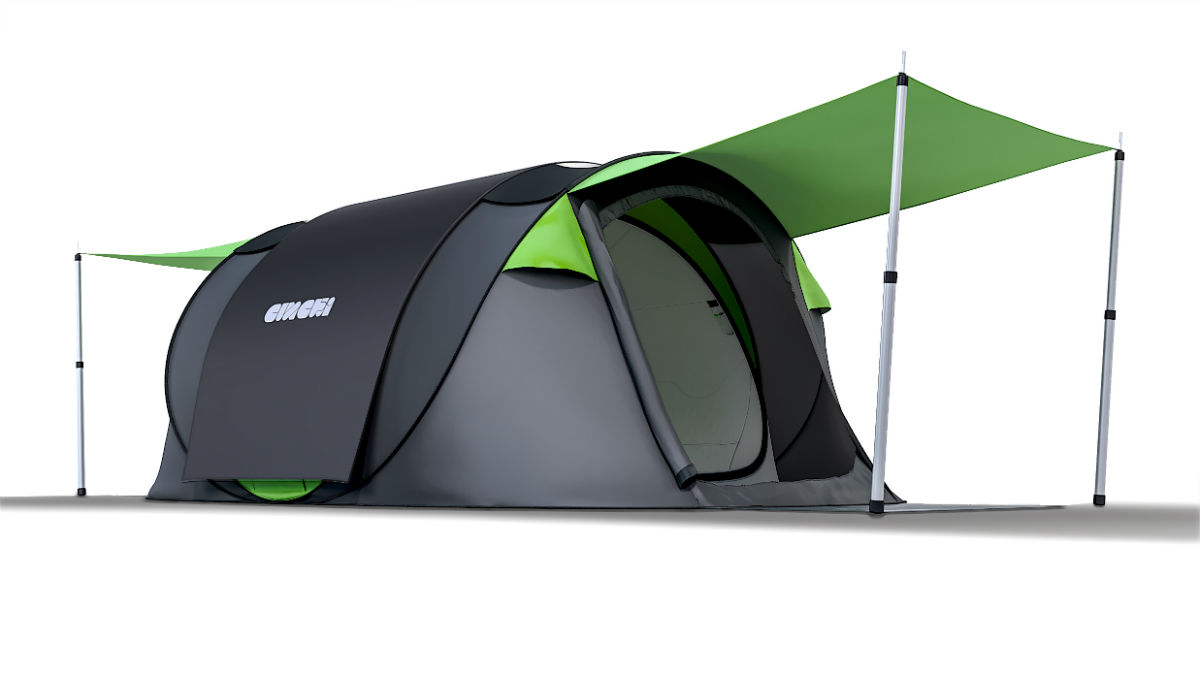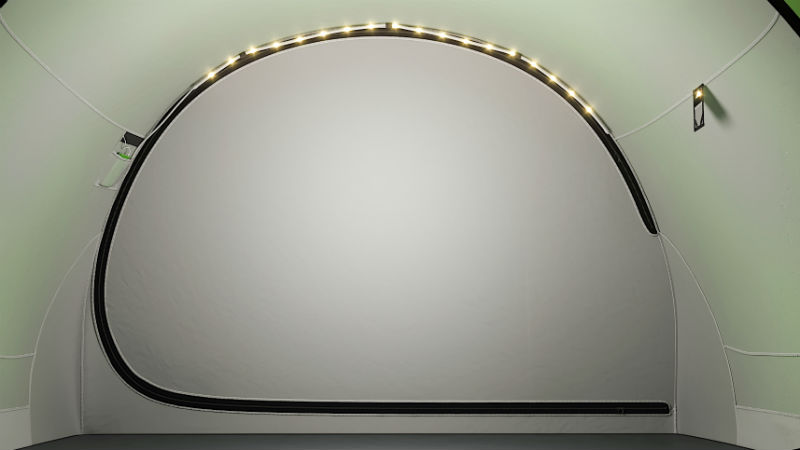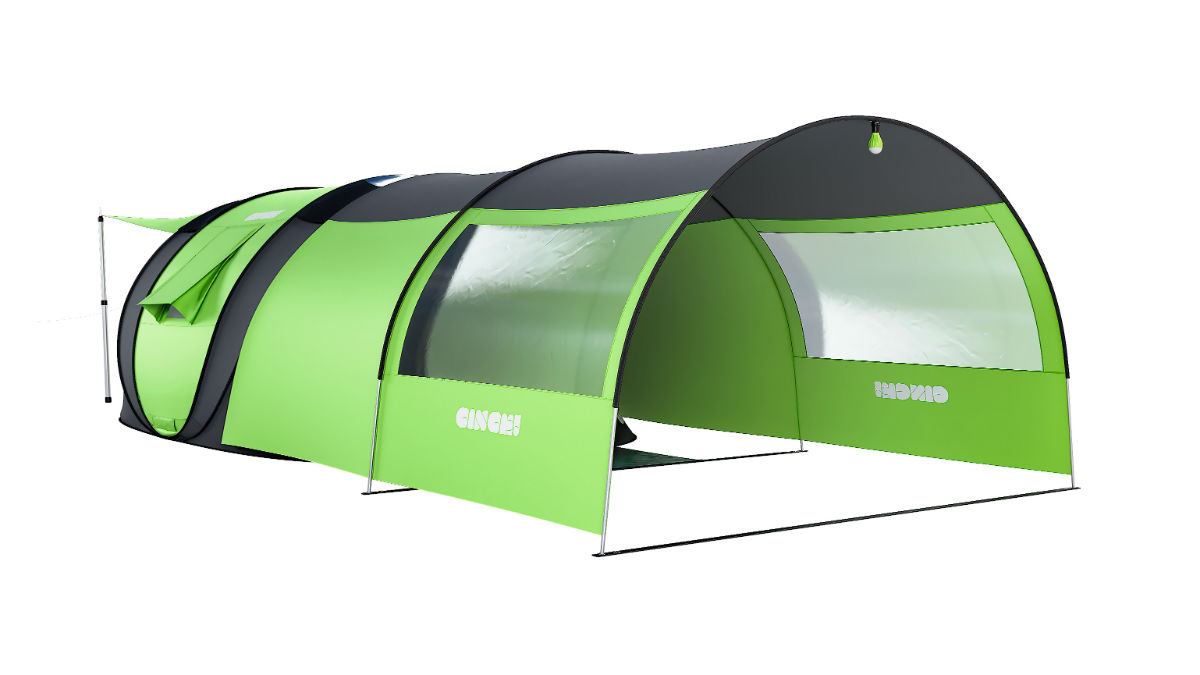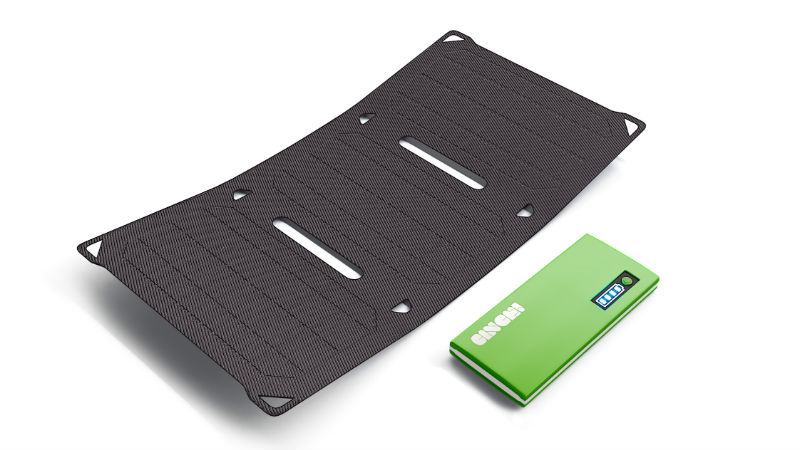 Each tent features built-in LED lighting — both lanterns and strips of lighting — that can be controlled from your smartphone. You can turn the lights on or off or dim them as needed. And where do you get the power for the lights? Why, from solar panels and batteries integrated into the tent, of course! You can also use this system to power up your phone if you need.
If the sun is shining too bright in the morning, the dark, light-absorbing roof will help keep things dim within. And if that mean ol' sun is making things too hot, toss the climate control canopy over the top and bounce sunbeams right back into the sky. When the rain falls, you can hang out under the awnings that connect to both of the Cinch's doors, or you can upgrade to the Super Extended Canopy and enjoy a veritable outdoor room; this add-on canopy creates enough space for several chairs and a small table, so falling rain or beating sun need not put a damper on your day.
Say you have more people than can comfortably fit in a four-man Cinch tent but who all want to camp together. No problem — just get the new Cinch Hub and connect two tents together. Actually, you can use one Hub to connect as many as four Cinch tents. Add more hubs and more tents and you could soon have a tent colony that would look right at home on Mars. Except for the whole inhospitable atmosphere thing.
What with their built-in smart lighting and their adaptable, modular design, Cinch tents bring a new element of comfort to camping. The tents range from $299 for a two-person or a Hub to $349 for a four-person. Add-ons like the solar power pack and the climate control canopy range from $30-$149. Although the 2018 campaign is funded, you can still purchases a Cinch via Indiegogo; product delivery is slated for June 2018.
Editors' Recommendations