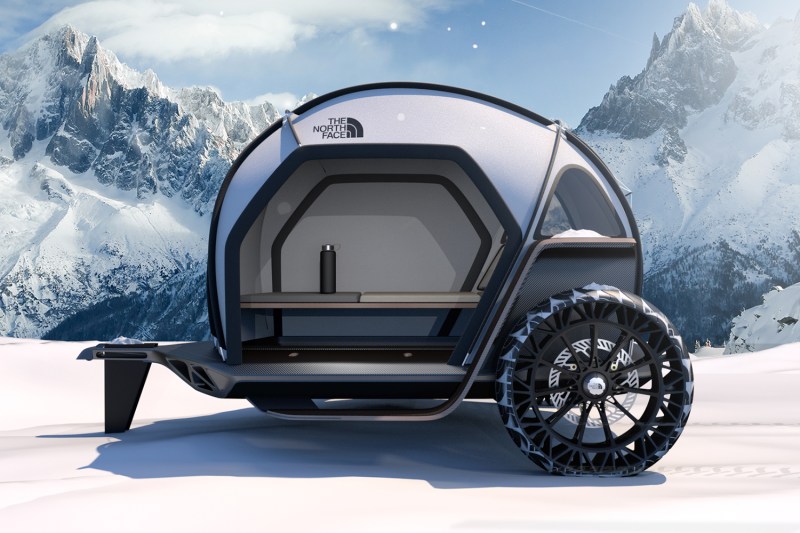 From Rimowa x Off-white's one-of-a-kind transparent suitcase to Glenmorangie's partnership with Grain to build handcrafted surfboards to crazy craft beer mashups at the annual Collaboration Beer Fest, collaborations are everywhere right now. Sometimes they work, sometimes they don't (1994's head-scratching Ozzy and Miss Piggy duet comes to mind). However, we can't help think that BMW teaming up with The North Face can only produce greatness.
At CES 2019 earlier this month, BMW Group's subsidiary, Designworks, debuted the state-of-the-art Futurelight Camper Concept that's unlike anything we've seen before. The camper is minimal and lightweight, more like a towable tent riding on oversized, off-road-ready tires. Inside, the pared-down, open-concept design includes a built-in couch/bed, a small "nightstand," and modest floor space for stowing camping gear or unfurling a sleeping bag for additional guests. Small built-in windows provide a bit of light as well.
What sets the camper apart, however, is the use of a revolutionary, soft-sided shell. The material, designed by The North Face, has been dubbed FUTURELIGHT (you know it's serious when the name is in all caps). It's an advanced fabric that uses so-called Nanospinning technology to make it waterproof, yet breathable. For the first time, this technology allows The North Face to add air permeability directly into the membrane of its apparel fabrics. According to the maker, "[t]he process creates nano-sized holes, allowing for incredible porosity while still maintaining total waterproofness." In plain English, that means that air can more easily move through the material to maximize venting.
The camper concept pulls inspiration from BMW's sleek 2008 GINA Light Visionary Model. Instead of traditional hard body construction, the forward-thinking concept used "an almost seamless outer skin … which was created out of a flexible textile cover that stretches across a moveable substructure." It's a complete rethinking of how cars, tents, and clothing can protect drivers, campers, and wearers of outdoor apparel respectively from the elements. Like its predecessor, the Futurelight Camper is enclosed in a flexible material stretched taut over a conventional geodesic dome structure. It's one of the sturdiest architectural forms wrapped in one of the world's most advanced performance fabrics.
For now, the Futurelight Camper Concept is just that: a concept that only hints at the fabric's possibilities beyond clothing. Futurelight fabric, however, will officially debut in fall 2019 as part of The North Face's pinnacle apparel collections.
Editors' Recommendations