Based on the photos that BMW Motorrad, BMW's motorcycle arm, released of the BMW CE 04 Vagabund Moto Concept, one would assume that it's an art piece that's meant to sit front and center in a Los Angeles apartment. But that's not the case. The CE 04 is the latest concept from the two companies and is an all-electric scooter with an eye on urban mobility, but somehow, it has a rack to carry a matching surfboard. Yeah, we're a little confused by the concept, but in a good way.
If you're familiar with the Austrian-based Vagabund, you're probably not surprised by the CE 04 Concept. Vagabund Moto is a design studio that's created some pretty radical car and motorcycle concepts, many of which utilize BMW's bikes as the base. The team at Vagabund have a history of making some incredible concepts, so the CE 04 Concept fits right in with their theme of urban machines with an eye-catching design.
Vagabund Moto took the BMW CE 04 and made it a lot cooler. The color scheme of beige, dark green, black, and white is especially fetching. The electric scooter was also fitted with a transparent orange windscreen and matching smiley-face orange inserts on the front indicator lights, and a large smiley face graphic on the front wheel hub. Light-hearted touches aside, Vagabund Moto has added some actually useful features for scooter riders, like a tail-mounted Pelican 1600 Protector Case and a transportation system for a surfboard. We've seen automakers come out with trucks that can carry a surfboard, but this is the first time we've seen a scooter with a rack that can carry a board.
While the all-electric scooter can actually carry a surfboard, the feature is more of a metaphor, claims BMW. "The surfboard isn't just a piece of sports equipment: it's also a metaphor for a sustainable urban lifestyle," states Oliver Balzer, head of BMW Motorrad Austria. Good, because we're sure that surfboard would be stolen the first time we'd go to Target to get a drink after a day at the beach. Still, the fact that the scooter can hold a surfboard is cool, and to see the surfboard share a matching livery with the scooter deserves a chef's kiss.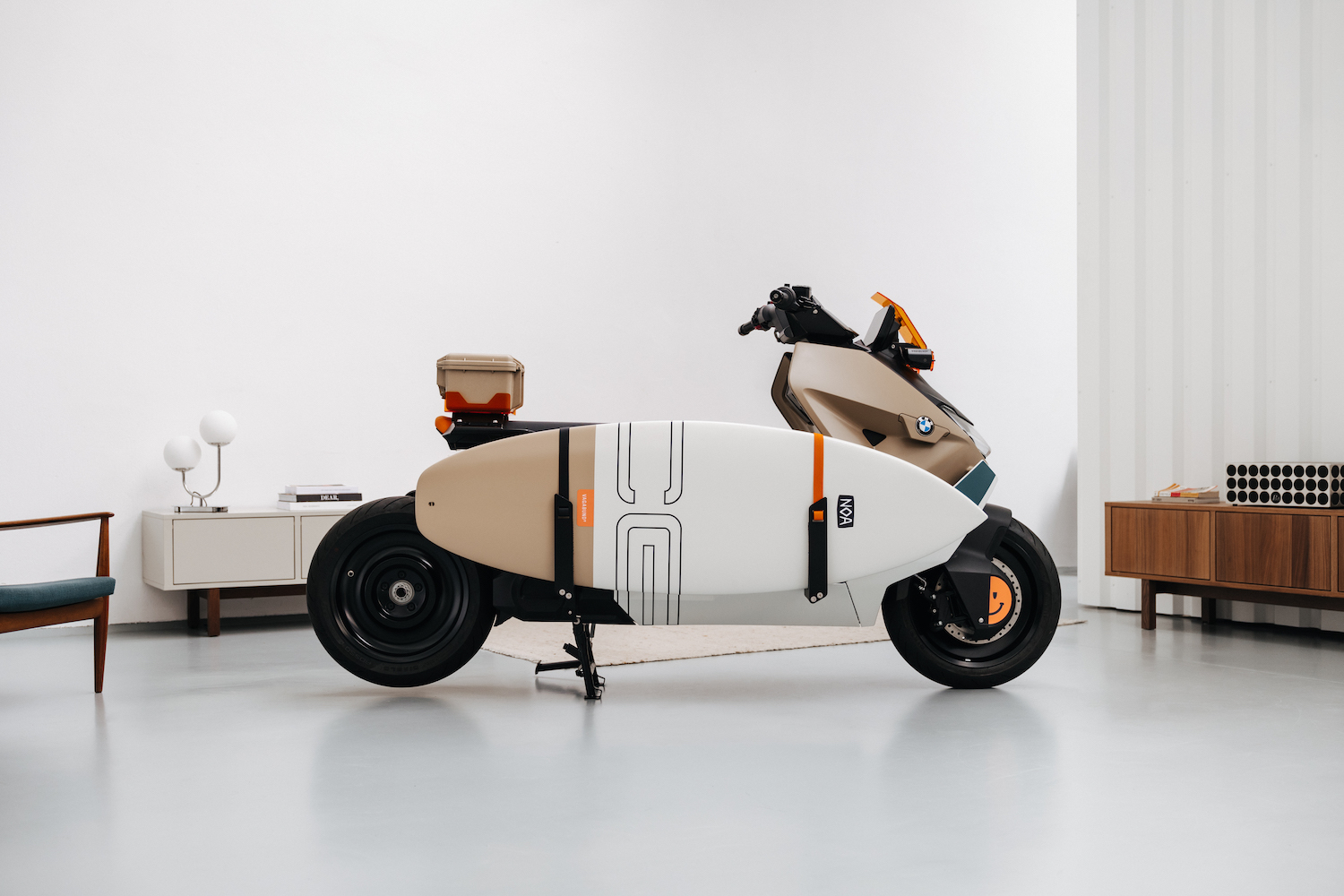 Beyond the design, Vagabund Moto hasn't changed a lot about the CE 04. The scooter's powertrain remains the same, as it comes with an electric motor that produces up to 42 horsepower and 45.7 pound-feet of torque. It tops out at a limited top speed of 75 mph and has a range of 80 miles on the WMTC cycle. If the electric scooter went through the EPA's testing, we're sure that figure would be a lot lower.
One could argue that Vagabund Moto didn't do much to the scooter, but they didn't have to. The BMW CE 04 is already a great option for urbanites with a useful amount of range and thoughtful touches, like the storage compartment under the seat. If anything, Vagabund Moto's touches are more to show that electric urban vehicles don't have to be boring or ugly. While this is just a one-off, it would be cool for BMW to incorporate some of the elements, like the livery, and offer them as an option on the CE 04 in the future.
Editors' Recommendations