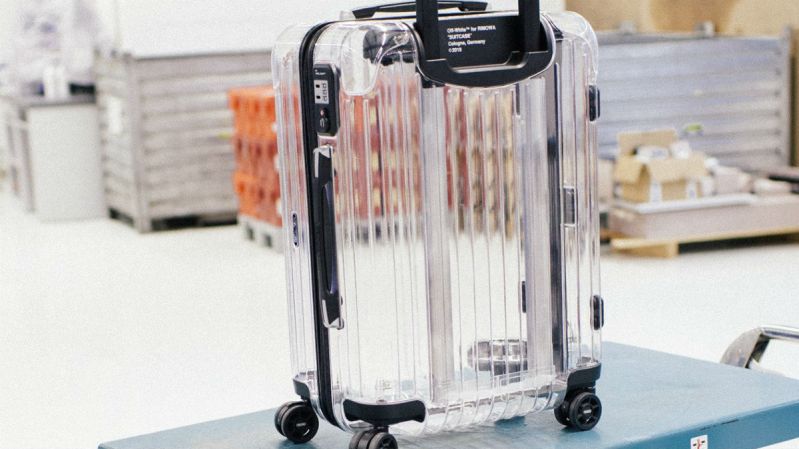 Most travelers agree there's a distinct feeling of violation at every TSA checkpoint. Having your clothing, toiletries, and other personal effects rifled through by a curt, latex-gloved stranger is never fun. One luggage company is looking to help travelers speed through security, embarrass themselves, or make a fashion statement (or all three) with a see-through suitcase.
Luxury German luggage maker Rimowa is partnering with world-renowned streetwear label Off-White to debut a 100-percent clear carry-on. The Rimowa x Off-White Cabin Multiwheel will feature a minimal design — little more than a see-through polycarbonate shell with jet-black handles, locks, and wheels. It's a bold, one-of-a-kind look that leaves nothing to the imagination for your fellow passengers or the aforementioned TSA agents. Rimowa does provide soft black pouches to hide your clothing and embarrassing prescriptions, but where is the fun in that?
The release is part of Rimowa's 120th-anniversary celebration. The iconic brand has changed its design and its face very little since the 1950s. Rimoawa partnered with Virgil Abloh, artistic director for both Louis Vuitton and Off-White (and a close Kanye West collaborator), specifically for his bold, Internet-famous aesthetic. Rimowa's previous collaboration with Supreme sold out in less than a minute.
While this transparent suitcase is expected to make a similar splash, the other updates to the brand's product line-up will be more subtle. Rimowa is expected to release four new collections with a rebooted look in two check-in sizes, four cabin-friendly sizes, and two large trunks each.
Rimowa isn't the first to dabble in design novelties to move its products. In the last year, luggage makers have doubled-down on *ahem* gimmicks in a heavy-handed attempt to differentiate their brand. We recently covered an $800 robotic suitcase that follows its owner around like a puppy. We've seen every incarnation of smart luggage, a $20,000 bulletproof attaché case with a built-in humidor, and even Modobag, the "world's first rideable scooter luggage."
If literal transparency is important to you, Rimowa x Off-White Cabin Multiwheel goes on sale June 25. The expected price tag is just under $1,000; you can find it on Rimowa's website and in select Rimowa and Off-White Stores.
Editors' Recommendations