Ahead of your forthcoming holiday shopping (assuming your annual spree includes cars, private speedboats, and other "essentials" out of the Neiman Marcus catalog), here are four examples of the world's most outrageous — and outrageously expensive — luxury luggage.
Globe-Trotter 007 Spectre Luggage, $302-$2,668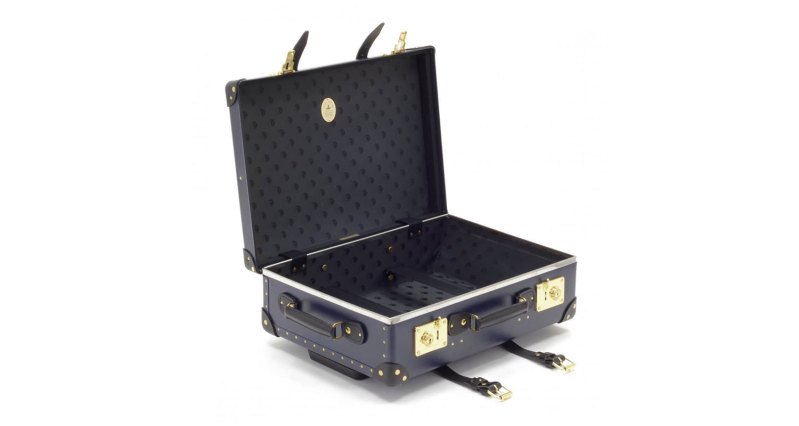 We're not sure James Bond ever actually traveled with luggage — it seemed he just had everything he needed wherever and whenever he needed it. However, we know he had to carry all those smart suits and fancy, high-tech gadgetry somehow. We assume he'd prefer something like Globe-Trotter's 007 Spectre Luggage. The limited edition collection was released to mark the debut of Spectre. Every bag features Windsor-grained leather corners and straps, navy fiberboard, and shiny brass hardware, plus a one-of-a-kind 007 lining. The entire nine-piece set — including a 30-inch suitcase, two trolley cases, an attache case, two wallets, a passport cover, and a dopp kit — runs nearly £10,000 (approximately $13,000).
Henk Carbon Bulletproof Attaché, $20,000
Let's be honest: No one needs a bulletproof attaché case. No one needs a Lamborghini Huracan Spyder either, yet they persist because, frankly, they're awesome. The absurd, unnecessarily over-the-top bulletproof suitcase by luxury luggage manufacturer Henk is a little like a supercar roadster. The company advertises it as "probably the most secure and luxurious attaché in the world." Given its long list of pricey customizations, we're inclined to agree. The flagship model includes a removable carbon humidor, calfskin leather exterior, 24-carat gold-plated hardware, and personal monogramming. And, for good measure, the carbon fiber shell can be reinforced with bulletproof armoring in case you're the sort who travels with gold doubloons or nuclear launch codes. The 10 mm protective layer is capable of stopping bomb fragments and even a .44 Magnum bullet from a range of eight meters. Fully loaded, the Carbon Attaché tops out north of 17,000€ (around $20,000).
Gucci Guccissima Leather Shoe Trunk, $50,000
If you're the sort of traveler who opines for the days of steamer trunks and fine, handcrafted everything, the Guccissima Leather Shoe Trunk is for you. The exclusive luggage was handmade from rich brown leather with classic, lock-and-buckle closures; more than a dozen leather-covered wooden drawers; and two wooden compartments. Gucci released only a limited number of the trunks years ago. All were handmade to order, requiring nearly three weeks to construct from scratch. The trunk originally retailed for nearly $50,000, but gently used samples can sometimes be found on eBay for less than half that.
Bottega Veneta Six-piece Alligator Luggage Set, $157,000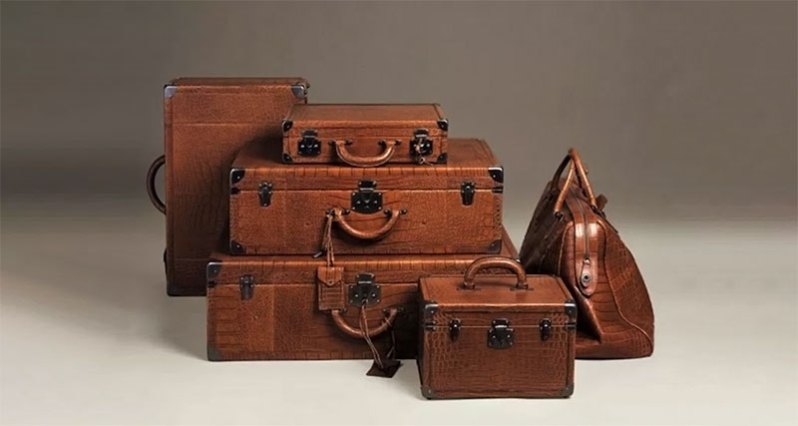 If a $50,000 shoe bag isn't disco enough for you, perhaps the six-piece luggage set from Bottega Veneta will do. The limited-edition collection includes three suitcases of varying sizes, a briefcase, a beauty case, and a duffel bag, all individually handcrafted from rich brown, soft-finished alligator skin. The reinforced corners and lock mechanisms boast burnished metal hardware. Individual pieces are available for between USD $25,000 and $50,000. All in, expect to pay more than $157,000 for the set — if you can even find this exclusive collection on the market. (Or you could save up for an Aston Martin DB 11 Volante instead. Your call …)
Editors' Recommendations