BMW is electrifying its lineup so it doesn't get left behind once EVs become more popular than gas-powered cars. It started with the BMW i3, then it moved to the BMW i4, BMW iX, and BMW i7 in the North American market.
However, one of its most anticipated EV models is the all-electric 5-Series. The BMW i5 will finally be delivered by October 2023, and we're excited about it. But does it live up to expectations like an electric BMW? Let's take a closer look.
BMW i5 is available in two configurations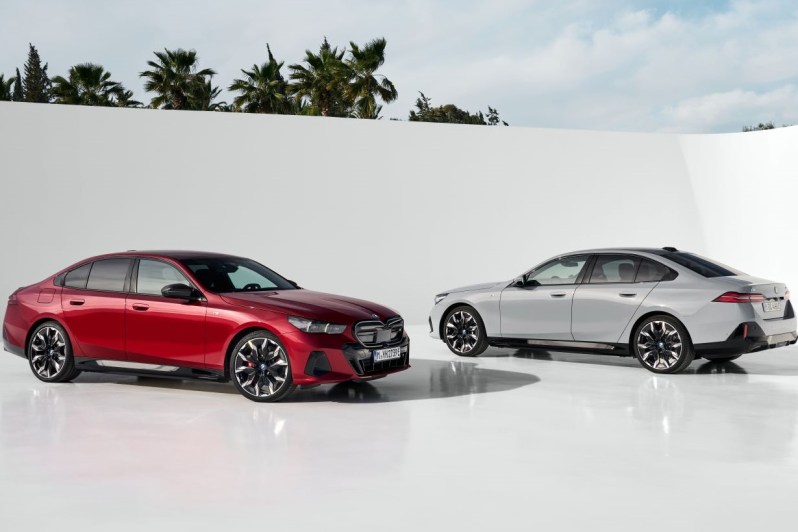 The 2024 BMW i5 sedan is available in two trims — the i5 eDrive40 and i5 M60 xDrive. If you want incredible power, the i5 M60 xDrive comes with dual motors that can deliver up to 590 horsepower and 586 lb-ft of torque. In addition to that, it can accelerate from 0 to 60 MPH in 3.7 seconds. This means that the electric i5 M60 xDrive is faster and more powerful than the gas-powered 5-Series.
On the other hand, the i5 eDrive40 is designed with a rear motor that can produce 335 horsepower and 295 lb-ft of torque. It can also accelerate from 0 to 60 mph in 5.7 seconds. But despite it having less power than the i5 M60 xDrive configuration, it comes with a longer range. More specifically, the BMW i5 eDrive40 has an electric range of 295 miles, while the BMW i5 M60 xDrive can cover a distance of up to 256 miles after a full battery charge.
In-car gaming will debut in the BMW i5
BMW will introduce a gaming platform dubbed the AirConsole on the BMW i5. If your BMW is parked, you can play video games on its 12.3-inch curved display. It's also likely that BMW will bring VR to its future models — and that technology could be closer than we think, considering that you can change settings in your BMW i5 using hand gestures. But if gaming is not your thing, you can interact with your smartphone apps on the display using Apple CarPlay or Android Auto.
Another cool thing about the BMW i5 is that it comes with an autonomous driving feature up to 85 mph on the highway. Besides that, you can engage the driver assistant to automatically change lanes, reverse, and park.
How much does it cost? The BMW i5 eDrive40 starts at $68,800, while the i5 M60 xDrive trim starts at $85,750. Unfortunately, the BMW i5 won't be eligible for the EV tax credit.
Editors' Recommendations