BMW expects 50% of its total sales in 2030 to be electric vehicles, and it's rolling the ball by introducing EV models for all of its series. Since it launched its first EV model in 2013, the BMW i3, the German automaker also introduced the BMW i4, BMW i7, and BMW iX in the U.S. market.
The Mini Cooper SE is also one of the most affordable electric cars on the market, and BMW is teasing new Mini Cooper EV models that will be available next year. Even Rolls Royce, which BMW owns, is road testing its upcoming electric car.
BMW is just getting started in the EV segment, and it has recently announced three new EV models in its lineup. The new models include BMW i4 xDrive40, BMW 750e xDrive, and BMW i7 eDrive50 which will be available this fall. What can we expect?
The cheapest model is the all-wheel drive 2024 BMW i4 xDrive40 which starts at $62,595 inclusive of the shipping cost. It comes with dual electric motors that can deliver 396 horsepower and 443 lb-ft of torque — this is more powerful than the single-motor BMW i4 eDrive 40 with 335 horsepower. However, the 2024 BMW i4 xDrive40 won't be as powerful as the all-wheel drive i4 M50, which has 536 hp.
In addition, the incoming BMW i4 xDrive40 can accelerate from 0 to 60 mph in 4.9 seconds, which is fast. It will also come with an 80.7 kWh battery, which should cover 307 miles after a full charge if you're using standard 18-inch wheels. But if you prefer 19-inch wheels, the range will reduce to 282 miles.
BMW is also introducing a plug-in hybrid model to the 7 Series dubbed the 750e xDrive, which starts at $107,995, including the transportation fee. Its driving range is expected to exceed 35 miles. Still, its most impressive feature is the 3-liter, six-cylinder engine under the hood that works with an electric motor to produce 483 horsepower and 516 lb-ft of torque.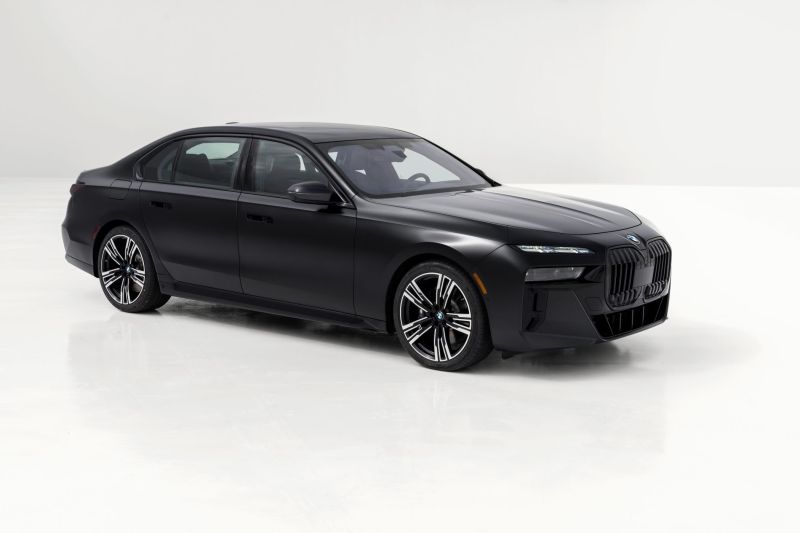 Another entry to the 7 Series is a rear-wheel drive model known as the i7 eDrive50 — it starts at $106,695 inclusive of the destination cost. This comes after BMW announced its most powerful EV — the BMW i7 M70 xDrive, which can produce 650 horsepower and 811 lb-ft of torque. On the other hand, the i7 eDrive50 can produce 449 horsepower — this still doesn't match up to the BMW i7 xDrive60 which can deliver 536 horsepower.
Beyond that, BMW will update the BMW 740i with an intelligent all-wheel drive option. However, the BMW 740i xDrive is not an EV model — the latest model comes with a 3-liter turbocharged inline-six gasoline engine that can produce 375 horsepower.
All the new models are expected to be delivered starting this fall, 2023. BMW also says it will update its operating system in July, beginning with the BMW i4, BMW iX, and BMW 7 Series models.
Editors' Recommendations