This content was produced in partnership with BLUETTI.
Power is an ever-present problem for techies on the go, and that's especially true for campers, RVers, travelers, and other frequent adventurers. Oftentimes, a portable power bank or solar charger just doesn't cut it, especially for larger electronic devices or appliances. BLUETTI, a leading name in the world of portable power, has the solution in its expandable AC300 power station and B300 battery packs. Whether you need power on the go or you're looking for a backup power system for your home, the BLUETTI AC300 and B300 combo is an excellent power solution that provides scalability and modularity for your off-grid energy needs. Here's what it can do.
Plenty of juice for all your electronics
The BLUETTI AC300 power station is an upgrade to the brand's earlier AC200P model. The BLUETTI AC300 combo boasts a massive 3,072Wh lithium-ion battery, which gives you more than enough juice to charge and/or power most household appliances and electronics. The AC300 power station combo is no mere power bank, though: It's equipped with six AC outlets that can deliver up to 3,000 watts of continuous AC electricity and a surge power of up to 6,000 watts, making it suitable for powering heavy-duty appliances like refrigerators, power tools, and even some air conditioners.
The AC300 portable power station is also equipped with a variety of other outputs, including USB-A, USB-C, DC, wireless charging pads, and more, allowing you to power up to 16 devices simultaneously. It comes with an MPPT solar charging controller, as well, giving you the option to keep the unit topped up using solar panels when you're outside. The BLUETTI AC300's sub-20ms switchover time makes it an excellent option for a home backup power setup, but it's also just as home in the great outdoors and is an excellent portable power station for outdoor activities like camping, RVing, and anything else in areas without access to the grid.
Portable, durable, and expandable
The BLUETTI AC300 is designed to be highly portable, and even has an ergonomic handle for convenient transportation. While powerful, the station is easy enough to move around so you can deliver power where it's needed most, either at home (such as in the event of a blackout) or when you're on the road. It also comes with a user-friendly LCD screen that displays real-time data on battery level, input/output power flows, usage history, and charging status. Alternatively, you can view and control everything remotely via the BLUETTI companion app, as the AC300 has both Bluetooth and Wi-Fi connectivity.
The AC300 power station is easily scalable, as well. You can expand your power setup with the attachment of B300 batteries. Each B300 battery offers 3,072Wh of power, and you can add up to four additional B300 attachments for a total of 12,288Wh of energy capacity. To give some practical examples: With just a single B300 battery attached, the AC300 can run a 1,500-watt heater for more than one and a half hours, a 1,000-watt washing machine for more than two and a half hours, and an 800-watt fridge for three full hours.
The BLUETTI AC300 is built tough with a durable housing that's designed to handle the rigors of outdoor use. The B300 expansion battery is rated for more than 3,500 cycles, too, so this power station combo should last a long, long time. You can recharge the power station itself via AC, solar panel, car outlet, or lead-acid car battery. An AC300 with B300 can be charged up in just over two hours, and you can cut that time by using two charging methods (such as AC and solar) simultaneously.
But the scalability of this modular power station isn't limited to just battery attachments: The BLUETTI AC300 and B300 are capable of split-phase bonding, delivering a powerful performance boost when two AC300 power stations are combined into one system. While the standard input or output voltage is 120V, split-phase bonding allows it to reach 240V. Additionally, the output power capacity doubles from 3,000W to 6,000W, making it capable of handling heavier loads and nearly doubling its charging speeds. This split-phase bonding technology adds another layer of scalability to an already-modular system, making the BLUETTI AC300 combo perfect for larger households or even small businesses with more demanding power needs than your average user.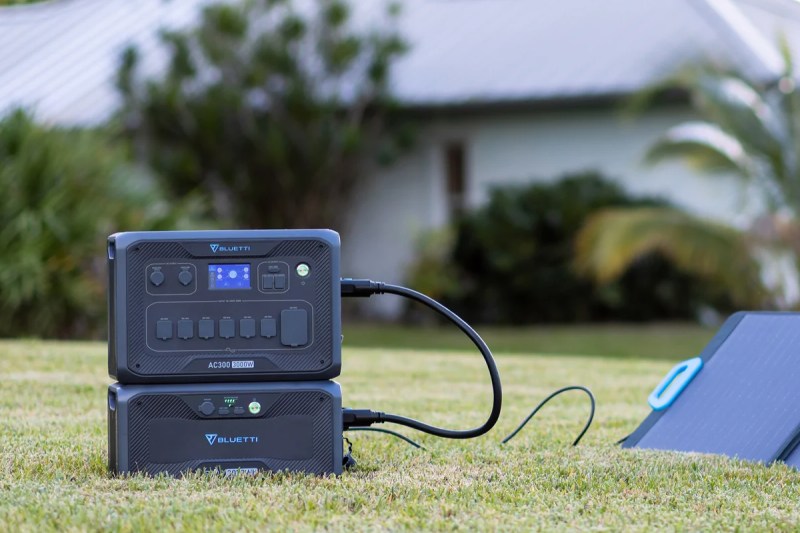 Portable power solutions continue to get better and better. BLUETTI is a brand that's been at the forefront of this innovation, and the AC300 power station and B300 battery attachment make that clear. Whether you need a solid portable power station for outdoor adventures, you want to set up a full-fledged home backup power solution, or something in-between, the BLUETTI AC300 and B300 can meet just about any need. Right now, you can score an AC300 power station and B300 battery combo for $2,999, giving you a whopping $999 discount.
Editors' Recommendations