Casual bike rides are supposed to be, well, casual, and relaxed. The idea is, like going for a stroll, you're not necessarily working hard or breaking up a sweat. But depending on where you live, that may be out of the question, especially in this summer heat. For example, if you live in a hilly or mountainous area, then you're always going to bike uphill at some point, which is a lot of work. What you may not know is that thanks to ebikes, you can mitigate a lot of that work — the electric bike motor makes it easy to navigate tough terrain.
That's true regardless of when and where you're riding, including during commutes, to run errands, or when you're out for a joyride. If you're looking for an ebike to make your rides smoother, better, and more enjoyable overall, we've gathered up all of the top picks below.
The Best for Casual Cruising
Aventon Bikes Pace500.3 Ebike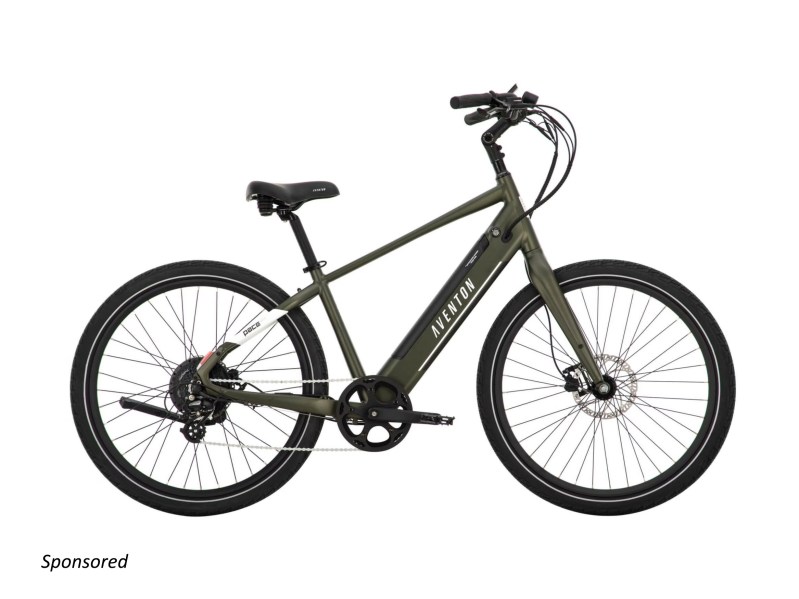 The Pace500.3 has a top speed of 28 miles per hour, with a range of up to 60 miles on a single charge. Coupled with the 500-watt motor and intuitive torque sensor, you can set a high pace with minimal effort. It's leisure with a lift, allowing you to fine-tune and customize your ride, and also benefit from lots of power to get over those steep inclines without ruining your casual trip. You can use it for quick rides, as a daily driver during commutes, or just to put the pedal to the medal and feel the cool wind and breeze in your hair, making it one of the most versatile ebikes on the market.
In line with letting you set your own pace, the Pace500.3 offers a bevy of power options, like four new pedal assist levels — eco, tour, sport, and turbo — so you can adjust the power to perfectly match the terrain you're traversing. The all-new turn signal functionality makes it both safer and easier to move around local roads, and the Pace500.3's cushioned saddle, swept-back handlebars, and upright riding position all provide extra comfort during use.
A backlit LCD rests atop the handlebars, allowing you to see a variety of riding stats at a glance. For instance, it will show your current speed, pedal assist level, active mode, battery life, and more. You can also charge your smartphone on the go through its concealed USB port, or sync your device through the Aventon app to interact with the larger Aventon ebike community — a strong, active, and engaging community of like-minded bikers.
This is a bike for everyone, of any skill level, and virtually any activity you'd be doing on a traditional bicycle. As mentioned, you can take it for a casual joyride, hit the local shops, commute, or just ride around the neighborhood — whatever spins your spokes. It's packed with power and ready to give your leisure rides an elevated experience.
The Best for Cargo
Aventon Abound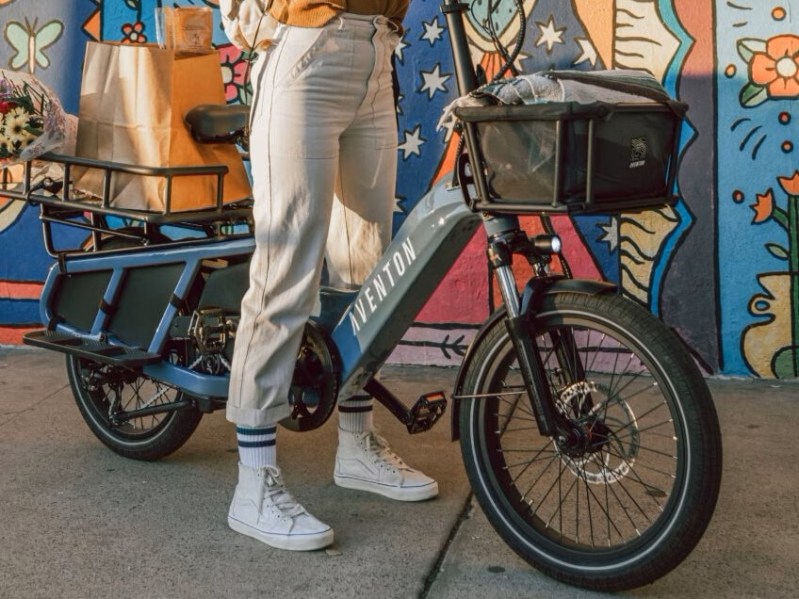 With its multifaceted design, relaxed seating, and extra cargo space for storage, the Aventon Abound is excellent for commutes, picnics, joyrides, and everything in between. If you're taking a trip to a local store and need some space to stow your groceries or purchases, you can do just that with Abounds rear frame — you can attach a basket or storage rack to it. This Aventon ebike is as functional as it is fun to ride.
The bike features a top speed of 20 miles per hour with a 50-mile range thanks to a 750-watt motor, powerful torque sensor, and more. The pedal assist makes it easy to power through difficult areas, like uphill, and both integrated lights and turn signal functionality make rides so much safer. Additional features include a backlit LCD, front suspension, a dropper seat post, footboards, and fenders.
The Best of Smart eBikes
Urtopia Carbon 1s
The first thing that might stand out about Urtopia's Carbon 1s ebike is its sleek design. The stylish frame, the minimalist approach, with the orange accents are stunning — and it comes in four different styles. More impressively, this Urtopia ebike boasts 60+ miles per charge with a 2.5-hour charging time. It also has a top speed of 25 miles per hour with 4 levels of pedal assist, delivered thanks to the 350-watt 45Nm brushless motor. It's a versatile bike safe for use on varying types of terrain.
Of course, what we really love about it is the smart functionality baked into the core system. It's aided by a constant 4G mobile connection, with full GPS tracking. That way you always know where the bike is at all times, and it will retain that connection for as long as 30 days, even if the bike is stolen. Navigation is possible without a cell phone, and it's integrated with smart health apps like Apple Watch and Strava to sync your fitness stats. Did we mention the frame is all carbon fiber?
The Best for Off-Road
Heybike Explore Step-Thru Fat Tire
Bigger, all-terrain-ready wheels? Check. Tough and rugged design? Check. Powerful motor, extended range, and excellent performance? Check. All of those descriptors explain Heybike's Explore, which is ready to take you on your next adventure. It offers a range of 55 to 70 miles per charge, with a 750-watt brushless motor and a fully removable 48-volt 20 amp-hour battery. The battery lifts right out of the frame for easy removal.
The step-thru frame allows you to easily lift your leg over the bike, and the frame is more adaptable than most mountain bikes. Additional features include a small display on the handlebars, front suspension, a damping seat, bottle holder and integrated rack mounting holes — to stow gear via an attachable rack — and more. It doesn't just look fantastic, it's ready to take on the world right alongside you. Isn't that what ebikes are all about?
The Best of Both Worlds
GOTRAX CTI 3 Electric Bike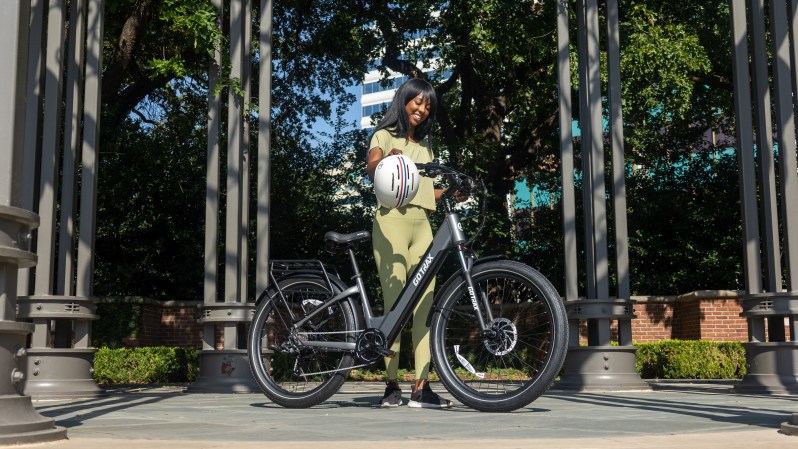 What makes the CTI 3 so great is that you can use it as a traditional bike and put in all the work yourself, thanks to the 7-speed Shimano shifter, but you can also rely on the 500-watt brushless motor at any time when your pace slows, or the ride gets too harsh. The removable 36-volt 10.4 amp-hour battery will last for up to 40.5 miles per charge at a max speed of 20 miles per hour. Since the CTI was designed with city riders and commuters in mind, it works well for both casual (relaxed) and more focused rides.
There are five different speed settings, with a throttle that you can crank up to let the motor do all the work when you're tired. But most importantly, the design is available in both a step-over and step-thru form – the latter allows you to easily mount the bike without having to swing your leg far over the main bar. Plus, the curved handlebars prevent you from having to lean forward when you're steering the bike, so you can kick back and relax whenever you're ready to take off. A front wheel suspension helps keep the bike balanced and the ride smooth, and a rear storage rack allows you to stow your gear safely. It's the best of both worlds and an excellent option for all riders, beginner to expert.
The Best for Commutes
Serial 1 Rush/CTY Speed
Look, if you're grabbing an ebike to make your commute more enjoyable then chances are you're not interested in some of the more extreme aspects of these bike types. What you really care about is getting to your destination safely, on time, and without breaking too much of a sweat — especially if you're riding around in a suit or dressed up. The Serial 1 Rush/CTY Speed is perfect for that, and it looks fantastic, with a couple of color options, and it rides smoothly. It has a top speed of 28 miles per hour, and a range of 25 to 115 miles, depending on how fast and hard you ride. The 706-watt-hour lithium-ion battery takes 7.5 hours to charge to full, so it can charge during the day while you work for the ride home.
Four levels of pedal assist are available in the form of Eco, Tour, Sport, and Boost modes. All are delivered reliably via the Brose TF Mag motor, which offers 90Nm of 66-feet-per-pounds of torque. That last bit means it's powerful enough to tackle tough terrain too, including slopes and hills. You can sync the bike with Serial 1's mobile app, as well.
The Best for All Riders
Razor Rambler 20
Razor, known for its beloved line of scooters, has introduced an affordable ebike for adults. Perhaps it's not all that surprising they've entered the wide world of ebikes. In our preview of Razor's new Rambler 20, we've detailed some of the nostalgic features it offers, like its retro styling. It looks a lot like a traditional Razor bike. Of course, this is a modern vehicle with a small dashboard-mounted display and 500 watt hub motor. It's capable of 19.9 miles per hour at top speed and will travel a range of up to 16.6 miles on a single charge. The oversized pneumatic balloon tires won't give you trouble on any terrain, even the tough stuff.
A taillight, brake lights, and headlight ensure you're still visible even at dusk or in low-light conditions. So, you can go riding later in the evening when it's cooler out and enjoy the weather. The twist-grip throttle makes it easy to kick the bike into gear — and boost with some power — and the electric pedal assist ensures you're never working too hard during your ride, so you can enjoy a relaxing cruise. It's like Razor thought of everything here.