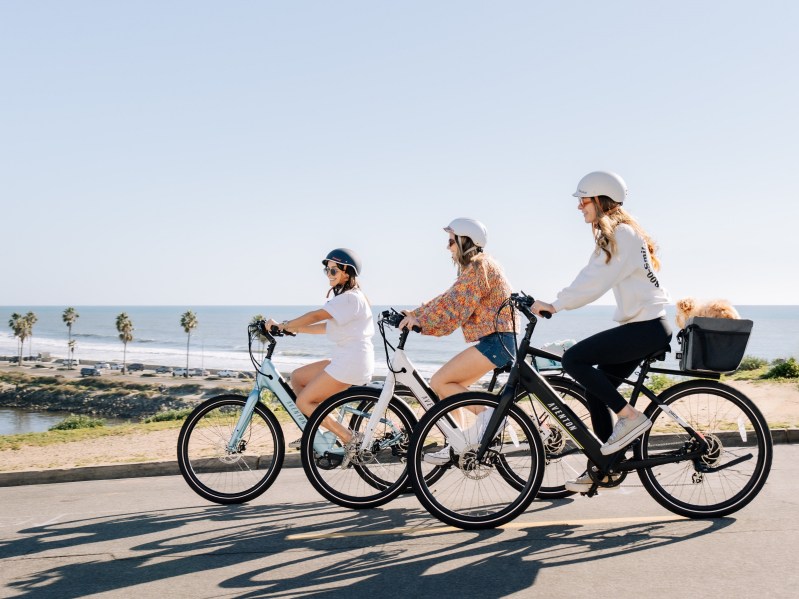 This content was produced in partnership with Aventon.
It's time to demand a little more out of your bicycle. Innovation has changed the face of many products, so why not the average bike too? That's precisely what Aventon believes, but more than that, the brand is reinvigorating the casual bike ride with its electric offerings. Its latest system the Pace500.3 amplifies your trip with high-performance features, including its intuitive torque sensor. It offers a range of up to 60 miles, which is impressive, but made more so thanks to the 48-volt 500-watt brushless rear motor, and 8-speed drivetrain. It all comes together to provide an exceptional experience to riders that reinvents the meaning of "going for a spin."
Beyond the performance features, it also boasts several innovative options to elevate your ride. All-new turn signal functionality, for example, ensures you're safe while on the road and that nearby drivers know exactly what you're doing and where you plan to turn. It also features a built-in LCD color display complete with mobile app connectivity so you can pair your phone for tracking bike rides, earning milestone medals, connecting with other Aventon riders, and much more. Comfort hasn't fallen by the wayside either, with a cushioned saddle that feels great even after long rides, swept-back handlebars for better posture, and a 606i single-butted aluminum alloy frame that's plenty sturdy and supportive. These are just the core features and upgrades, there's a lot more to the Pace500.3 that's worth discussing.
Reinventing What It Means to Go for a Ride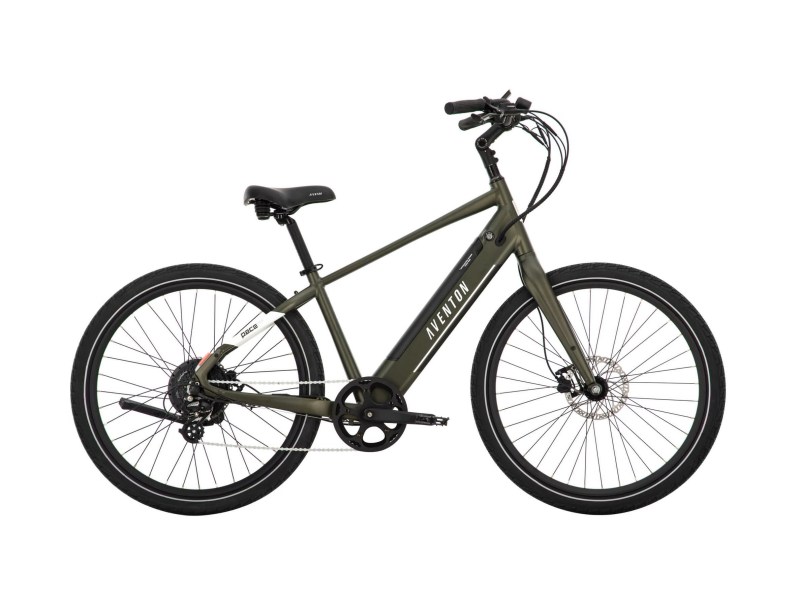 Right down to the frame, and its foundations, the Pace500.3 is changing the entire bike-riding experience. The step-through frame makes it easier than ever to mount the bike, just step over and sit down — it's all in the name. The 606i single-butted aluminum alloy is tough, but also the entire system — including the electronics — is IPX4 water-resistant. That means the bike is resistant to water splashes from any direction, so it's okay to ride in the rain. Of course, it's not meant to be exposed to prolonged moisture or pressure, so you still can't pressure wash your bike to keep it clean, but that's okay. The frame and finish are easy enough to wipe down and keep looking shiny and new.
Out of the box, and ready to go, the Pace500.3 is a Class II ebike, complete with pedal assists for tough trips, and a throttle that reaches up to 20 miles per hour. It can be unlocked to reach a Class III ebike, with speeds up to 28 miles per hour with the pedal assist. But more importantly, for areas where throttles and electric bikes are prohibited, you can still operate the bike with the throttle unplugged and removed. It works just like your standard bicycle with no resistance.
Electric for Convenience
Imagine riding up a steep slope, pedaling as hard as possible, and wasting all your energy on one leg of your very long trip. That's no more with Aventon's Pace500.3 and its other electric bikes. The pedal assist makes sure your pedaling efforts remain consistent, and you can always open up the throttle to make the ride even more pleasant. There are four new pedal assist levels: Eco, Tour, Sport, and Turbo. Each one offers a varying degree of support and speed.
Hydraulic disc brakes ensure you can stop on a dime, yet safely, meanwhile the 500-watt brushless motor powers the entire system, as needed. Integrated rear lights with turn signals alert drivers and other riders nearby, and an integrated front light gives you a small headlight when you're riding in the dark or during low-light conditions, like a storm. Again, these are all things that you wouldn't get from your average bicycle, even some competing ebikes. Aventon's electric solutions provide a degree of convenience to your bike rides that are unprecedented.
When Can I Get a Pace500.3 for Myself?
While all of that sounds wonderful, you're also probably wondering how and when you can get your hands on your very own Pace500.3. With top speeds of 20 to 28 miles per hour and a range of 60 miles, it's no surprise that you might be excited by this marvelous burst of innovation. Currently, Aventon will be offering the Pace500.3 at its MSRP of $1,699, which launched earlier this year on March 28, 2023.
You can always find more information about the Pace500.3 ebike at Aventon's site, as well, which we highly recommend visiting.
Editors' Recommendations