Pumpkin pie, while delicious, is an expected and unsurprising Thanksgiving dessert recipe. Yet the fall season is filled with delicious produce other than pumpkins. For instance, apples, especially the varieties with tart and complex flavors, are perfect for baking. For this upcoming Thanksgiving, why not bake something outside the box? Why not surprise your guests and family with creative flavors? We say it's time to switch it up, and with these three recipes, no one will be thinking about pumpkin pie.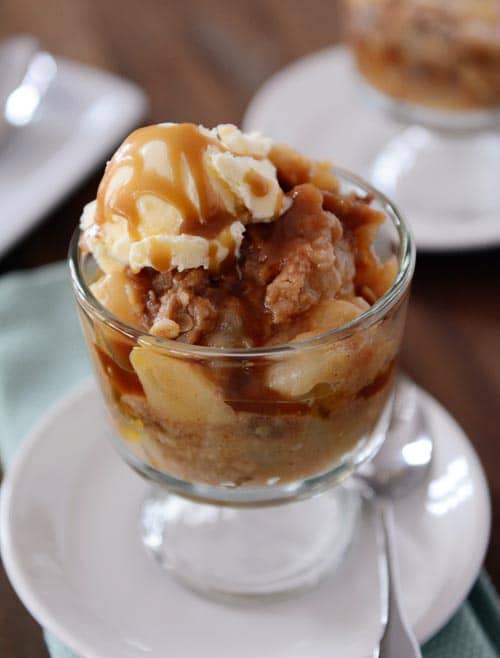 (From Mel's Kitchen Cafe)
This scrumptious Thanksgiving dessert is delicious both warm from the oven, and well after midnight when it's been left on the counter with the other leftovers and you're sneaking back for seconds. Its homey crumb topping sets off the soft richness of the baked pears in a truly delightful way. This is one Thanksgiving dessert you'll be making all season long.
Ingredients:
Caramel Sauce:
1/2 cup salted butter
1 1/2 cups packed light brown sugar
1/4 t

easpoon

salt

1

cup

heavy whipping cream

1

tablespoon

vanilla
Pear Filling:
4

pounds

(

about 8 medium) ripe pears, peeled, cored and diced

3

tablespoons

fresh lemon juice

3

tablespoons

all-purpose flour

1/2 teaspoon

cinnamon
Topping:
1

cup

packed light brown sugar

1

cup

all-purpose flour

1

cup

old-fashioned rolled oats

1 1/2

teaspoons

cinnamon

1/2

teaspoon

salt

3/4 cup

salted butter

,

cut into pieces
Method:
For the caramel sauce, in a medium heavy-bottomed saucepan, combine the butter, sugar, salt, and cream. Melt over low heat.

Bring the mixture to a boil and boil for 10 minutes.

Remove from the heat and stir in the vanilla. Set aside to cool slightly.

Preheat the oven to 350F. Lightly grease a 9 x 13 pan.

Toss the pears in a large bowl with the lemon juice, flour, and cinnamon. Pour 1 cup of the caramel sauce over the pears and stir to combine well. Pour the mixture into the prepared pan.

In a separate bowl, mix together the brown sugar, flour, oats, cinnamon, and salt. Mix in the butter pieces until the mixture is crumbly. Spread the topping evenly over the pears.

For the topping, in a medium bowl, whisk together the brown sugar, flour, oats, cinnamon, and salt. Toss the pieces of butter in with the ingredients and use a pastry blender, two knives, your fingers, or anything else to cut the butter in until the mixture is crumbly. Spread the topping evenly over the pears.

Bake until the edges are bubbling and the top is a golden color, about 45-50 minutes.

Remove from the oven and let cool for about 30 minutes. The crisp can be served warm or at room temperature.

Serve with vanilla ice cream and remaining caramel sauce.
French apple cake recipe
(By Pastry Chef Cati Molnar of Robert Et Fils.)
Robert Et Fils is a fine-dining French restaurant in Chicago with an emphasis on sustainability. This elegant cake, chock full of fall fresh apples, is a showstopper for Thanksgiving.
Ingredients:
1 cup AP flour
1 tsp baking powder
2 large eggs
.75 cup + 2 tbsp sugar
1.5 tsp salt
3 tbsp dark rum
.5 cup crème fraiche
4 tbsp butter, melted, warm
4 large apples, peeled, thinly sliced
Method:
Preheat the oven to 375 degrees Fahrenheit. Butter an 8-inch round or square cake pan and line it with parchment.
Whisk the flour and baking powder together and set it aside.
In a large bowl, whisk the eggs with .75 cup sugar and the salt until light and foamy (this takes about 2 minutes by hand).
Add the rum and crème fraiche and whisk until evenly combined.
Add the flour and then the melted butter, whisking until just combined into a smooth, even batter.
Gently fold in the apple slices until they are coated in batter.
Pour the mixture into the prepared pan and smooth the top. Sprinkle evenly with 2 tbsp sugar and another pinch of salt.
Bake 45-60 minutes or until set and lightly browned. The cake may sink slightly in the center as it cools.
*Brandy, whiskey, or bourbon can be substituted for the rum. For an alcohol-free option, use 4 tsp vanilla extract and increase crème fraiche to a full .5 cup.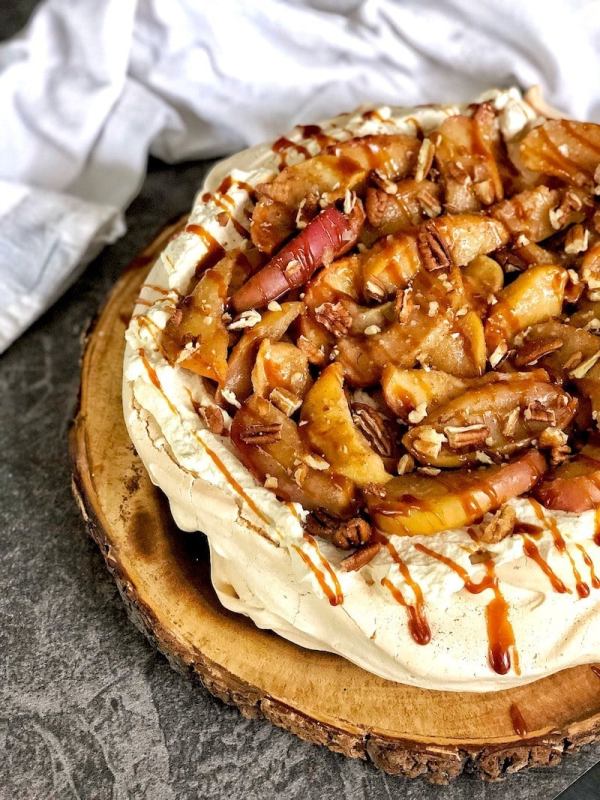 (From Her Modern Kitchen)
We don't see enough Pavlovas in this country, and we think it's time to turn that around. Delicately light and airy, yet crisp with an almost marshmallow-y inside, this autumnal pavlova will have everyone skipping the turkey and going straight for dessert.
Ingredients:
3 medium honeycrisp or fuji apples, core removed and cut into slices
4 tablespoons butter, melted
1 teaspoon pumpkin pie spice
1/4 cup light brown sugar
4 large egg whites
1 cup confectioner's sugar
1 teaspoon vanilla extract
1 teaspoon cornstarch
1 teaspoon white vinegar
12 ounces heavy cream
1/4 cup pure maple syrup
Pinch of salt
2 tablespoon salted caramel sauce
2 tablespoons chopped pecans
Method:
Preheat the oven to 350 degrees Fahrenheit.
Line a large roasting pan with foil and set aside.
In a large bowl, combine melted butter, pie spice, and brown sugar. Add the apples, and mix well to coat them.
Transfer the apples to the prepared roasting pan and bake for 30 minutes, stirring halfway through.
Remove the pan from oven and cool to room temperature.
While the apples are in the oven, line a large baking tray with parchment paper.
Using a 6-inch cake pan, trace a circle onto the parchment paper and set aside. This will help form the meringue.
Lower the oven temperature to 280F.
Whip egg whites using a stand mixer and beat on high with the whisk attachment until stiff peaks form.
With the mixer on the lowest setting, sift in half of the confectioner's sugar.
Add vanilla, corn starch, and remaining sugar. Continue mixing on low until combined.
Spread the egg white mixture onto the traced circle. Form a slight bowl shape by creating a slight dip in the center.
Bake at 280F for 75-90 minutes, until the center and edges are firm to the touch. Remove from oven and cool completely.
Pour heavy cream into a clean bowl of a stand mixer and whisk on high until peaks form. Drizzle in the maple syrup and a pinch of salt.
Spread the maple cream on top of the baked meringue.
Carefully spoon the cooled apples and their syrup onto the cream.
Finish with the salted caramel sauce and chopped pecans.
Editors' Recommendations