A great Thanksgiving meal is a feast like no other. It has to be one of my favorite meals of the year. While enjoying the feast is one thing, preparing it is a whole different ball game. Of course, The Manual has you covered when it comes to alternatives to roast turkey or the best side dishes, and not to mention, drinks. Did you think we'd leave you hanging for dessert? Of course not. Pie will of course make an appearance on this list, but not everybody loves pie so we've included a few other desserts sure to please the whole family.
Related Thanksgiving Guides
How to Make Pie Crust
Sure, you can purchase pie crust from the store. But it isn't that difficult to make and will taste better than the store-bought stuff. Make it ahead of time so it'll be ready when you need it. This recipe will work for your pumpkin, apple, or pecan pies. With Christmas around the corner, consider prepping a few extra pie crusts and freezing them so that you'll be set all holiday season. This homemade pie crust recipe from Gimme Some Oven should do the trick.
Ingredients:
1 1/4 cups (150 grams) all-purpose flour
2 teaspoons granulated sugar (optional)
1/2 teaspoon salt
1/2 cup (115 grams) cold unsalted butter*, diced into 1/4-inch cubes
1/4 cup ice water
Method:
Mix the dry ingredients: Combine the flour, sugar (optional), and salt in a large mixing bowl or a food processor. Whisk or pulse briefly until combined.
Cut the butter into the dry ingredients: Sprinkle the diced butter evenly over the dry ingredient mixture. If working by hand, use a pastry cutter or two forks to cut the butter into the dry ingredients until the butter is evenly dispersed into pea-sized (or smaller) bits. If using a food processor, briefly pulse the butter and dry ingredients together 5 to 7 times until the butter is evenly dispersed into pea-sized (or smaller) bits, then transfer the mixture to a large mixing bowl.
Add water: Sprinkle the dough evenly with the ice water. Use a spatula to quickly mix the water into the dough until it is evenly combined, and the dough begins to form moist clumps. (If the dough is not sticking together, you can add 1 or 2 more tablespoons of water to help it clump.) Try not to overmix the dough.
Form a dough ball: Using your hands, quickly pack the dough into a ball (like you're packing a snowball). Then flatten the ball into a 3/4-inch thick disk.
Wrap and chill the dough: Wrap the dough disk tightly in plastic wrap, then refrigerate for at least one hour, or up to three days, until ready to roll out and use.
The Best Pumpkin Pie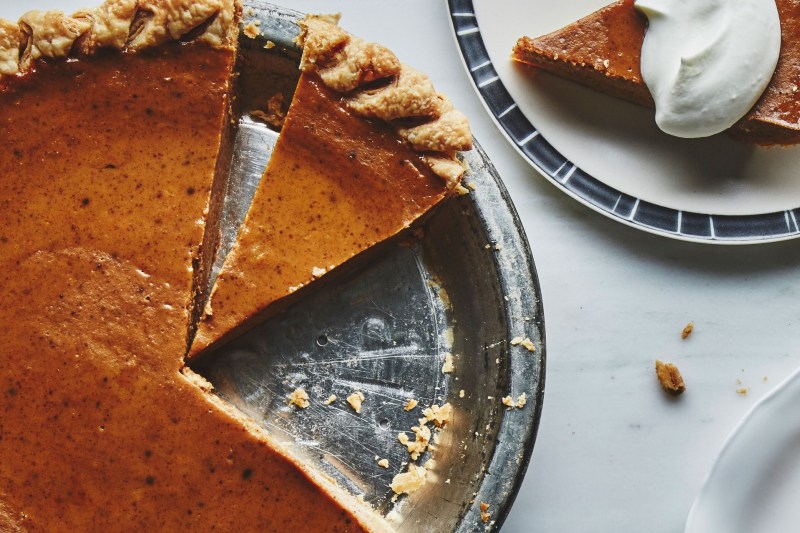 Pumpkin pie is a Thanksgiving classic. Even when pumpkin pie isn't great it's still pretty good. This might just be because this delicious dessert only gets made this time of year. There are a ton of pumpkin pie recipes out there but Bon Appetite's best pumpkin pie recipe from Rick Martinez is especially good.
Ingredients:
⅓ cup sugar
1 teaspoon ground cinnamon
¾ teaspoon kosher salt
½ teaspoon ground ginger
¼ teaspoon ground cloves
¼ teaspoon ground nutmeg
2 large eggs plus 1 large egg yolk, room temperature, beaten to blend
2 cups unsweetened pumpkin purée
⅔ cup sweetened condensed milk
⅓ cup heavy cream
2 tablespoons maple syrup
2 teaspoons vanilla extract
Whipped cream (for serving)
Method:
Preheat oven to 325°.
Whisk sugar, cinnamon, salt, ginger, cloves, and nutmeg in a large bowl until no clumps remain.
Add eggs, pumpkin, condensed milk, cream, maple syrup, and vanilla and whisk until smooth.
Pour into cooled crust.
Bake pie until edges are set and slightly puffed but the center is recessed and wobbles like Jell-O, 60 to 75 minutes (it will continue to set after baking).
Transfer to a wire rack and let cool at least 3 hours before slicing. Serve with whipped cream.
The Best Apple Pie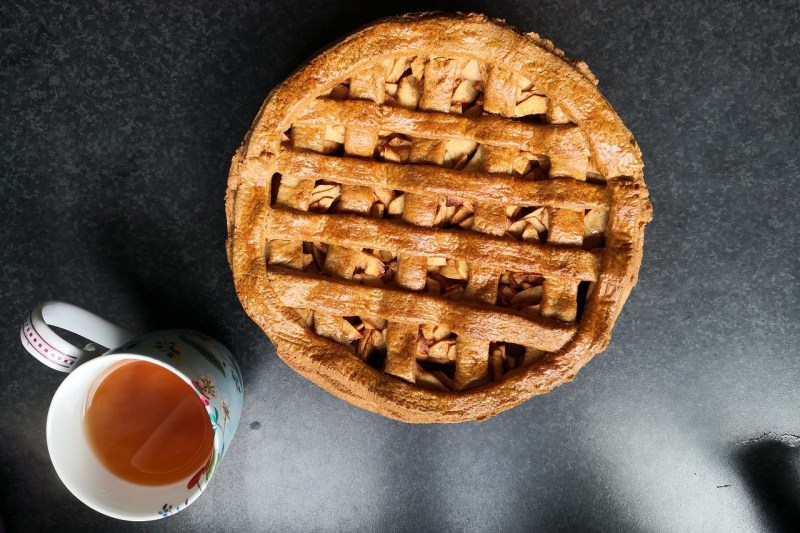 Good apple pie served warm with ice cream is a true joy in life. This apple pie recipe from the New York Times suggests pre-cooking the fruit and making two pie crusts to achieve that classic lattice-top look. You can be as creative or efficient with your latticework as you'd like.
Ingredients:
2

tablespoons unsalted butter

2 ½

pounds apples, peeled and cored, then cut into wedges (5 large Honeycrisps will do it)

¼

teaspoon ground allspice

½

teaspoon ground cinnamon

¼

teaspoon kosher salt

¾

cup plus 1 tablespoon sugar

2

tablespoons all-purpose flour

2

teaspoons cornstarch

1

tablespoon apple cider vinegar

1

recipe all-purpose pie dough

1

egg, lightly beaten
Method:
Melt butter in a large saute pan set over medium-high heat and add apples to the pan. Stir to coat fruit with butter and cook, stirring occasionally. Meanwhile, whisk together the spices, salt, and 3/4 cup sugar, and sprinkle this over the pan, stirring to combine. Lower heat and cook until apples have started to soften, approximately 5 to 7 minutes. Sprinkle the flour and cornstarch over the apples and continue to cook, stirring occasionally, another 3 to 5 minutes. Remove pan from heat, add cider vinegar, stir and scrape fruit mixture into a bowl and allow to cool completely. (The fruit mixture will cool faster if spread out on a rimmed baking sheet.)
Place a large baking sheet on the middle rack of oven and preheat to 425 F. Remove one disc of dough from the refrigerator and, using a pin, roll it out on a lightly floured surface until it is roughly 12 inches in diameter. Fit this crust into a 9-inch pie plate, trimming it to leave a .5-inch overhang. Place this plate, with the dough, in the freezer.
Roll out the remaining dough on a lightly floured surface until it is roughly 10 or 11 inches in diameter.
Remove pie crust from the freezer and put the cooled pie filling into it. Cover with remaining dough. Press the edges together, trim the excess, then crimp the edges with the tines of a fork. Using a sharp knife, cut three or four steam vents in the top of the crust. Lightly brush the top of the pie with egg wash and sprinkle with remaining tablespoon of sugar.
Place pie in oven and bake on hot baking sheet for 20 minutes, then reduce temperature to 375. Continue to cook until the interior is bubbling and the crust is golden brown, about 30 to 40 minutes more. Remove and allow to cool on a windowsill or kitchen rack, about two hours.
The Best Blueberry Pie
This video from Basics with Babish covers a lot of ground. One, he shows how to make a blueberry pie. He also covers making a basic pie crust and creating a lattice pie crust top. For the visual learners out there, enjoy. The blueberry pie recipe starts at 7:57. Check out all the Basics with Babish pies.
Ingredients:
Fresh or frozen blueberries (48oz)
½ cup sugar
¼ cup corn starch
Lemon zest
Method:
In a small bowl, whisk together ½ cup of sugar, ¼ cup of corn starch, and the zest of one lemon. Combine this mixture with the bowl of blueberries and toss accordingly.
Add the blueberry mixture to your standard pie crust.
Follow the steps for the lattice pie crust above.
Bake at 400°F for 30 to 45 minutes until deeply golden brown. Allow to cool for at least four hours before digging in.
The Best Pecan Pie
Pecan pie has to be one of my favorite holiday pies. Crunchy pecans paired with, well, a lot of sugar, tastes delicious. Not surprising. Most pecan pie recipes call for corn syrup, something I generally try to not eat in large quantities. So for this recipe, we're turning to Sally's Baking Addiction for a Maple Syrup Pecan Pie. There's no corn syrup involved, and the maple syrup adds a unique sweet note to this pie.
Ingredients:
Buttery Flaky Pie Crust or All-Butter Pie Crust
2 and 1/2 cups (250g) shelled pecans (pecan halves)
5 Tablespoons (72g) unsalted butter, melted and slightly cooled
1/2 cup (100g) packed light or dark brown sugar
1 Tablespoon (8g) all-purpose flour*
2 teaspoons pure vanilla extract
1/2 teaspoon salt
3 large eggs, at room temperature
1 cup (240ml) pure maple syrup*
sea salt for sprinkling
optional: Homemade Whipped Cream for topping
Method:
Prepare the pie crust
After the pie crust has chilled, adjust the oven rack to the lower third position and preheat the oven to 350°F (177°C).
Roll out the chilled pie dough and blind bake: On a floured work surface, roll out one of the discs of chilled dough (you can freeze the 2nd for later use, see note). Turn the dough about a quarter turn after every few rolls until you have a circle 12 inches in diameter. Carefully place the dough into a 9-inch pie dish.* Tuck it in with your fingers, making sure it is smooth. Flute or crimp the edges of the crust. Chill for 20 minutes in the refrigerator or freezer. (Crust will shrink otherwise!) Line the chilled pie crust with parchment paper or aluminum foil. Fill with 2 sets of pie weights or dried beans. Bake for 15 minutes.
Remove pie from the oven and carefully lift the parchment paper/aluminum foil (with the weights) out of the pie.
The filling: Carefully spread pecans evenly inside warm pie crust. Set aside. Whisk the melted butter, brown sugar, and flour together in a large bowl until combined and thick. Whisk in the vanilla extract, salt, eggs, and pure maple syrup until combined. Pour evenly over pecans.
Bake the pie for 40-50 minutes, or until the top is lightly browned. After the first 20 minutes of bake time, place a pie crust shield on top of the pie to prevent the edges from browning too quickly. You can also tent a piece of aluminum foil over the whole pie if the top is browning too quickly. Remove finished pie from the oven and sprinkle sea salt on top. Place on a wire rack to cool completely. The pie filling will set as it cools.
Slice and serve pie at room temperature. Top with whipped cream, if desired. (I used Wilton 8B Piping Tip.) Cover and store leftover pie at room temperature for 1-2 days or in the refrigerator for 4-5 days.
Slow Cooker Biscuit Berry Cobbler
This recipe comes to us from Food Network Star finalist and "Food Influencer" of Chop Happy, Jason Goldstein. Not only is it a gorgeous blend of sweet and tart berry flavor, but it's also an insanely easy recipe that you can toss in the slow cooker.
Ingredients:
6 scoops vanilla ice cream
5 sprays oil spray
1 pint blueberries
1 pint strawberries (cut in fourths)
2 tsp cornstarch
1 tsp cinnamon
1 tsp maple syrup
1 can biscuits (cut in fourths)
Method:
First, spray the slow cooker with cooking spray. This is to prevent the cobbler from sticking.
Next, add blueberries, strawberries, cinnamon, maple syrup, and cornstarch. Mix well.
Now top the berries with biscuit pieces. Try to cover as much of the top as possible.
Next, close the lid and cook on high for 2 hours.
Finally, top with ice cream and enjoy!
Classic Cherry Pie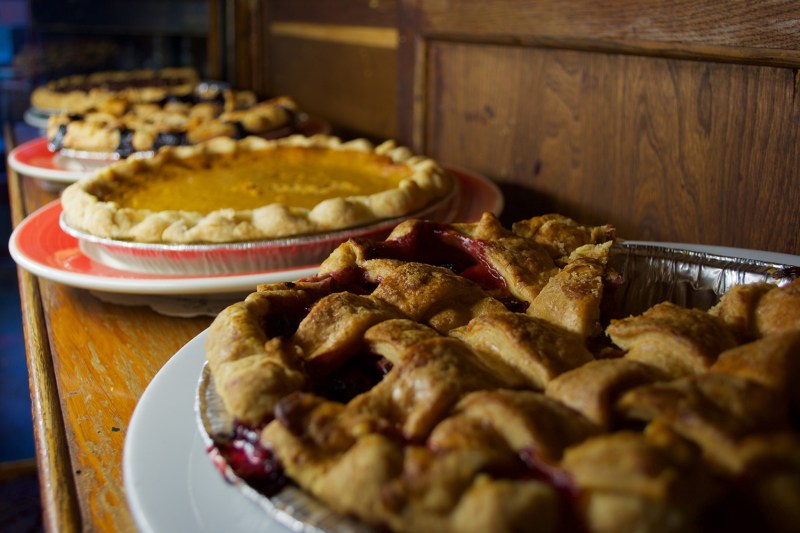 This recipe is courtesy of Carrie Levin of Good Enough to Eat, a New York eatery that has been serving up delicious American home cooking since 1981. A classic like cherry pie is always a winning choice for Thanksgiving, and chef Levin's recipe is super simple and totally scrumptious.
Pie Dough

Ingredients:
1 cup sifted flour
1/3 cup plus 1 tbsp butter
2 to 3 teaspoons iced water
½ tsp salt
Method:
Combine flour and salt. Cut butter into tiny pieces.
Mix flour and butter until it resembles cornmeal.
Sprinkle water little by little on mix until the dough forms.
Refrigerate for 30 minutes.
Cherry Pie

Ingredients:
Two 9-inch unbaked pie crusts
2 cans (1 pound) of sour cherries in water
¾ cup sugar
3 tablespoons cornstarch
1 tablespoon butter
½ teaspoon salt
¼ teaspoon almond extract
Sugar to sprinkle
Method:
Line a pie tin with one pie crust
Drain the cherries and reserve 1/3 of the liquid
Combine sugar, salt, and cornstarch in a bowl
Add cherries, reserved juice, and extract. Pour into pie tin and dot with butter.
Roll out a second pie crust.
Cover the pie with the second pie crust, sealing well.
Cut vents on top of the crust.
Brush crust with water and sprinkle with sugar.
Bake at 425 degrees for 15 minutes, then reduce temperature to 350 degrees and continue to bake for 40 minutes.
No-Bake White Chocolate Peanut Butter Cheesecakes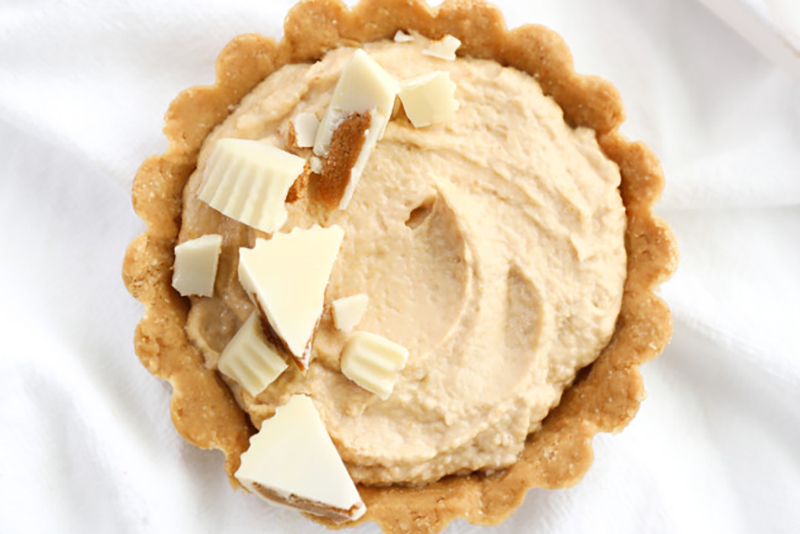 Thanksgiving is the perfect time of year to serve up the hearty flavor of ingredients like almonds, cashews, and peanut butter. And if anyone knows how to do just that, it's Justin's, maker of natural nut butters and organic snacks. These delightful little cheesecakes are creamy and irresistible and don't even require you to turn on the oven.
Filling

Ingredients:
8 ounces Neufchatel (or regular or vegan cream cheese)
4 ounces coconut whipped topping
1 cup Honey Peanut Butter
Method:
In a large bowl, beat together cream cheese, peanut butter, and whipped topping. Set aside.
Crust

Ingredients:
4 White Chocolate Peanut Butter Cups
1 cup oat flour
½ cup Honey Peanut Butter
½ cup maple syrup
Method:
In the bowl of a food processor, combine peanut butter, maple syrup, and oat flour. Process until mixture forms a dough-like consistency.
Press crust into the bottom and sides of four small tart pans. Spread the peanut butter cheesecake filling over the crust and top with chopped peanut butter cups.
Chill at least one hour and keep refrigerated until ready to serve.
Editors' Recommendations