Another holiday season has arrived, and the talk now, especially with things sort of falling back into place, is drinks with friends. It's something we've sorely missed, and with Thanksgiving coming — not to mention Friendsgiving, the unofficial kickoff the night prior — there's good reason to have some delicious cocktail recipes in store.
Perhaps you want to show off your newfound bartending chops and make a stunning Boulevardier or a great Tom Collins. Maybe you need a hot cocktail to warm up with. Or maybe you just want an easy list to pull from, like the one below.
Related Thanksgiving Guides
Here are 15 Thanksgiving cocktails to brighten the big day and inject a little more joy into the long holiday weekend. It's a fine list we're grateful for this Turkey Day. Cheers!
Car Thief
Go Nordic with the Car Thief, a spicy and action-packed cocktail that warms your palate with rye, ginger, and Aquavit. It's created by Thief in NYC.
Ingredients:
2 oz Deadwood Rye
1 oz Brennivin Rugbraud Aquavit or Norden Reserve Aquavit
.25 oz Ginger Syrup
.25 oz Blackstrap Syrup (2:1 ratio molasses: water) or Caffo Licorice
3 dashes Angostura Bitters
Candied ginger and orange twist for garnish
Method:
Add ingredients to a shaker tin and shake.
Pour over ice into a rocks glass, and top with candied ginger and an orange twist flag to garnish.
Mile High Manhattan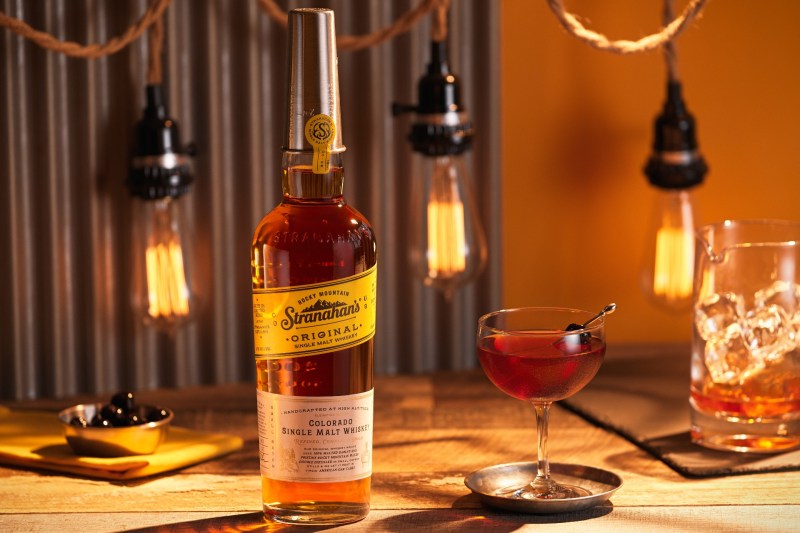 There's something wonderfully late-autumn about a Manhattan, and the addition of Campari and chocolate bitters makes it both more European and festive, two things we're fond of.
Ingredients:
1.5 oz Stranahan's Original
.75 oz sweet vermouth
.75 oz Italian bitter (like Campari)
2 dashes chocolate bitters
Method:
Combine whiskey, sweet vermouth, Italian bitter, and stir.
Pour into coupe glass and garnish with brandied cherry.
Negroni Bianco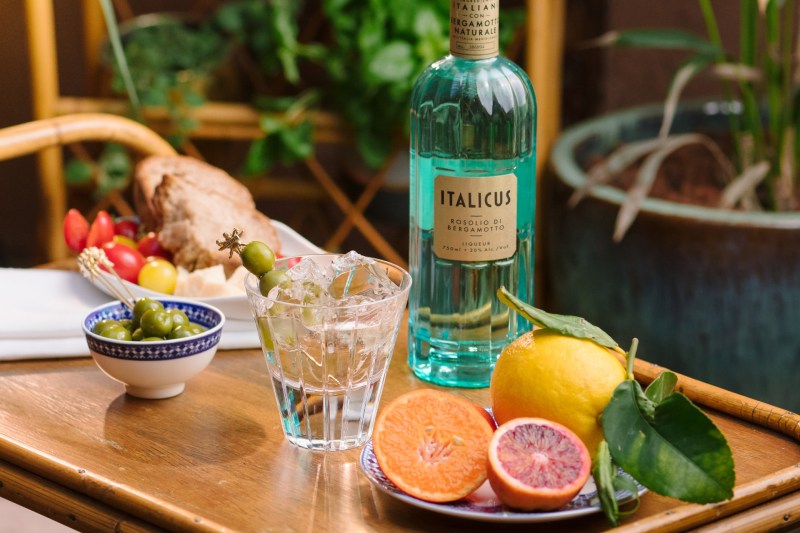 Negronis are cool again and always will be, especially intelligent riffs like this one. It swaps the standard Campari for a tasty bergamot liqueur. Consider it your ultimate pre-feast aperitif.
Ingredients:
1 part Italicus Rosolio di Bergamotto
1 part London dry gin
1 part dry vermouth
Method:
Combine all ingredients in a tumbler glass with ice.
Garnish with olives.
Cornucopia Cosmo
Pack a Cosmo cocktail to the brim like a proper cornucopia with this festive cocktail. This one has depth thanks to pear vodka, citrus, and soothing honey syrup.
Ingredients:
1.5 oz Grey Goose La Poire
.5 oz Mulling Spice Honey Syrup
.5 oz lime juice
.75 oz cranberry juice
Method:
Combine all ingredients into shaker tins.
Shake and strain into coupe.
Ruffino Jack of Spades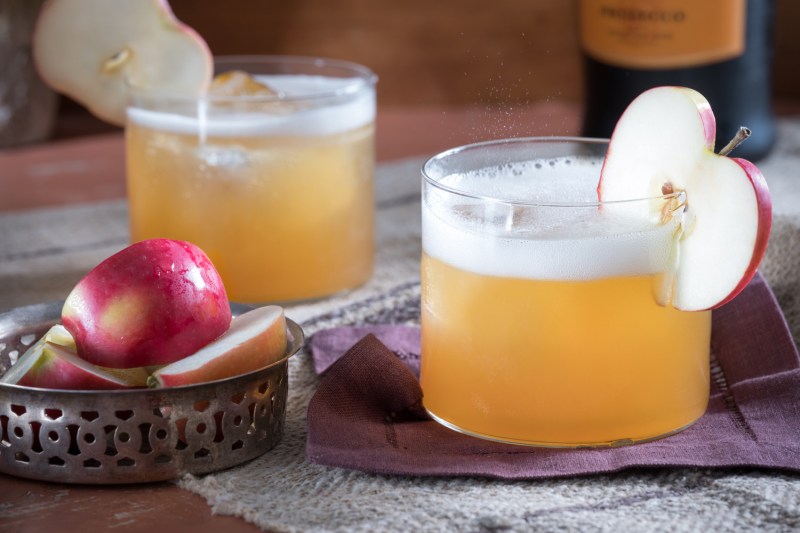 This apple-tastic cocktail incorporates fruity cognac and is made the proper party animal with the addition of always-happy Prosecco.
Ingredients:
2 parts Ruffino Prosecco
.5 part cognac
1 part apple cider
.75 part lemon juice
.5 part honey syrup (2:1 honey to water)
Apple slices
Method:
Shake the cognac, lemon, apple cider, and honey syrup.
Strain into a lowball glass with ice and top with Ruffino Prosecco.
Garnish with an apple slice.
Shochu Bloody Mary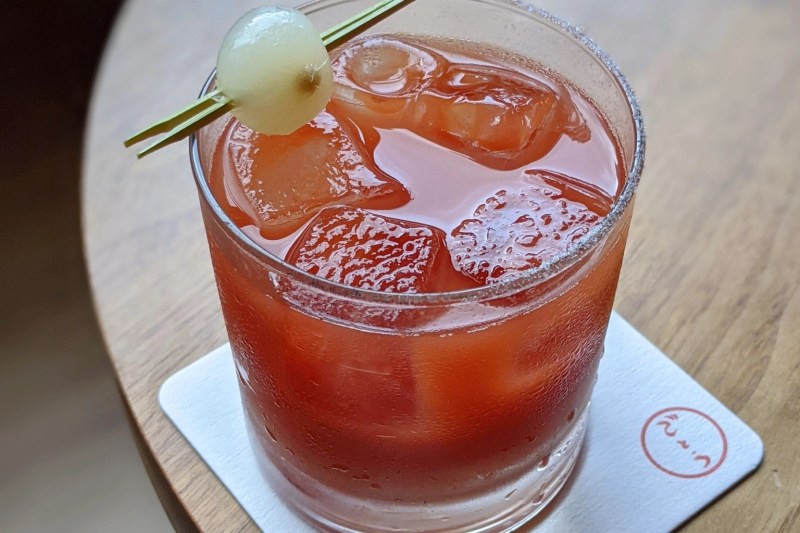 (Created by Kenta Goto, Bar Goto, NYC)
A bloody mary is not just the work of heathens wanting to drink in the morning. It can be a refined, party-worthy cocktail like this one, made with combo of shochus.
Ingredients:
1 oz Serrano chili-infused iichiko Silhouette
.75 oz iichiko Saiten
.5 oz lime juice
4 oz tomato juice
1 pinch of sea salt
Method:
Combine all ingredients into a shaker tin.
Roll over and strain into a highball glass.
The Howdy's Dram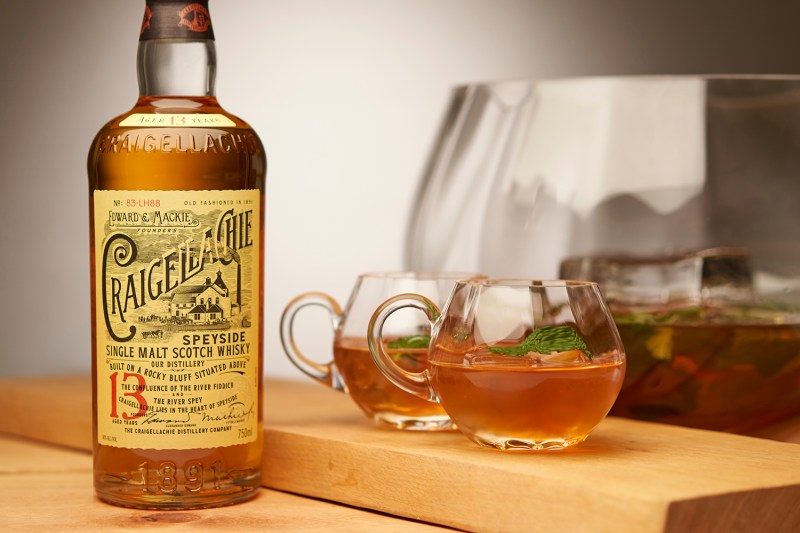 Thaw your crowd to the bone with this comforting mix of scotch, sherry, tea, and herbal liqueur. It's so good you may just want to make a large batch and leave it on a warm stove in a pot.
Ingredients:
750 ml Craigellachie 13-Year-Old
300 ml Palo Cortado sherry
250 ml herbal liqueur
400 ml spearmint tea (or favorite tea flavor)
10 dashes of Angostura bitters
Method:
Seep tea bags in boiling water. Let cool before using.
Combine all ingredients together in a punch bowl.
Garnish with a healthy bouquet of mint and as big of an ice cube* as you can find to fit your punch bowl.
Dust the mint leaves with a bit of powdered sugar to add some pizzazz.
*Note: If you're using smaller cubes, wait to add until just before your least fashionably late guest arrives.
Corn Margarita
What's more celebratory and American than corn and imbibing? Not much. Well, maybe working with an open flame as you torch the garnish of this wonderful drink.
Ingredients:
2 oz El Tequileño Platinum
1 oz freshly squeezed lime juice
1 oz agave syrup
1 oz Nixta Corn Liqueur
Baby corn for garnish
Method:
Add all ingredients to a shaker over cubed ice.
Shake until ice cold.
Fine strain into a cocktail coupe.
Garnish with a flame-charred baby corn.
K N Sour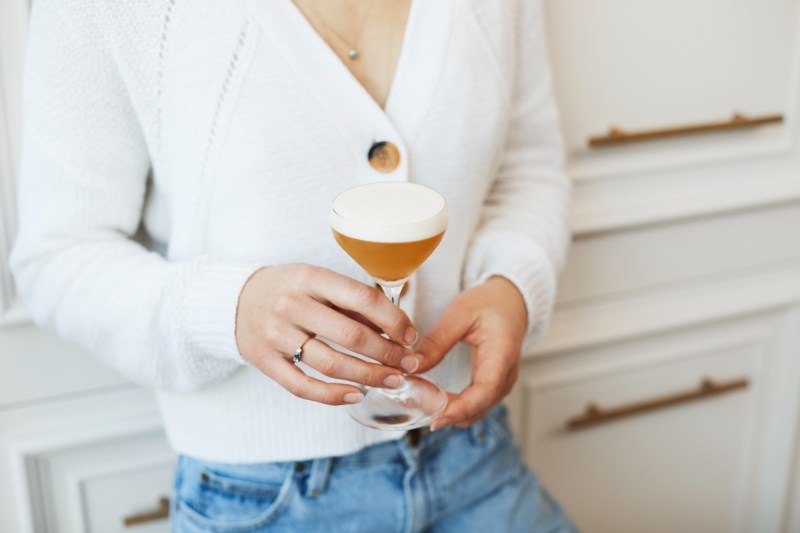 This is an outstanding mocktail if you're watching your intake this holiday season. If not, simply plug in some of your best gin.
Ingredients:
3 parts New London Light
.5 part ginger juice
.5 part lemon juice
.5 part aquafaba
1 tsp cayenne pepper
Method:
Place all the ingredients into a Boston Shaker with plenty of ice.
Shake vigorously for 15 seconds before straining into a chilled Nick and Nora glass.
Fernet Egg Cream Soda
(Created by Jessica Braasch, Bible Club, Portland)
This cocktail utilizes Fernet in one of the coolest ways we've seen yet. It makes for a great dessert drink or a delicious nightcap to wrap up the weekend.
Ingredients:
1 oz Fernet-Branca
.5 oz Carpano Antica Formula Vermouth
1 oz ginger syrup
4 drops salt tincture
1 whole egg
Method:
Build/shake like a Ramos gin fizz.
Pour into fizz-appropriate glass, top with soda, creating frothy "head" rest straw, mint sprig, and grated nutmeg on top.
The Broken Wing
Duck fat washing is a thing and it makes for some exceptional cocktails, this one very much included. It's all kinds of savory, spicy, and fruity.
Ingredients:
3 oz Craisins-Infused and Duck-Fat Washed Broken Shed Vodka*
1 oz Mezcal Pechuga
.5 oz Quinquina
4 Dashes Celery Bitters
Orange peel and fresh cranberry for garnish
Method:
Stir all the ingredients over ice and pour into a pre-chilled stem glass.
Express orange peel over the cocktail and rub around the rim of the glass.
*Duck-fat-washed vodka: Infuse 1 part duck fat, 1 part craisins, and 3 parts Broken Shed Vodka at room temperature for 3 hours in a wide-lipped jar. Place the jar in the freezer until fat fully congeals. Remove from the freezer and immediately poke a hole in the fat and strain through a fine-mesh strainer.
Hurricane Conditions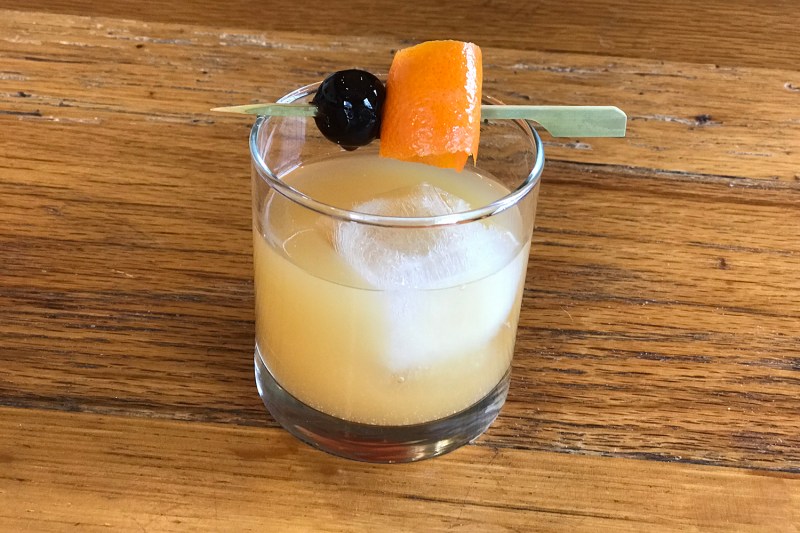 (Created by Sean Doolan)
For a much-needed getaway, pretend you're on Bourbon Street with this excellent version of the Hurricane.
Ingredients:
1.5 oz spiced rum
.5 oz velvet falernum
.5 oz Pimms
.5 oz passion fruit syrup (Liquid Alchemist is suggested)
.25 oz grenadine
4 shakes angostura bitters
2 shakes orange butter
1 oz lime juice
.5 oz orange juice
Method:
Put all ingredients in a shaker with ice, shake very well until shaker is super cold and strain over ice.
Wild Hibiscus Daiquiri
(Created by Shane McClean)
You should be using hibiscus more often, especially to brighten up the dark days of fall and winter. Here, it changes a daiquiri for the better, affording to color and fruity, tea-like flavors.
Ingredients:
1.5 oz white rum
.75 oz fresh lime juice
.75 oz wild hibiscus syrup
Method:
Add ingredients to a mixing glass and add one scoop of ice.
Shake vigorously and strain into your favorite

cocktail

glass.
Add a 

cocktail

umbrella or your favorite fruit on the side to welcome the island vibes and enjoy.
Camarena El Diablo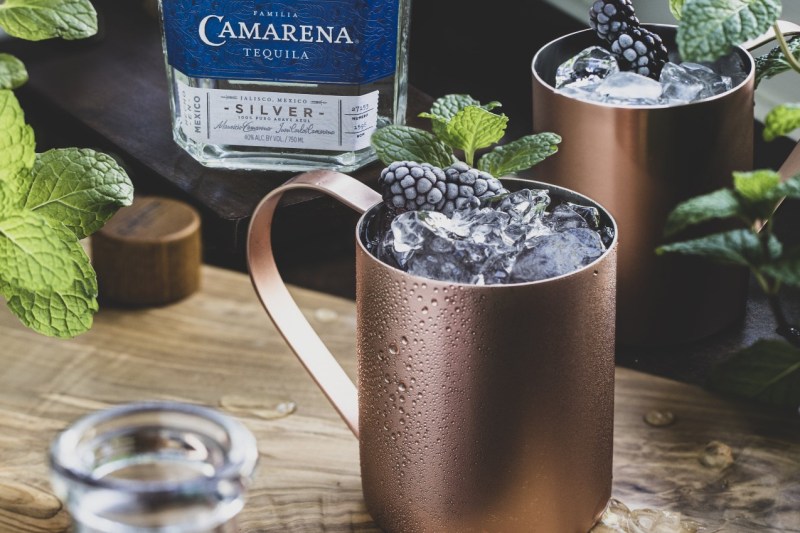 This decorative and delicious cocktail brings the Mule into the autumn and winter months, with pie-like berry flavors and the warm addition of cassis.
Ingredients:
1.5 oz. Camarena Silver or Reposado
.75 oz. crème de cassis
3 oz. ginger beer
.5 oz. lime juice
Blackberry and mint for garnish
Method:
Add ingredients into an ice-filled mule mug or cantarito, and stir together to combine and chill.
Garnish with blackberry and mint.
Noche Buena Collins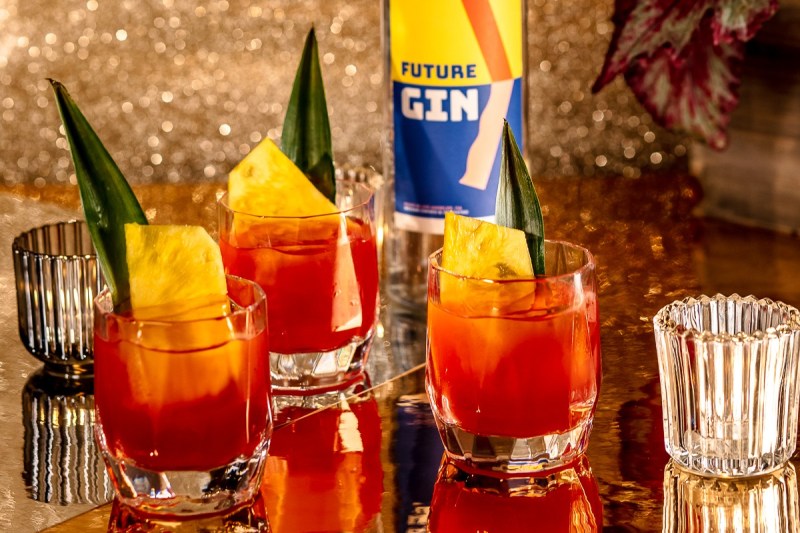 This Collins riff goes a bit tropical along with a bit hearty. The addition of beet allows for some amazing color and earthy flavor while cinnamon adds the right amount of sizzle.
Ingredients:
2 oz Future Gin
1 oz pineapple juice
.75 oz beet and cinnamon syrup*
.25 oz lemon juice
Pineapple for garnish
Method:
Combine all ingredients, shake, strain over ice in an Old Fashioned glass.
Garnish with pineapple half wheel.
*Beet and Cinnamon Syrup: Add 1 liter of water and half of a beet (sliced) to a pot with 3 cinnamon sticks. Simmer for 20 minutes. Let mixture cool then strain out beets and cinnamon. Measure liquid and add equal amount of sugar, by volume.
Editors' Recommendations