We love a lesser-known cut of beef. Tri-tip, for example — one of the most delicious of all steaks and a prized treasure to any Californian — away from the West coast, is often dismissed as a curious cut with no real culinary value (how dare they). Until the last few years, flank and skirt steaks were both scoffed at as cheap, tough cuts, hardly worthy of the time spent to prepare them. It's hard to believe this blasphemy, yet somehow, it's true. Underappreciated, shier types of steak often fly under the radar for decades without anyone pausing to appreciate their unique character and flavors. We say it's time to end this nonsense.
Enter the Oyster Blade. Commonly brushed aside due to its center vein of connective tissue, this flavorful piece of meat is one of the best steak cuts in town. Similar to the flat iron, the oyster blade differs only in the way it's butchered. A flat iron comes from the meat being cut along the long grain from the top and undersides of the gristle. When the meat is cut across its grain, the gristle line lies in the middle of the steak, and that is an oyster blade cut. Both cuts come from below the shoulder blade and are tremendously flavorful and savory.
Because of its signature line of gristle, oyster blades are too often overlooked. But if you know how to prepare this delicious cut of beef, your flavor reward will be immense. Like most lean cuts, the Oyster can be tough, but only when prepared incorrectly. While it can be deliciously pan-seared or grilled, our favorite preparation is a slow-cooked braise. Giving this flavorful cut of beef time to release its meaty flavor will give you one of the most savory stews or roasts you've ever prepared.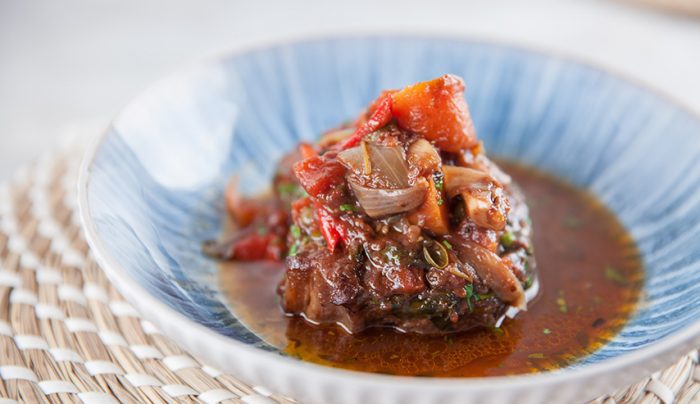 (From Good Chef Bad Chef)
Ingredients:
1 – 1 1/2

cup

lbs Oyster Blade steak

3 anchovies
2 tablespoons capers
1/2 cup extra virgin olive oil
3 garlic cloves, roughly chopped
1 1/2 large onions, chopped
2 carrots, peeled and cut into chunks
2 sticks celery, cut into chunks
1 red chili, cut into chunks
1 bunch thyme, roughly chopped
1 bunch basil, roughly chopped
2 bay leaves
6-7 tablespoons butter
14 ounce can whole tomatoes
14 ounce can diced tomatoes
1 cup red wine
1/2 cup port
1 bunch parsley, roughly chopped (optional garnish)
Method:
Preheat oven to 350F
Season meat well with salt and pepper. Heat an oven proof pan over medium high heat, then add steak, fat side down with a little oil. Once seared, remove the steak from the pan and set aside.
Add the vegetables to the with 2-3 tablespoons of oil, anchovies, herbs, and capers. Stir in the vegetables and sautee 3-5 minutes.
Add butter and stir through. Add tomatoes, red wine and return meat to the pan. Deglaze the pan with port.
Place a sheet of parchment paper over the mixture and put an oven proof lid on the pot.
Cook in the oven for 2-3 hours, or until the meat is tender.
Editors' Recommendations