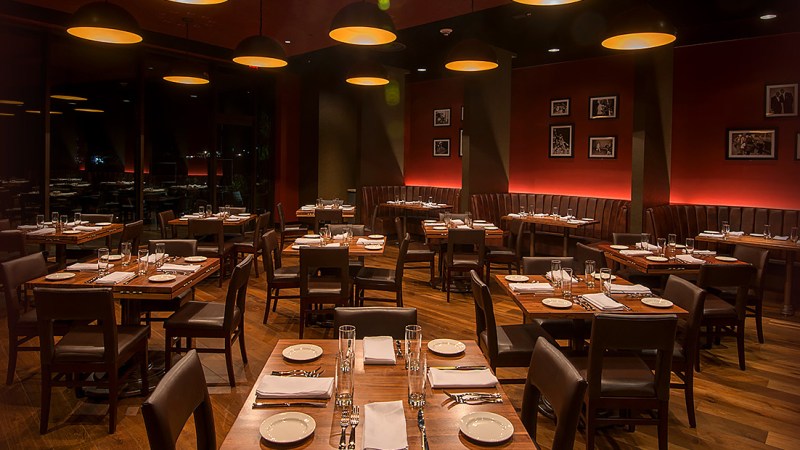 Say you're at a casino. You're a gambling man and you've just went on a run, cashing out with a couple thousand more in your pocket than when you started. What're you going to do with that money? Going to walk quietly away and put it in your bank account? Maybe, but the more fun options would be to a) let it ride or b ) treat yourself to a nice meal to celebrate.
Luckily, just about every casino has options for that, usually in the form of a fancy steakhouse. It doesn't matter if you're in Las Vegas; Atlantic City; Lake Charles, Louisianap or at a smaller casino in Washington State, you're going to be able to find a place to dine without having to leave the casino environment.
Find the restaurants that are putting time and effort into crafting meals worthy of your winnings.
The thing is, not all casino steakhouses are created equal. Some offer very expensive dishes and drinks and don't follow through on quality. They're catering to people who want to blow money and don't care about the caliber. These are not the places you want to go to. Instead, you want to find the restaurants that are putting time and effort into crafting meals that are worthy of your winnings (as if you were doing it at home). Better yet, you'll want to find a place that creates all-star meals, but championship-level cocktails as well. If they can put those two things together with exemplary service, well, then you've got yourself a three-point play.
You may be wondering about the basketball puns, but wonder no more! In order to see how a steakhouse can live up to the higher standard we just spoke of, we visited Michael Jordan's Steakhouse at Ilani Casino Resort in Ridgefield, Washington (just over the state line from Portland, Oregon) for a cocktail and meal pairing. Michael Jordan's Steakhouse, which has locations in Chicago and Connecticut as well, is one of the anchor restaurants in the casino resort and serves up not only numerous of cuts of prime beef ("Steakmanship," they call it), but also a rotating menu of spirits and cocktails that caters to the variety of people that visit Ilani.
To get an idea of the different pairings you can make at the restaurant, here is the menu we sampled. Each is worth traveling for, as they exceeded our expectations. All three courses were slam dunks, you might say.
(Sorry we're not sorry about the puns.)
Course One
Deviled Short Rib and New Orleans-Style Barbecue Shrimp paired with Brandy Crusta
Paired with: Pierre Ferand "Cigare" Cognac, Combier, fresh lemon, Luxardo Maraschino, Angostura bitters
Why it worked: The citrus components of the cocktail, in addition to the oak and spice components in the cognac, played against the succulent short rib bone marrow while enhancing the spiciness of the shrimp. While you wouldn't want to do a bite of the short rib with a bite of the shrimp and a sip of the cocktail, alternating is a great way to experience a nice array of sensations, textures, and flavors in one course. Having a cocktail that can apply to two very different dishes isn't the easiest thing to create, but the Brandy Crusta does just that.
Course Two
Bone-In New York Strip Steak (dry-aged 28 days) and MJ's Delmonico (dry-ged 45 days) paired with John Wayne's Last Ride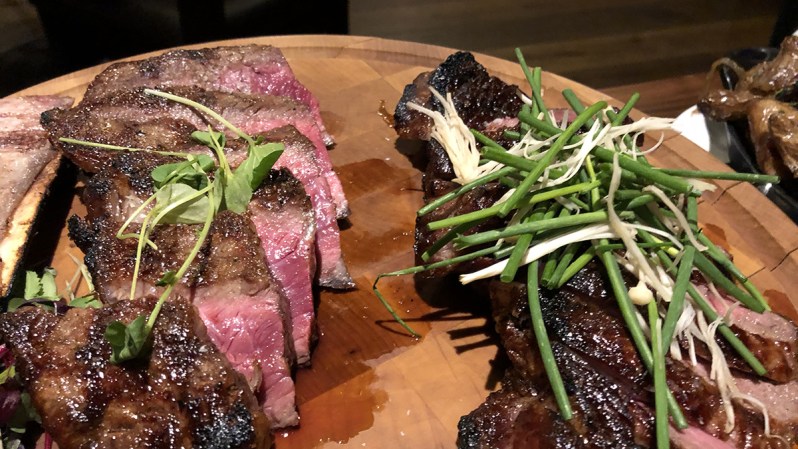 Paired with: Old Forester, Punt e Mes, Campari, chocolate bitters
Why it worked: First, we must say that these steaks were simply divine. As we mentioned above, quality is at the top of the steakhouse's tenets. This isn't just lip service. These steaks were the epitome of perfectly cooked. The richness, then, of the steaks and their accouterments would need a strong, spirit-forward cocktail to cut through the fat and myriad flavors — like John Wayne's Last Ride. The whiskey, bitters, and Italian amari work in union to highlight the flavors of the steak. They play off each other, making everything taste better with each successive bite or sip. (If you're reading this, chances are you've had a great steak with a great bourbon, and you know what we're talking about.)
Course Three
23 Layer Chocolate Cake paired with Second Circle
Paired with: Angel's Envy bourbon, Taylor Fladgate Ruby Port, maple syrup, Angostura bitters
Why it worked: As with the steaks, this pairing needs a small precursor note. This cake is not just called a 23-layer cake because of MJ. It is literally 23 layers of decadence on a plate. That decadence is the key to both the food and the cocktail. The bourbon stands as a strong, smooth backbone, with the port and maple helping to round out the body. Bourbon and chocolate go together, port and chocolate go together. This is a case of A + B = C. Thankfully, the sweetness in the cocktail ingredients is muted by the whiskey and bitters, so it is not an overwhelmingly sugary pairing (which, considering the cake, it could've easily been).
Editors' Recommendations