What's the difference between a conventional grill and the German-made, steak-cooking beast known as Beefer? About a thousand degrees of cooking temperature, that's what.
Yes, the Beefer grill can reach up to 1,500 degrees Fahrenheit, which is, according to the makers of Beefer, high enough to quickly caramelize and sear the exterior of a beautifully aged steak, all while maintaining consistent heat and a medium-rare interior. But, the really innovative feature in Beefer is the use of top-down heat.
Emanating from a ceramic burner, the 1,500 degrees of heat blasts your meat directly from the top, meaning any juices, fat, or other flavors that come out of meat and would normally fall on the flames or burners of traditional grills are contained within the cooking tray — no lost flavor lost and no heavy smoke. All these collected juices are perfect for creating sauces for both steaks and side dishes. Au jus, anyone?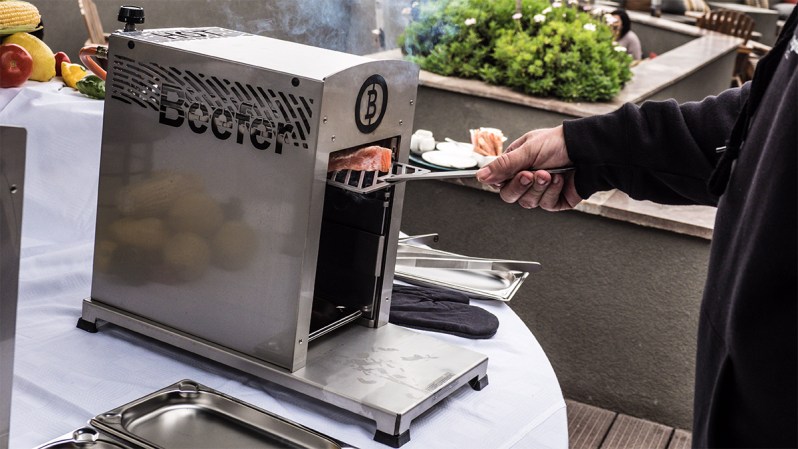 Priced at $899 for the original Beefer and up to $2,400 for the Beefer XL Chef, home cooks might be inclined to pass this appliance, but when you think about the fact that some regular gas grills exceed prices of $2,000, Beefer starts to look more and more like a better deal. Add to that the money you'll save by cooking steakhouse-quality cuts of meat at home and Beefer suddenly becomes a realistic prospect. To top it all off, Beefer's totally removable internal parts are super easy to clean — a rinse with soap and water or a run through the dishwasher is all they need (no more cleaning grill grates!).
The Beefer is powered by propane gas and can be used both indoors and out, so don't worry if you're kitchen isn't big enough to fit this bad boy, your backyard will do just fine.
If thinking about steak cooked in the Beefer has made your mouth water, wet your whistle with the perfect cocktail to pair with steak: the Manhattan.
Editors' Recommendations