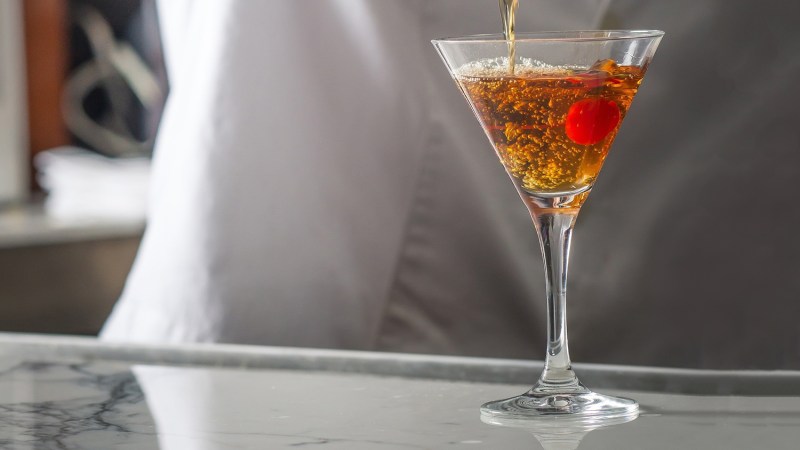 Alone, a steak—cooked just right (that is, nothing over medium rare) with just a little salt and pepper—is the perfect meal. You don't need the salad bar for an extra $3.99 or the sides. Those are just frivolous distractions from the centerpiece. Alone, too, you can't get much better than a Manhattan when it comes to cocktails. It's a classic. Booze-forward, yet round, it's a sipper that is as great as the city its named after. This is why, together, these two items make the perfect pairing.
In order to explain the steak and a Manhattan pairing some more, we asked Beverage Director Brad Nugent and Michael Lomonaco, Chef and Partner of Porter House Bar and Grill in New York for their thoughts on the matter.
First, let's start with the drink.
The Classic Manhattan
2 oz rye whiskey
.75 oz sweet vermouth
3-4 dashes angostura bitters
Method: Add ingredients to a mixing glass with ice. Stir and strain into a chilled cocktail glass. Garnish with a cherry.
This drink, Lomonaco says, is "rich and brawny, with a shade of sweetness and a bite of quality bitters. This is the American Classic." When it comes to which rye, Lomonaco says he usually goes with Michter's. Nugent takes a little different approach to the Manhattan, favoring a two-to-one ratio (whiskey to vermouth), and he favors using Crown Royal (and Carpano Antica Formula for vermouth).
Either way, the important thing to remember is that you stir the drink, you do not shake it. This keeps the alcohol from becoming too diluted, leaving you with the full flavors you need (such as the spicy notes you'll get from the rye) to stand up to the steak that is to come.
Speaking of the steak, you can go a number of different ways when it comes to the type of cut you are looking for. For Lomonaco, a dry-aged New York Strip steak can't be beat when pairing it with a Manhattan. You're going to get full beef flavor, he says, and that will complement the sweetness of the drink.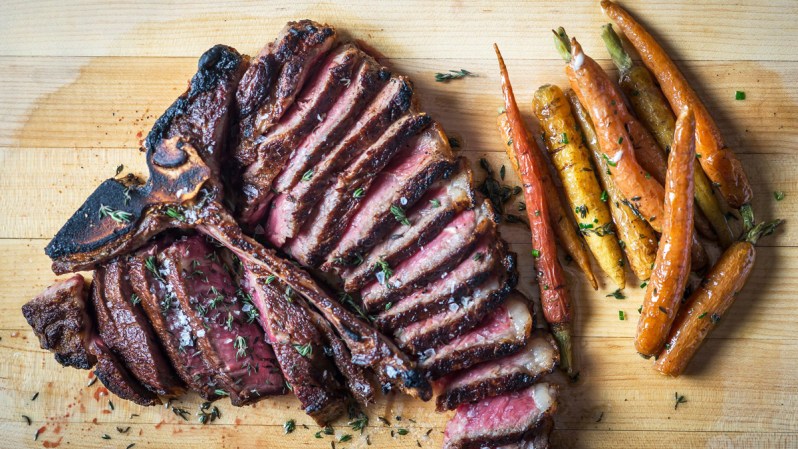 Nugent, on the other hand, favors a Cowboy Ribeye, as they have at Porter House Bar & Grill. The rye, he says, "helps cut the fattiness of the ribeye and leaves the palate clean and ready for another bite."
Why wouldn't you want a drink that goes down easy (too easy, sometimes) and also helps you get ready for the next bite of a delicious steak?
Editors' Recommendations