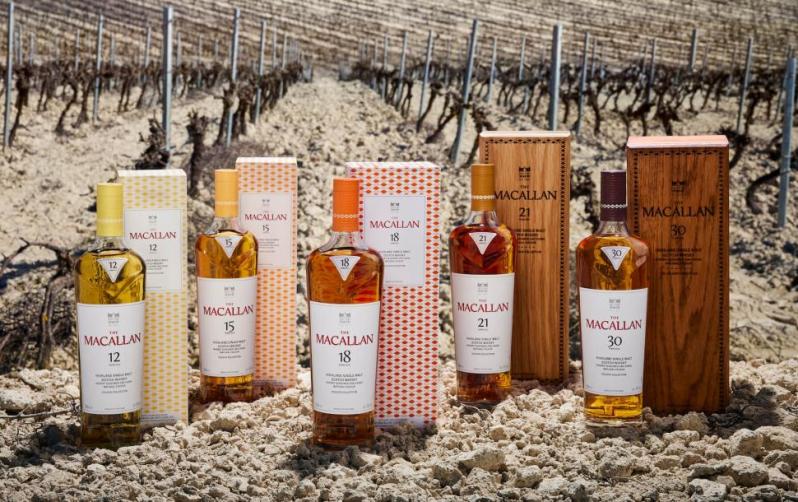 There are few Scotch whisky brands more well-known than The Macallan. And while it's known for its award-winning, nuanced, usually sherry-rested single malt Scotch whiskies, it is also known for its innovative, long-aged special releases. We're talking about expressions like The Macallan M, The Red Collection, and its various archival releases. With so many limited-edition offerings in recent years, it's no surprise the brand just unveiled another new, exciting collection of whiskies.
The Macallan Colour Collection
It's called The Macallan Colour Collection, and it was created to pay tribute to the two most important components of this iconic brand: sherry seasoning and natural color. The collection is made up of five age-statement single-malt Scotch whiskies. The first is The Macallan Colour Collection 12 Years Old, a whisky that was matured in a combination of American oak and European oak casks. Both casks were seasoned with sherry wine from Jerez de la Frontera, Spain. The collection moves on to a 15-year-old, 18-year-old, and 21-year-old before finishing with an exceptional, complex 30-year-old expression.
While the whisky inside is rich, flavorful, and highly memorable, the artwork on the packaging follows suit. The Macallan tasked American artist and graphic designer David Carson, a former California teacher and competitive surfer, with creating the unique, colorful designs to pay tribute to the brand's Scottish home as well as its history with sherry from Southern Spain.
The name, The Colour Collection, comes from The Macallan's unending strive to highlight its natural color. After maturing in sherry-seasoned casks, the younger whiskies carry a lighter, almost amber, gold color, and as they move on in age, they grow ever dark like a slowly setting sun. The 30-year-old is much darker, an almost caramel, chestnut brown as compared to the light morning sun hue of the 12-year-old. It's this melding of oak and whisky that gives The Macallan its memorable color palette.
While the wood itself is important to impart the vivid colors associated with the various ages, it's the sherry-season cask that gives the whisky its renowned, rich, complex flavors and aromas of vanilla, dried cherries, caramel, and gentle spices.
Where can I find the collection?
Now that you've learned about this new collection, it's time to give you the good news and the bad news. The bad news: while you might find a few random retailers selling a bottle or two from this collection, it's technically a travel exclusive. The good news: you can find it at retailers and duty-free shops at countless airports throughout the world.
This means that in order to get your hands on one of these limited-edition single-malt Scotch whiskies, you'll have to have a layover or travel to one of the international airports where these bottles are being sold. You can find them at airports in Argentina, Brazil, Columbia, Japan, Panama, Mexico, Australia, and dozens of other airports scattered throughout the world. You can also find it in the U.S. at airports in Atlanta, Chicago, Dallas, Los Angeles, and more.
So, next time you're stuck in an airport, waiting for your next flight, peruse the aisles at your nearest whisky retailer. There's a good chance they'll have a few bottles of this in stock. That is, until it sells out. Grab a bottle or two while you still can.
Editors' Recommendations