Here's a little thought experiment for you that helps illustrate the power of suggestion. First, imagine you pour a glass of ice cold Coca-Cola and set it down on the kitchen counter. Next, you pour a mug of piping hot, fresh coffee and set that beside the soda. Then, the fire alarm goes off and you run screaming into the street, smashing your toe against the doorframe on the way out and stepping over an ill-placed bucket as you stumble down the stairs. I'll let you picture the remainder of the tragicomic tableau, just pretend it takes you at least an hour before you get back inside, the fire alarm turning out to have been a malfunction.
How would you describe that once-cold glass of soda? You'd probably now call it warm. And the previously hot coffee? You'd now say it was cold, right? But… they're the same temperature! Brain explode much, right? OK, not that much, but still. Soda, beer, and white wine taste better cold; coffee tastes better hot. That much, at least, we can agree on, right? Well… no, not anymore. Not after you've tried cold brew canned coffees from High Brew Coffee.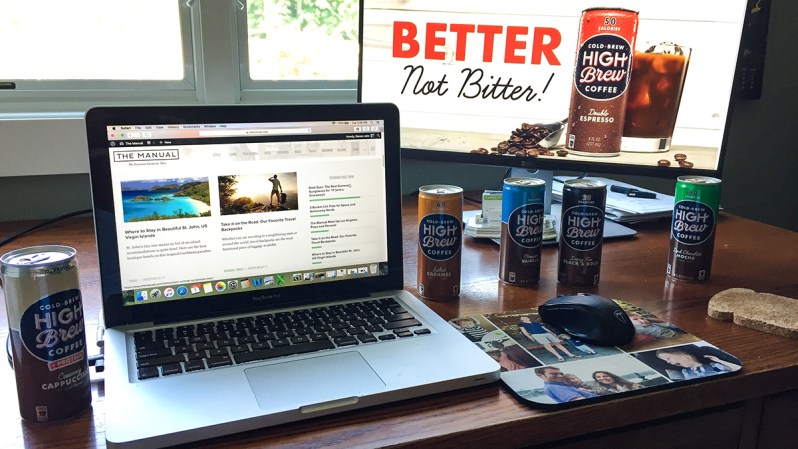 The origin story of High Brew Coffee involves its founders, David and Elizabeth Smith, sailing around the Caribbean aboard a catamaran and lamenting the lack of a decent cup of joe during long nights at sea. The solution you or I might have come up with would be to bitch and moan twice as hard, or maybe to just brew some coffee. (If I can do it while camping on a glacier at around 12,000 feet of elevation, you can do it on a boat.) The Smiths took a different route and founded a coffee company dedicated to canned, cold brewed coffee. And I for one am glad they did.
Cold brewing coffee takes a lot longer than the regular brewing process. It's more of a steeping, really. In fact, the coarsely-ground beans High Brew uses in concocting their tasty beverages sit in cool water for hours on end, resulting in a flavorful array of coffees that are robust yet pleasantly free of bitterness. And because High Brew Coffee cold brews coffees intended to be enjoyed cool, your can of joe is always ready to go.
I've sipped ice cold High Brew right out of the fridge and I've cracked many a can at room temperature, both when on a long road trip or out on the water in my canoe. It tastes almost as good lukewarm as it does when frosty, and really that's saying something: remember the whole hot coffee on the counter thing from earlier? Mhmm.
As for said taste, well, that's another story. High Brew's straight up coffee, like just a can of black coffee, tastes great, no doubt about it. But here are a few of the other flavors I recommend you try:
Salted Caramel
Mexican Vanilla
Dark Chocolate Mocha
Creamy Cappuccino
Most cans of High Brew coffee have between sixty and ninety calories, making them pretty guilt-free. (This is assuming you're the kind of person who gets guilty about calories. Which I am not.) In an eight-ounce can of Creamy Cappuccino coffee, you'll also find a healthy dose of protein (twelve grams) and some fiber, plus 120 calories, making this one a great choice to get you through a slow morning or an afternoon drive.
The best thing about High Brew's cold brewed coffee is that every flavor they make tastes great. I know this personally; I've had them all. The other best thing is that it's so easy to bring a can of High Brew coffee along, whether you're hiking, biking, driving, or sitting at your damn desk. Oh, or sailing the high seas.
Editors' Recommendations