No matter how much you love drinking (and we here love it), there is one thing we can all agree on: It isn't the healthiest thing to be doing to our bodies. That doesn't mean that you should give it up entirely, though. What fun would that be?
Instead, it is possible to find a middle ground. You will have to say goodbye to pounding Long Island Iced Teas (if that's your thing), but you don't have to say sayonara to all the potent potables in your life. The beautiful middle ground are what you might call healthy cocktails. No, they're not healthy in the way that a kale smoothie is, but they are made with high-quality ingredients and less alcohol — a combination that provides a satisfying amount of flavor from first sip to last.
One of the men that is in favor of these sorts of cocktails is Bryan Dayton, beverage director and co-owner of the upscale Colorado restaurants Acorn and OAK. Dayton was a bartender for more than 15 years and holds his sommelier certification, but he's also a sponsored ultra-marathon runner.
"I've always been a big proponent of low-alcoholic or even non-alcoholic cocktails," says Dayton.
At night, Dayton works behind the bar; come morning, he trains — a schedule that has placed Acorn and OAK on the map for their ingenious recipes and Dayton on the podium for multiple 50k trail races. He seems to have single-handedly mastered the art of boozy balance.
And yes, Dayton drinks when he's training, although he's what we would consider an endurance athlete. Apart from taking into consideration his performance on the trail when he orders a drink, Dayton also indulges with consideration of high performance on the trail and the knowledge that he's getting older, so recovery takes longer than it used to.
Maybe give this a try in the coming months: Instead of ordering your boozy go-to, mix up these three healthy cocktail recipes (plus one bonus mocktail) courtesy of Dayton. His concoctions go to show that you can have your martini and drink it too.
Rosie's Return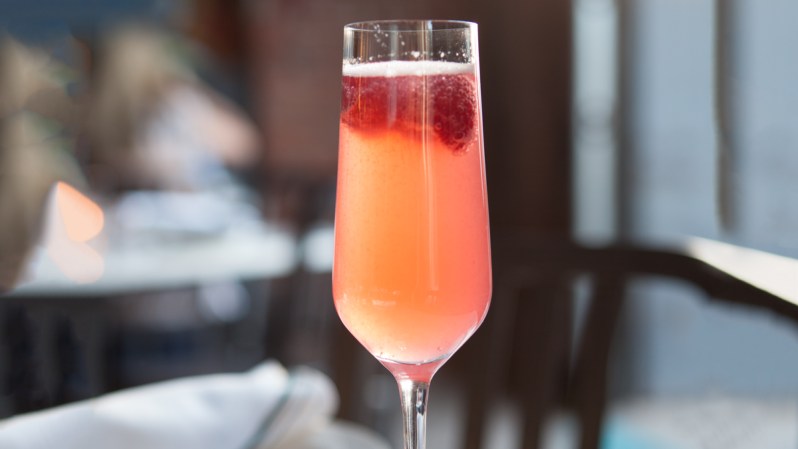 A dash of gin paired with earthy rose flower water, citrus orange bitters and lemon juice, plus a zing of fruit gives this cocktail a boost of Vitamin C, which we could all use more of during the winter. The use of flower water and sparking rosé means the gin doesn't overpower or wear down your immune system. Cheers!
0.75 oz gin (Dayton prefers Leopold Brother's Gin)
0.5 oz lemon juice
0.5oz simple syrup
2 oz muddled raspberries
2 drops orange bitters (Dayton prefers Cocktail Punk Bitters)
2 drops rose flower water
Sparkling rosé to top
Fresh raspberries to garnish
Method: Combine all ingredients, except sparkling rosé, in a cocktail shaker. Shake and pour into a Champagne flute. Top with sparkling rosé. Garnish with fresh raspberries.
Along the Beeten Path
One of Dayton's bartenders at Acorn was playing around with healthy cocktail recipes and created this Mezcal and beet creation. "Making use of beet and nutmeg syrup, you get the attributes of the beet's antioxidants plus an earthy herbal note," he says.
Method: Combine ingredients together and serve over ice in an Old Fashioned glass. Garnish with lemon peel.
Monk's Garden
"We use cucumber and chartreuse— originally touted as a medicine when it was first made by the Carthusian Monks — which has 130-plus different herbs and spices," says Dayton. "It's an elixir for getting over a cold, similar to a hot toddy for 'treating' sickness. We also infuse vodka with tarragon and basil. The clear liquor is also better for you than a dark. It brings forward all these fresh, garden elements."
1 oz. basil- and tarragon-infused vodka (Dayton prefers Death's Door)
0.5 oz Green Chartreuse
0.75 oz lime
0.5 oz lavender simple syrup
0.3 oz cucumber juice
Cucumber to garnish
Method: Add all ingredients to a mixing glass and shake. Pour over ice in a Collins glass. Garnish with angle-cut cucumber wheel. 
Bonus: The Rehydrator Mocktail
Accept that invitation to your third, fourth, even fifth party and hold a glass to toast with this non-alcoholic mocktail that looks and tastes like the real thing. "This is my favorite non-alcoholic drink, using aloe water, a little fresh cranberry juice (not Ocean Spray, but unsweetened, keeping all the powerful antioxidants), then a splash of grenadine and fresh lime," Dayton says. "You get a vibrancy through the drink and it looks gorgeous."
2 oz aloe juice
1.25 oz cranberry juice (no sugar)
0.75 oz. honey syrup
0.5 oz lime juice
0.25 oz cherry syrup (or grenadine, if cherry not available)
Method: Shake and strain all of the ingredients into a chilled cocktail glass. Garnish with a lime wheel and serve.
Digging the morning-after feeling of drinking mocktails? Here are five more mocktail recipes … or you can keep the booze in your cocktails and follow our tips for avoiding a hangover.
Feature image courtesy of Acorn/Facebook.
Editors' Recommendations