Our most revered Halloween ritual involves children donning costumes, armed with buckets, heading out into twilight to solicit their neighbors for candy. If you've found yourself too old to dress up as a toilet paper mummy, it doesn't mean you still can't enjoy a Halloween Cocktail or two on All Hallows' Eve. If you need some inspiration for what to pair with your candy corn and fun-size chocolate bars, here are some spooky American craft brews. You may not associate chopped-up bodies, space warlords, and specters with craft beer options, these three Halloween beers will definitely scare up your taste buds and get you in the spirit.
Hopped in Half by 3 Floyds Brewing Co.
A few years ago, we announced Three Floyds as the "winner" of Halloween beer. The Indiana brewery celebrates gore and horror all year long with its unique beer-naming conventions and often disturbing artwork. Hopped in Half is a pilsner with 5.3% ABV and mild notes of pepper and lemon. You can't miss this 22 oz bomber sitting on shelves thanks to its label, which showcases a brightly colored rendering of a demon beast cleaved into a cross section of itself. Hopped in Half was brewed with input from the death-metal band Obituary.
GWAR Beer Oderus Ale by Cigar City Brewing
Celebrate the life of the late glam-horror band GWAR vocalist Oderus Urungus (may he rest in peace) by drinking a refreshing pale ale from Tampa, Florida's favorite sons, Cigar City Brewing. GWAR rocked stages around the world while dressed as interstellar barbarians. As such, you might think its namesake beer would be a big, brutal mess. Quite the contrary — Oderus Ale is fresh, bright, and tropical, brewed to be enjoyed in mass quantities during the GWAR B-Q fan celebration.
Ghost Face Killah by Twisted Pine Brewing Company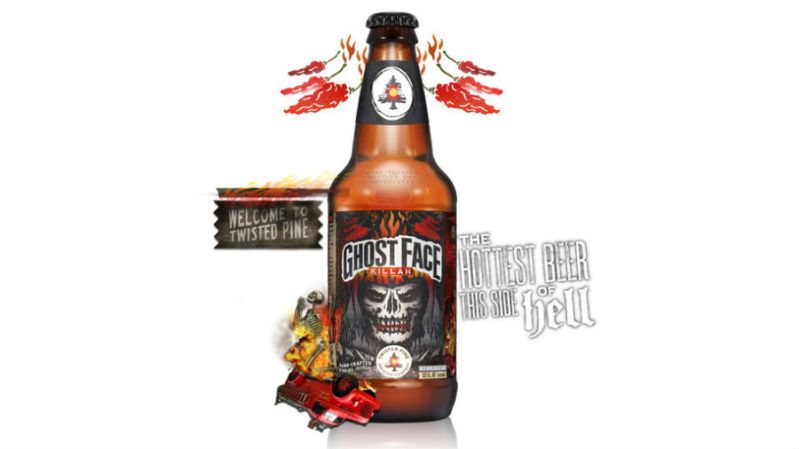 It wouldn't be a proper haunting without a ghost. Colorado brewery Twisted Pine went for the baddest spirit around, the ghost pepper chile, to spice up this not-for-the-faint-of-heart brew. In addition to ghost peppers, Ghost Face Killah also features Anaheim, Fresno, jalapeño, serrano, and habañero peppers, making it one of the hottest beers you can choke down. It's just the thing to keep you warm during your late-night outdoor séance (preferably blasting Ghost Face Killah). Perfect to serve during your socially distanced Halloween party.
Dr. Frankenstone's Monster IPA by Stone Brewing
View this post on Instagram
Available in draft only at select locations throughout October, this is a limited release beer for those that love a frightening amount of hops. The Monster is a blend of Stone's Ruination Double IPA 2.0 and the Stone IPA that is double dry-hopped with Mosaic and Loral hops, accumulating 83 International Bitterness Units (IBUs). Best to drink while watching your favorite Halloween movie.
Editors' Recommendations