There are few ingredients as delicious and life-saving as chicken. Arguably the most versatile protein available, chicken can be prepared in almost any way one can dream up, and more often than not, it's going to be delicious. Provided you season properly and don't over (or under) cook chicken, it's pretty difficult to mess up. Which makes it perfect for the home cook – especially the busy home cook who forgot to go grocery shopping.
That's why we've compiled this list of absolutely delicious chicken recipes that are not only exquisitely tasty, but have no more than five ingredients. Lengthy grocery lists be damned.
Alright, if you're counting, a few of the below recipes don't count staples like salt, pepper, or oil. Just roll with it.
Jalapeno-lime chicken drumsticks recipe
(From Taste of Home)
Ingredients:
1 jar (10 ounces) red jalapeno pepper jelly
1/4 cup lime juice
12 chicken drumsticks (about 3 pounds)
1 teaspoon salt
1/2 teaspoon pepper
Method:
Over medium heat, melt lime juice and jelly. Set aside 1/2 cup for serving.
Season chicken with salt and pepper.
Grill chicken, covered, for 15-20 minutes or until cooked through.
While chicken grills, turn occasionally and baste with the remaining jelly mixture during the last 5 minutes of cooking.
Serve with reserved jelly mixture.
5-ingredient breaded lemon chicken recipe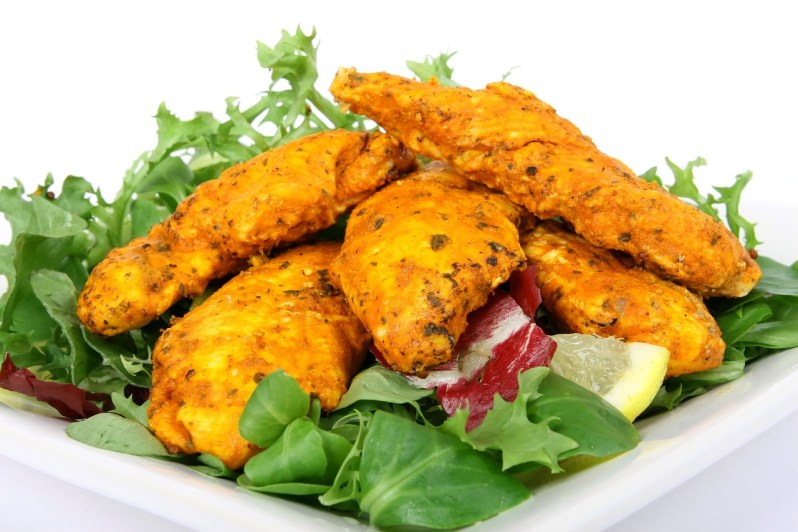 (From Host the Toast)
Ingredients:
2

large boneless, skinless chicken breasts
1/3

cup

lemon juice
1 1/2

cups

seasoned breadcrumbs
Vegetable oil, for frying
Lemon pepper, to taste
Parsley and/or lemon (optional garnish)
Method:
Slice the chicken breasts in half horizontally into four pieces. Wrap in plastic wrap and pound the chicken until about 1/4″ thick.
Pour lemon juice into a shallow bowl. In a separate bowl, add breadcrumbs.
Dredge each chicken piece first in lemon juice, then in breadcrumbs.
Season chicken with lemon pepper.
Cook chicken breasts in the oil two over medium heat.
Fry each piece until dark golden brown, about 4 minutes per side.
Garnish with parsley and slices of lemon.
5-ingredient chicken feta pasta recipe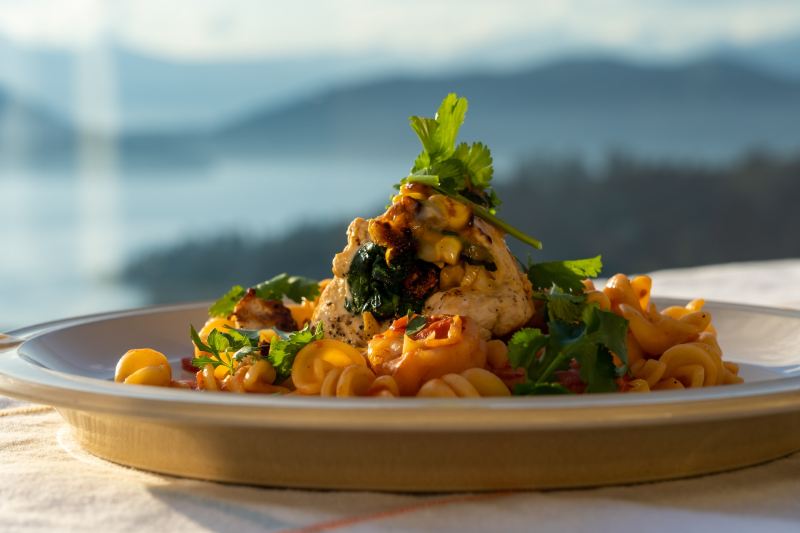 (From Well Plated by Erin)
Ingredients:
2

tablespoons extra virgin olive oil

1 1/2

pounds

boneless skinless breasts,

split in half

1

teaspoon

kosher salt,

divided

1/4

teaspoon

freshly ground black pepper

2

cans

diced tomatoes with basil, garlic, and oregano

(14.5-ounce cans)

2

cups

water

1

pound

whole wheat fettuccini pasta

or substitute another long, straight pasta

4

ounces

reduced-fat feta cheese

divided

Finely chopped fresh basil

(

optional garnish)
Method:
In a large pot or Dutch oven, cook chicken in oil, seasoning with 1/2 teaspoon salt and the black pepper.

Cook chicken completely through, seasoning with remaining salt and pepper.

Add the diced tomatoes and water. Stir in the pasta and cook, uncovered, for 5 minutes.

Cover and let cook an additional 10 minutes.

Add three-quarters of the feta to the pot and let cook uncovered for 5 additional minutes.

Garnish with the remaining feta cheese and fresh basil.
Grilled chicken with tomato, soy & sesame seeds recipe
(From Fuss Free Cooking)
Ingredients:
2 tablespoons tomato paste
2 tablespoons sesame seeds
1 tablespoon sesame oil
2 tablespoons sweet soy sauce
4 chicken thighs
Method:
Preheat oven to 350F. Line baking sheet with parchment paper and set aside.
Mix tomato paste, sesame seeds, sesame oil and sweet soy sauce.
Coat the chicken thighs with tomato paste mixture and and arrange on prepared baking sheet.
Bake for 25 to 30 minutes.
Sheet pan chicken and potatoes recipe
(From Creme de la Crumb)
Ingredients:
4

boneless skinless chicken breasts

–

or 4-6 boneless thighs

1 1/2 – 2

pounds

baby red and/or gold potatoes

1/4

cup

oil

Salt and pepper to taste
3

tablespoons

dry Ranch seasoning mix

–

(about two packets)

2

teaspoons

garlic powder

1/4

cup

grated parmesan cheese
Method:
Preheat oven to 425F.

Pound chicken breasts to even thickness (less than 1 inch throughout).

Arrange chicken and potatoes on prepared pan in a single layer. Drizzle with oil, tossing to coat.

Season with salt and pepper, Ranch seasoning, and garlic powder. Toss to coat well. Season potatoes with parmesan.

Bake for 15 minutes.

Broil for an additional 3-5 minutes until potatoes are crispy and chicken is browned.
Editors' Recommendations