Here's the thing. We love us some pasta in the States. Of course, we do. It's absolutely divine, can be prepared and served in a million different ways and in a thousand different cultural styles, and we can't get enough. To be honest, we've never met a pasta shape that we didn't adore — penne, linguine, fusilli, farfalle, and of course, the most famous of them all — spaghetti.
Now, don't get us wrong. Spaghetti is beautiful for what it is, and most of us have had a special fondness in our hearts for this stringy noodle since toddlerhood. This Italian pasta shape is every bit as much an American pantry staple as potato chips and Oreos. But what if we told you there was an upgrade to this ordinary noodle? One similar enough to have the comfort of familiarity but advanced in a way you never realized was possible? Enter bucatini pasta.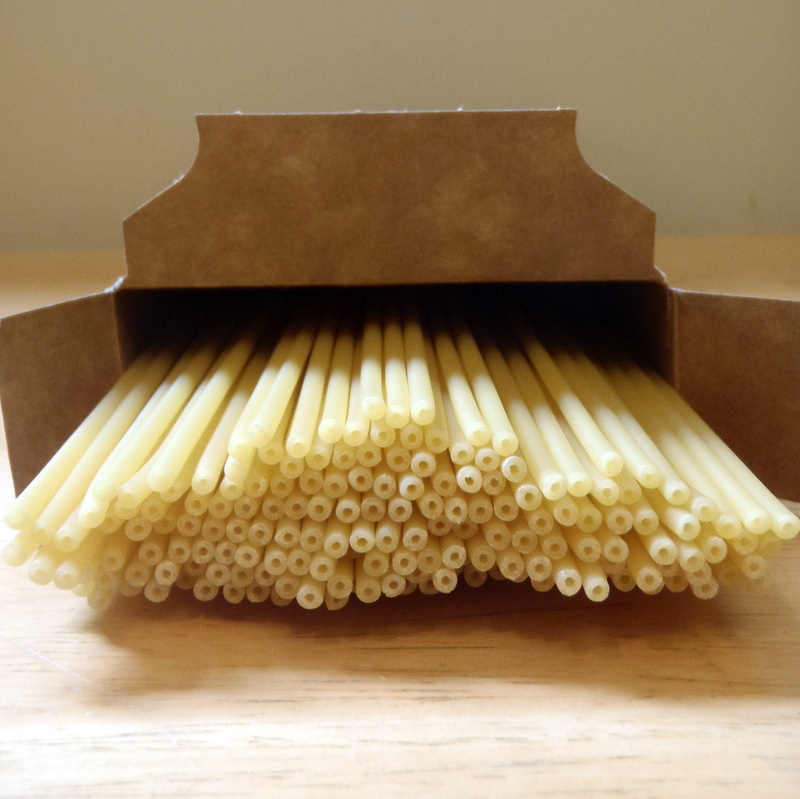 What is bucatini pasta?
Like spaghetti, bucatini is an Italian type of long pasta. Its long and thin body resembles that of spaghetti, but it holds a special secret — a slight hole running all the way down its center. Think of each strand as a slender straw. What does that empty center do, you might ask?
With its hollow core, bucatini can completely become one with the sauce in which it's prepared. Sauce not only coats the outside of the noodle, but the inside as well, giving the eater a much more luxurious bite.
Of course, other types of pasta shapes, such as rigatoni or penne, are wonderful for a hearty sauce, standing up to the meaty boldness of a ragu or blending beautifully with short ribs. The large, hollow centers of these pasta shapes can fill with meaty sauces, giving the eater a bold, filling bite. But bucatini is shockingly delicate, with the light wispiness of spaghetti's strands, but the ability to contain and highlight even the most delicate white wine sauce.
So the next time you're at the grocery store and find yourself reaching for that box of spaghetti, do yourself a favor and pick up a box of bucatini instead.
Bucatini puttanesca recipe
(From Myrecipes.com)
This beautifully rustic Italian dish is made in just one pot and comes together in minutes. It's absolutely perfect for a simple and quick Tuesday night dinner, or to impress friends for a more formal get-together.
Ingredients:
1/4 cup of extra-virgin olive oil
6 garlic cloves, minced
4 anchovy fillets
1 1/2 teaspoons of dried oregano
3/4 teaspoon of crushed red pepper
4 cups of unsalted chicken stock
12 ounces of bucatini
3 pints of multicolored cherry or grape tomatoes, halved
2 tablespoons of unsalted tomato paste
1/4 cup of chopped fresh basil
1/4 cup of chopped fresh parsley
24 pitted kalamata olives, chopped
3 tablespoons of capers
1/8 teaspoon of salt
Method:
In a large saute pan, heat the oil over medium heat, swirling to coat.

Add garlic, anchovies, oregano, and red pepper; cook for 2 minutes, stirring constantly to break up anchovies.
Add stock and pasta to the pan; bring to a boil. Cook for 10 minutes, stirring occasionally.
Add tomatoes and tomato paste. Cook for 2 to 3 minutes or until pasta is done.
Remove pan from the heat; add the remaining ingredients, and then toss to combine.
Editors' Recommendations