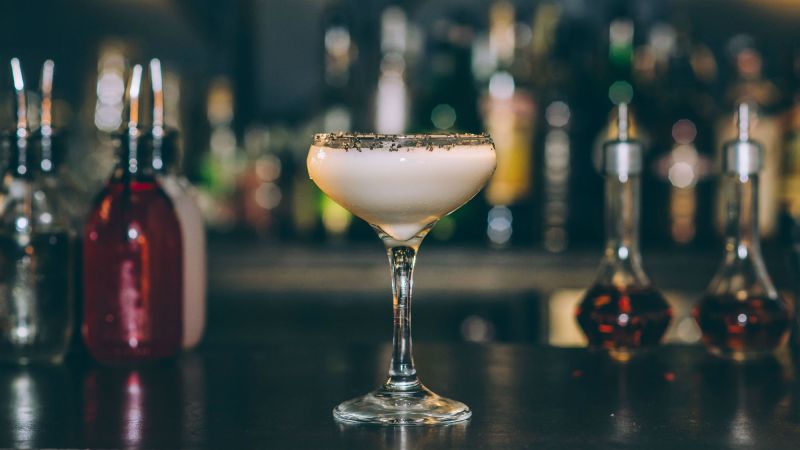 So many cocktails, so little time. It seems like just yesterday we were knocking back Bloody Marys on New Year's Day in an attempt to get the hangover to go away (though we learned about the Corpse Reviver  this year, so we might be trying that come January 1). Yet, amazingly, an entire year has gone by and with it, an entire year's worth of cocktails.
From tiny sips to second rounds, we tried our fair share of drinks in 2022. It didn't matter if it was flipped or shaken, served up or served in the hollowed-out shell of a coconut, we tried it. Below, you'll find some of our favorite cocktails that we've published in the past year. We enjoyed them then, and we're happily going to enjoy them one more time. We hope you do too.
The Fennel Countdown
(Created by Sara Timmer, The Way Back, Denver) 
Method: Add all ingredients to a shaker without ice and dry shake. Add ice, shake again, and strain into a glass.
Winter White 75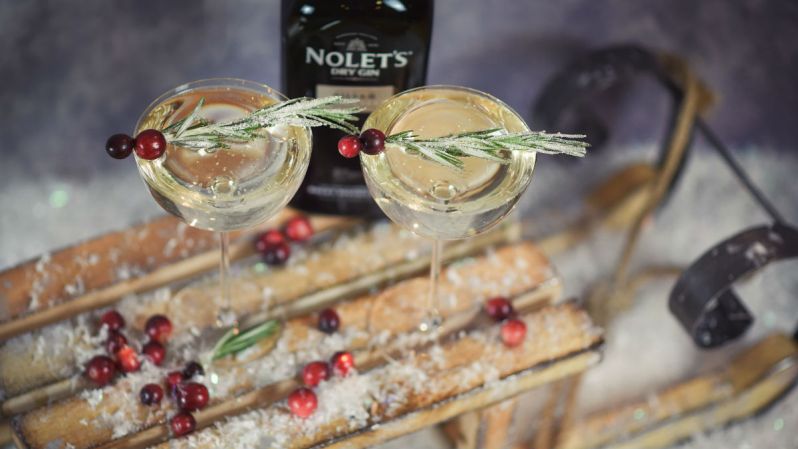 (Created by Natalie Migliarini, @BeautifulBooze)
1.5 oz Nolet's Silver Gin
1 oz white cranberry juice
.5 oz lemon juice
.5 oz simple sugar
Champagne to top
Method: Fill shaker with Nolet's, lemon juice, simple syrup, white cranberry juice, and 1 cup of ice. Shake hard to chill and combine ingredients. Fine strain into coupe or flute. Top with Champagne. Garnish with rosemary sprig and/or cranberry.
The Fireside
(Created by Carl Gilbert, Atlas, Georgia)
Method: Combine all ingredients in shaker with ice. Shake, double strain, garnish, serve, and enjoy!  
Matcha Flip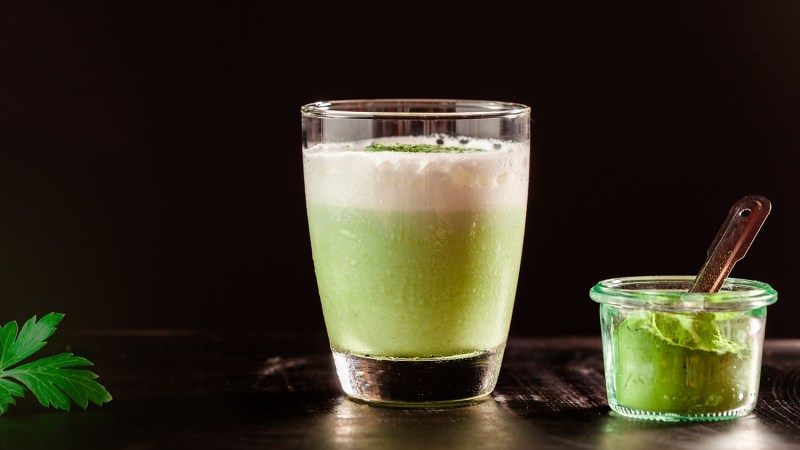 (Created by St-Germain Global Ambassador, Camille Ralph Vidal)
Method: Add all the ingredients into a shaker and dry shake with no ice to emulsify the egg then add ice shake vigorously and strain into a glass. Add a pinch of matcha powder as a garnish.
Cadejo Blanco
(Created for Ronero, Chicago)
.75 oz Plantation Pineapple Rum
.75 oz  mango chimichurri herb syrup (cilantro, oregano, parsley, and jalapeño)
.75 oz fresh lime juice
Method: Shake and fine strain ingredients over pellet ice in a medium footed cocktail glass. Garnish with a cilantro sprig and jalapeño wheel.
Jolly Tom Bombadil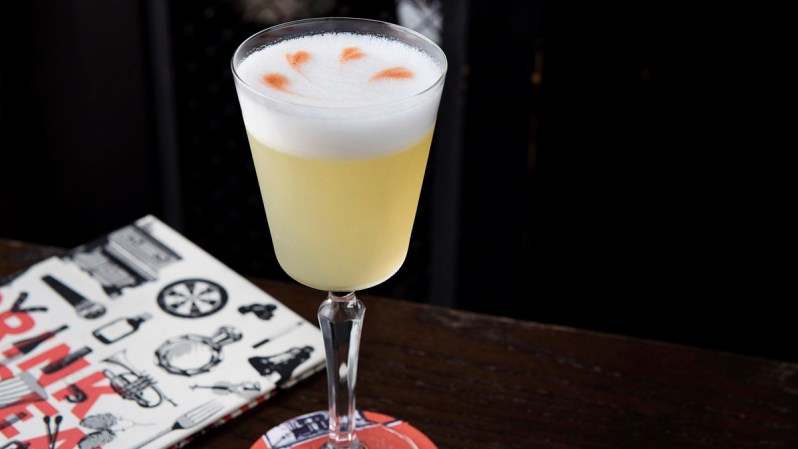 (Created by Nick Bennett, Porchlight, New York City)
Method: Dry shake and then shake and strain into goblet. Garnish with Angostura bitters.
Glenfiddich's A Scottish Lassi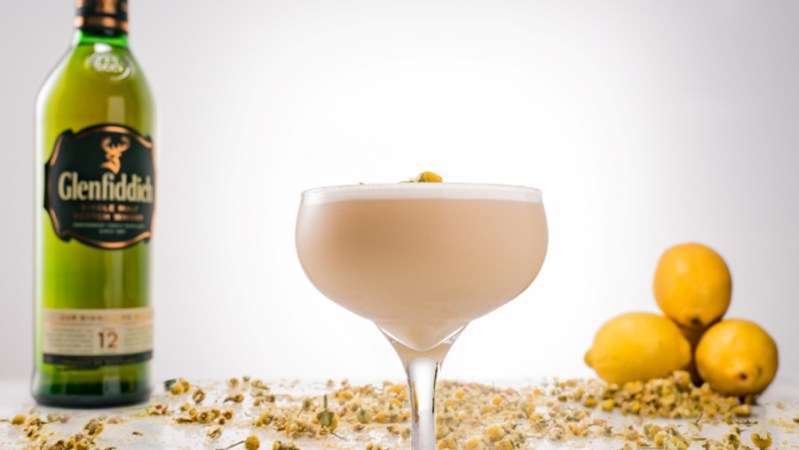 (Created by Glenfiddich Ambassador Allan Roth)
2 parts chamomile-infused Glenfiddich 12 Year
1 part unsweetened lassi (yogurt drink)*
.75 part Orgeat
.5 part Lemon Juice
Method: To infuse the Glenfiddich, pour a bottle of Glenfiddich 12 into a pitcher. Add 20 grams of dried chamomile flowers (or 2 chamomile tea bags) to pitcher. Let stand 10 minutes. Strain, rebottle, and label. Keep refrigerated. Shake all ingredients over ice and strain into a coupe. Garnish with dried chamomile flowers, if available.
*If you cannot find unsweetened yogurt drink, add 1 part water to 4 parts unsweetened yogurt.
Kula Negroni

(Created by Julie Reiner)
Method: In a mixing glass, combine strawberry-infused Campari, Cinzano Vermouth Bianco, and London Dry Gin. Add ice and stir. Strain over one large ice block in a rocks glass. Garnish with orange twist and a fresh strawberry.
The King is Dead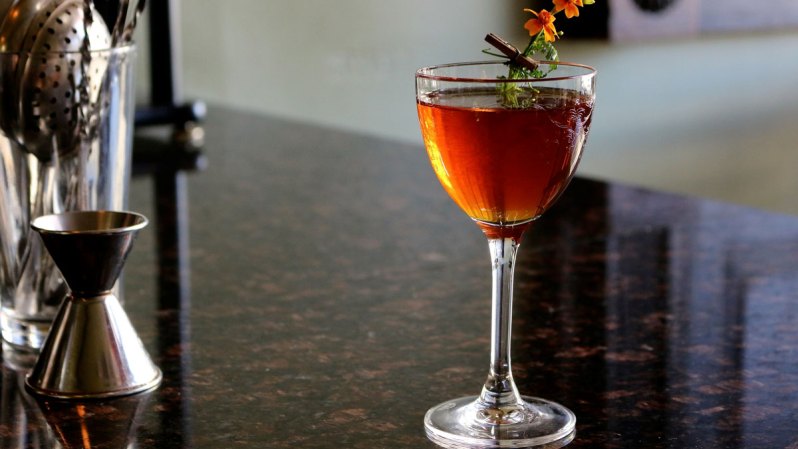 (Created by Brock Schulte, The Rieger, Kansas City, Missouri)
Method: Stir all ingredients with ice to dilute and serve neat in a Nick and Nora glass. Garnish with an edible flower.
*Earl Grey Tea Syrup
1 part loose Earl Grey tea
1 part castor sugar
Method: Double steep loose earl grey tea and combine with an equal amount of castor sugar. 
Cannon's Smoke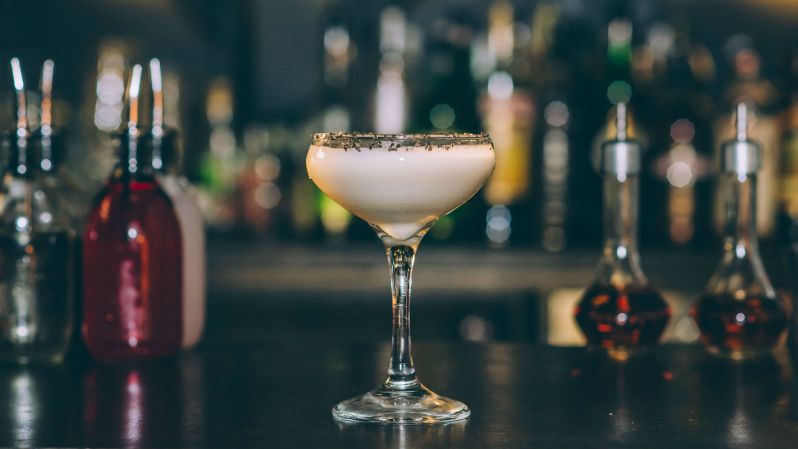 (Created by Chris Kearns, Mr. Cannon, New York City)
Method: Paint a coupe glass with honey every quarter inch, dip into lava salt, and reserve to chill.  Combine Santa Teresa, Ilegal Mezcal, Laphroaig, lemon juice, banana puree, Coco Lopez puree, and Memphis BBQ Bitters in a mixing tin. Add ice and shake until chilled. Strain into the black lava salt painted coupe.
Editors' Recommendations