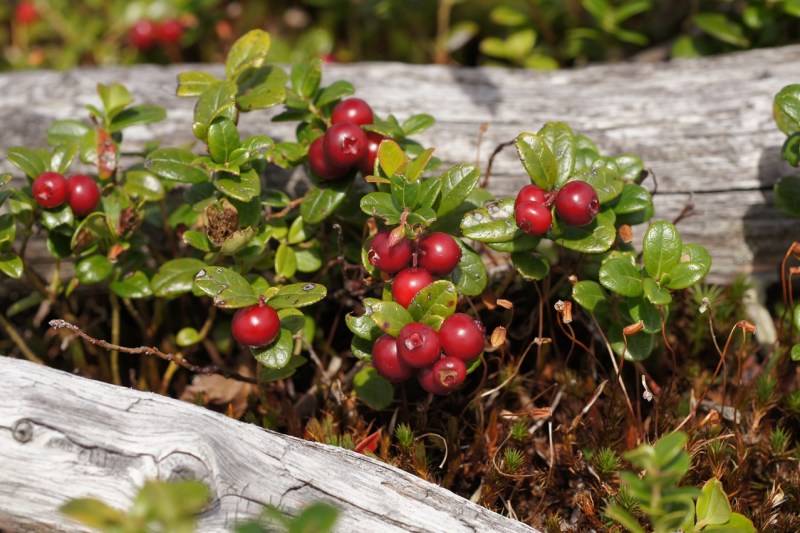 Supply chain shortages are claiming some of our favorite goods, from eggs and Champagne to Green Chartreuse liqueur. Now, it seems, cranberries are taking a hit. And that's not the best news given that the holidays are on the horizon.
Fear not, there's a substitute that's just as good, if not better — the lingonberry. The Scandinavian sibling of the cranberry, lingonberries are perhaps most famous for injecting flavor in Swedish fish candies. The versatile fruit works well in a number of things, from cocktails to sauces like compote. Anybody who's been to Ikea knows how tasty meatballs are with lingonberry, but the fruit can do so much more.
Also known as the mountain cranberry or cowberry, the lingonberry thrives in boreal areas in the upper expanses of the Northern Hemisphere. This Nordic fruit is a safer bet this year as cranberries continue to struggle, dealing with drought and heat spikes courtesy of climate change.
So, as you crave that tangy turkey sauce this Thanksgiving or look for some bright red fruit to add to a favorite drink, think beyond the cranberry, specifically the lingonberry.
Here's how to use the zippy fruit in a host of dishes this fall and winter.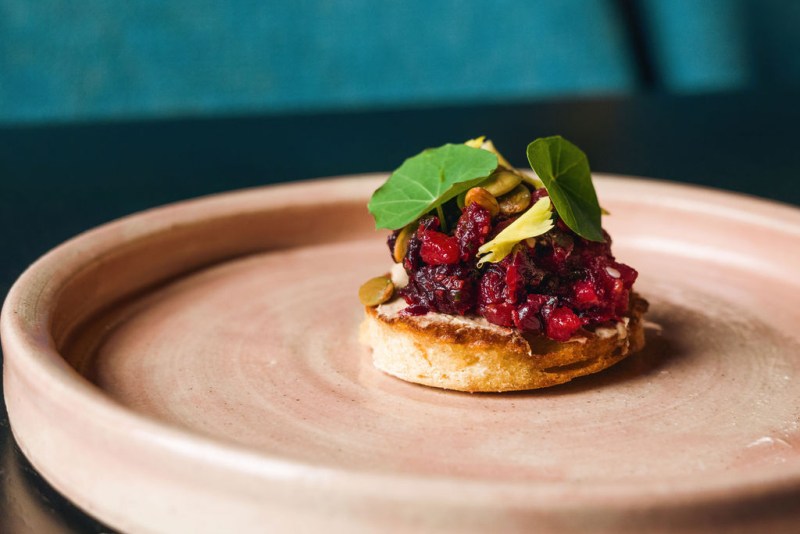 Chef Dan Jacobs' lingonberry compote
Dan Jacobs is the chef at James Beard-nominated restaurant EsterEv in Wisconsin. He likes to make compote out of lingonberries, treating the fruit to some baking spices, peppers, sugar, and a few more complementary ingredients. Try the compote alongside some pancakes in the morning, slathered on the bread of a turkey sandwich for lunch, or with meatballs or sausage for dinner.
"We like to source frozen wild lingonberries from Mikuni Wild Harvest," Jacobs said. "Lingonberries are slightly smaller than their American cousin the cranberry, so be sure to account for that in your recipe. Lingonberries are different in that their flesh color is light pink or red, compared to cranberries, which typically have white flesh. Lingonberries have lower acidity, which makes them a bit sweeter than the cranberries we're accustomed to in the States. They're a great flavor to pair with gamey meats, such as our dry-aged duck at EsterEv."
Ingredients
2 1/3 cups lingonberries
1 blistered and seeded scotch bonnet pepper, minced
1 3/4 ounces orange zest
1/3 ounce sunflower oil
2/3 ounce ginger minced
1/2 teaspoon cinnamon, toasted and powdered
1/2 teaspoon allspice, toasted and powdered
2/3 cup brown sugar
2 1/2 ounces rice vinegar
Method
Sweat ginger and add spices to the pan.
Toast until fragrant.
Add brown sugar, orange zest, and scotch bonnet liquefy.
Add vinegar and lingonberries and simmer for 30 minutes.
Chill and serve.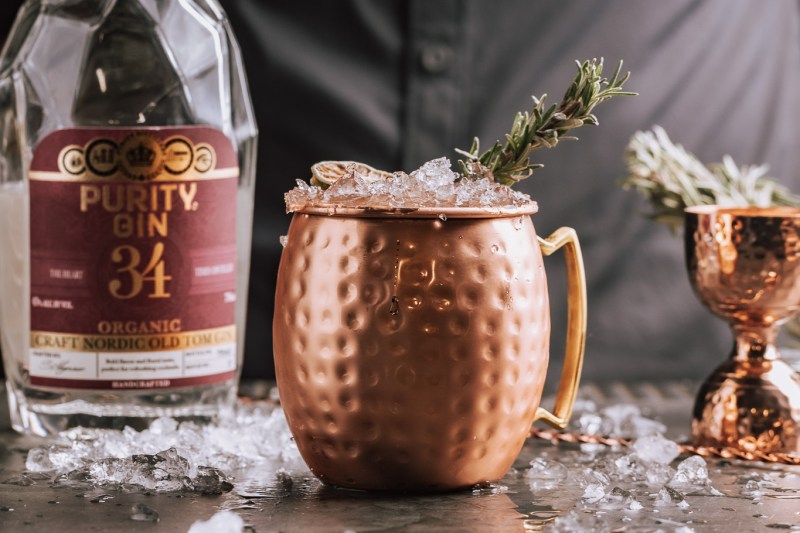 Winter Mule
"We love to highlight native Scandinavian ingredients in our spirits," said Mathias Tonnesson, master blender at Purity Distillery in Sweden. "Lingonberry is a tart, sweet fruit that shines in our organic gins and gives classic cocktails a unique and flavorful twist for the holidays." As for lingonberry syrup, Dryck Lingon from Ikea is highly recommended.
Ingredients
2 ounces Purity Old Tom Organic Gin
1 ounce Lingonberry syrup
1/2 ounce fresh lime juice
4-6 ounces ginger beer, chilled
Lime and rosemary for garnish
Method
Combine all ingredients in a mule mug over crushed ice and garnish with lime slice and a
rosemary sprig.
Jamie Oliver's Swedish meatballs
Well, now we're hungry so we've sourced a recipe from renowned chef Jamie Oliver. The classic Scandinavian dish brings comfort and warmth to any table. Be sure to keep all the lovely juices as you cook and combine them with any leftover herbs and lingonberries for some extra sauce (that'll keep in the fridge).
Ingredients
1 tablespoon mixed fresh herbs, such as dill, flat-leaf parsley, or 1 tablespoon chives, roughly chopped
2/3 pound ground pork
2/3 pound minced beef
1 large egg
3 1/3 ounces milk
1/3 cup dried breadcrumbs
1 teaspoon ground allspice
1/2 lemon
1 1/3 cups beef stock
1 tablespoon flour
2 ounces double cream
1 jar of lingonberries (7-8 ounces)
Salt and pepper
Olive oil
Method
Put most of the herbs in a bowl with the pork, beef, egg, milk, breadcrumbs, and allspice. Add the salt and pepper and mix it all up.
Divide the mixture in half and manipulate each part into a link-like shape. Cut them into 15 pieces and roll them into spheres. Get your hands wet to help with the process. Place the meatballs in an oiled tray and wrap and refrigerate for 1 hour.
Add oil to a large pan on medium heat and add meatballs. Cook for 10-15 minutes, tossing now and again, until golden brown.
Put the meatballs on a plate and remove excess fat from the pan. Add lemon juice, a bit of stock, flour, cream, and 1 tablespoon of lingonberry (salt and pepper to taste).
Bring to a boil then reduce heat. Return the meatballs to the pan and coat them evenly in the sauce.
Serve about eight per plate and drizzle pan sauce over the top with a bit of extra lingonberries.

Lingonberry Game Meatloaf
This recipe is a hearty number fit for a king during the throes of shoulder season. We love the comfort element involved, as it feels a little like something you might find on the Thanksgiving Day table. Feel free to mess around with our ground meat, trying beef, pork, and plant-based options or some combination thereof.
Ingredients
2 cups game ground meat
4 tablespoons breadcrumbs
1/2 cup veal stock (not concentrated)
1 cup heavy cream
1 tablespoon soy sauce
2 teaspoons Purity Gin
2 eggs
2 tablespoons onion, grated
A pinch of black pepper
Butter for frying
1/2 cup lingonberries, frozen
1 cup game/veal stock (not concentrated)
2 cups heavy cream to the sauce
Method
Mix breadcrumbs, veal stock, cream, soy sauce, gin and egg in a bowl. Let the mixture sit and swell for 10 minutes.
Add the ground meat, grated onion, pepper, and possibly a little salt. Mix until it becomes a smooth batter.
Moisten your hands with water and shape the patties.
Brown the butter in a frying pan and fry the patties for 3-4 minutes on each side. Then reduce the heat and let them rest for a few minutes. Don't fry too many patties at once. If the pan gets too crowded, the patties will boil instead of frying.
Add the lingonberries (preferably directly from the freezer) to the pan when the patties are almost done. Let them cook for a while.
Remove the patties, pour the game stock + cream into the frying pan, and whisk it around. Let it simmer for a while.
Place the patties back in the sauce and let them become warm. Garnish the patties with some lingonberries and parsley and serve with lingonberry jam and cooked potatoes.
The holidays are coming — are you prepared? Check out our favorite Thanksgiving cocktails and recipe for perfect mashed potatoes. We also have some great holiday wine ideas as well.
Editors' Recommendations