With the NFL season only a few days away, the time is right to stock up on tailgating necessities. We're talking about bottled water and all the essential snacks, an easily transportable grill, a nice pair of Zubaz pants, the jersey of your favorite underrated special teams player, and a comfortable seat to sit in while you eat your weight in Buffalo wings and guzzle down pre-game tall boys. Don't worry, though. You don't have to make a beer-themed throne out of old thirty-rack boxes and hope that it stands up to random early-season sprinkles or spilled beers. That's because, just in time for the long-anticipated matchup between Aaron Rodgers and Josh Allen, the folks at Coors Light are selling a majestic tailgate chair called the Chill Throne.
All about the Coors Light Chill Throne
And this is definitely better than the simple gravity chair you've been boasting about bringing to this year's tailgate. This chair is more loaded with features than a seven-layer bean dip. First things first, your beer (or soda) will always stay cold thanks to an auto-chilling cup holder that is guaranteed to keep your favorite drink at a chilly 36 degrees. Who needs a novelty koozie anyway? Additionally, the seat has a built-in cooler where you can keep all your brews and suds. Did we mention there's a can tap as well?
It's more than just a place for your bottom to go and a cooler for your brews. Thanks to the in-seat charging station, you'll be sure to get as many grainy pictures of the field as possible because your phone won't die pre-game. It also comes with a speaker system to guarantee you'll be blasting yacht rock (or whatever music you use to amp you up into a pre-game frenzy).
Other features include a 360-degree turning radius, so you never need to get out of your seat to enjoy the tailgate action. Simply spin around to see where all the voices excitedly talking about your majestic chair are coming from.
And if you're worried about those colder months, the seat is heated.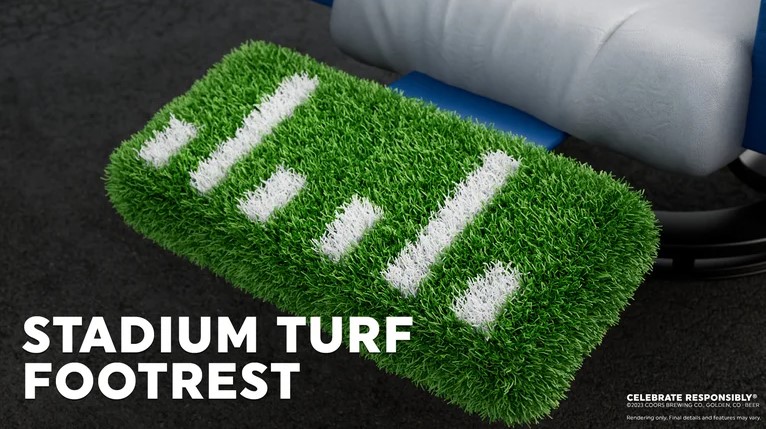 But wait, there's more! Would you believe that it's also a back-massager and has a footrest made of stadium turf? Well, those are two more things this chair has to offer. Finally, there's a flag holder so you can hoist your team's flag to show your undying allegiance to rival fans.
After all this, you might wonder about the Coors Light Chill Throne's portability. You might assume that it weighs 500 pounds. Apparently, it's reasonably light and easy to move around — according to Coors Light, it's even foldable. That is, as long as you have room in your car for it.
Now that we've hooked you, you're probably wondering about the price, right? If you want one, it'll cost you $750. These rowdy recliners are available beginning September 2nd. The problem is that Coors Light is only selling eight of these beauties (and giving one away in a contest). Once they're sold, that's it. If this chair is in your fall tailgating plans, you better hope you're lucky enough to get one.
Editors' Recommendations