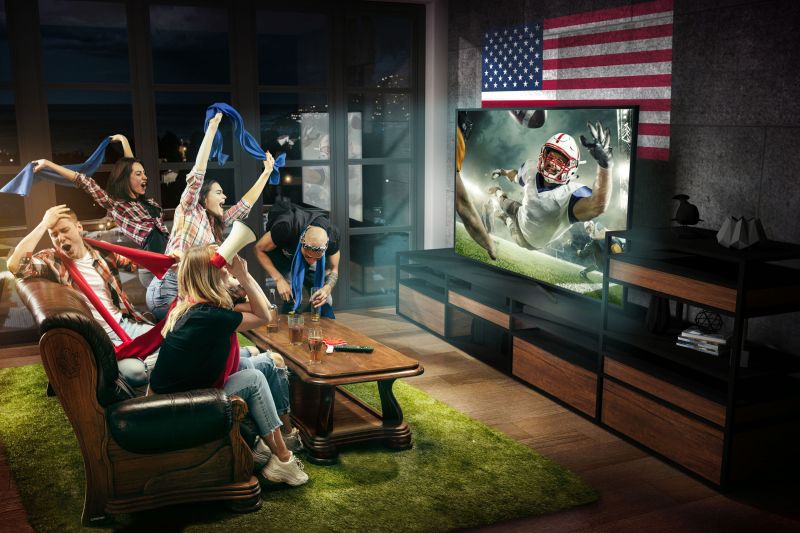 Are you ready for some football? Then you'd better get out your wallet.
It might still be spring, but if you're an NFL fan and want to catch all the games, you might want to start planning now for the start of the 2023-2024 season, which officially kicks off on Sept. 7. That's because there's been some big changes in how to access NFL Sunday Ticket, the subscription package that allows subscribers to watch all out-of-market regular season Sunday afternoon NFL games.
Beginning with the 2023-2024 season, DirecTV, the source for NFL Sunday Ticket since the platform's launch in 1994, will no longer be the place to turn if you want to catch all the Sunday action. DirecTV has been the only way to access NFL Sunday Ticket going back to the days when you could only watch games if you subscribed to their satellite service (streaming platforms have since been added). However, DirecTV decided not to pursue its contract with the National Football League when it expired at the end of last season.
Now, the ball is passing to Google's YouTube, with a $2-billion deal giving the streaming service rights to be the sole provider of NFL Sunday Ticket for the next seven years. NFL Sunday Ticket subscription packages will be offered as an add-on for subscribers to YouTube TV, or as a stand-alone option through YouTube Primetime Channels. Viewers will be able to watch the games on smart TVs, and web, mobile, and tablet devices that support YouTube or YouTube TV. As with DirecTV, NFL Sunday Ticket will include all out-of-market Sunday games (games not available on networks in the subscriber's local viewing area) that air on Fox and CBS.

What watching this NFL season will cost you
If you're a football fan, you might want to act soon on subscribing, as "pre-season" pricing for NFL Sunday Ticket is available now for a limited time. Through June 6, YouTube TV subscribers with a Base Plan can purchase NFL Sunday Ticket as an add-on for $249, or $289 also including NFL RedZone, a live Sunday broadcast that focuses on games where the offense is inside the 20-yard line so you don't miss any touchdowns.
After June 6, prices for YouTube TV subscribers will go up $100 to $349 for NFL Sunday Ticket, or $389 for the package with NFL RedZone. If you subscribe to YouTube's Base Plan ($72.99 a month plus tax), you will also have access to more than 100 live channels, including local and nationally televised network games.
There's also an option to order NFL Sunday Ticket a la carte through YouTube Primetime Channels, which allows viewers to watch TV shows, sports, and movies through streaming services like Showtime, Starz, and NBA League Pass. If you subscribe before June 6, NFL Sunday Ticket via Primetime Channels will cost you $349, or $389 with NFL RedZone. After that, either subscription will set you back an additional $100. If you want to buy NFL Sunday Ticket through Primetime Channels, you can do so in several places across YouTube including the Movies & TV hub, NFL channel and watch page, and search results.

New viewing features for fans
YouTube is also ushering in some new features that NFL Sunday Ticket subscribers will likely appreciate. YouTube TV members will be able to access a new multi-view feature that allows viewing of up to four games at once, unlimited DVR storage, personalized recommendations, the ability to view key plays, NFL Fantasy data, real-time stats, and hide spoilers. If you sign up through YouTube Primetime Channels, you'll also be able to access multi-view and key plays features, along with seeing NFL games featured prominently in your feed for quick access. Social features that YouTube is known for, such as chats and polls, will also be available to all users.
If you decide to splurge for NFL Sunday Ticket, there are some important things to note. First, whether you subscribe through YouTube TV or Primetime Channels, you won't be able to watch games on more than two screens at once—so if you planned on password sharing with the family, you'll be out of luck on that front. And, as when NFL Sunday Ticket was on DirecTV, the subscription will only allow you to watch Sunday afternoon games broadcast on Fox or CBS that are outside of the network games broadcast in your local viewing area.
NFL Sunday Ticket also doesn't include access to popular Sunday, Thursday, or Monday night matchups. Thursday Night NFL Football games are available exclusively on Amazon Prime Video, and for that you'll need either an ($14.99 a month or $139 a year) or ($8.99 a month). And, if you want to watch Monday Night Football, you'll need to be able to access ESPN, the exclusive home of Monday night games, through a cable, satellite, or subscription streaming service. Sunday night games, meanwhile, air for free on NBC and Peacock streaming service.
So, if you live and breathe the NFL, you might want to make a viewing plan in advance to ensure you don't miss out on any of the live action from the opening kickoff to the last down of the Super Bowl.
Editors' Recommendations