When it comes to culinary destinations, there are plenty in the world to choose from. You can head to Rome, Tokyo, New York – really, by visiting any major city, you're granting yourself access to a bounty of chefs and likeminded, food-forward individuals. But what do you do when you want those sorts of bounties without the stressors that come with big city life? You go to the Cayman Islands.
The Cayman Islands, a collection of three islands (Grand Cayman, Little Cayman, and Cayman Brac) located south of Cuba in the western part of the Caribbean sea, have been slowly making a name for themselves on the global level for more than just their scuba diving, snorkeling, and beach-sitting opportunities. Those are all there — and those are all definitely things you should be doing while visiting — but you might be surprised by the level of cuisine that you'll be dining on. Whether you're looking for fresh-caught fish cooked just yards from where it was brought to shore, farm-to-table explorations of the bounty of fruits and vegetables available to locals, or a high-end meal that combines the best of various cuisines, the food and drink scene of the Cayman Islands (Grand Cayman, specifically) is ready to serve you.
With so much to choose from in a relatively small space, we suggest making a trip that coincides with one of the major festivals on the island, which we discuss below.
Eating
Agua
There is what may to some, a surprising amount of Italian cuisine on Grand Cayman. One of the standouts is Agua, which recently moved into a new location in the heart of Camana Bay (the waterfront town which features many of the upscale shops and restaurants on the island). In a fresh, lively environment, you'll find classic Italian dishes — if those dishes went on a Caribbean vacation. Cayman-style ceviche is served along with beef carpaccio. For the main course, you're just as likely to see a catch of the day as you would lamb Bolognese.
Cracked Conch Macabuca
The premier oceanfront Tiki bar-cum-upscale restaurant on Grand Cayman, Cracked Conch Macabuca exists to serve the best of multiple worlds. If you're looking for cold drinks, good bar food (such as conch fritters), and a beautiful sunset, you stay at Macabuca. If you're looking for global cuisine with a Caribbean flare (such as their Garlic Wild Shrimp with kedgeree rice, sweet peppers, lemon crème fraiche, and coconut bacon), then you head up the stairs to Cracked Conch.
Cayman Cabana
With a total area of only 102 square miles (Grand Cayman is 75 of those square miles), farm-to-table dining might not be the first thing to come to mind, but owners of Cayman Cabana, Luigi and Christina Moxam, are trying to change that. They work to source as much of their ingredients as possible from the island in addition to running "Farm-to-Table Thursdays," a weekly family-style dinner that showcases the bounties of the island and the surrounding waters.
Drinking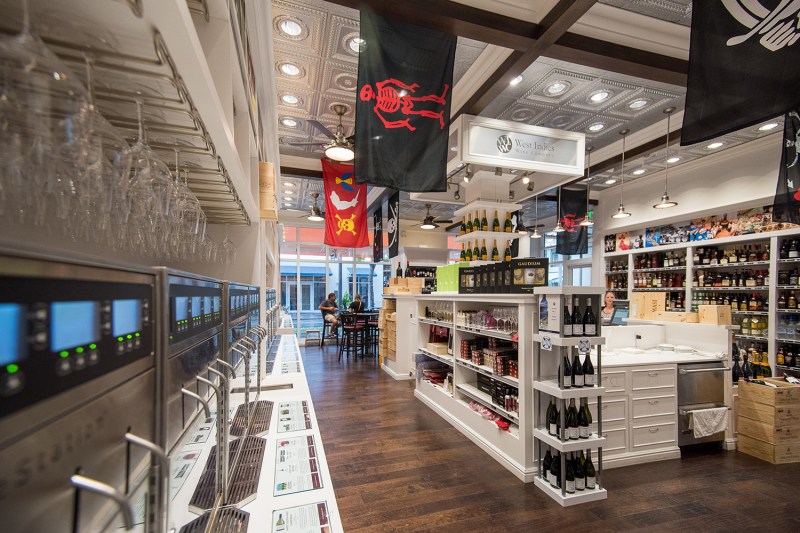 You can get high-quality cocktails or other drinks at many of the establishments above, but the Cayman Islands is also home to one of the largest wine stores in the Caribbean, as well as a number of alcohol-producing establishments.
West Indies Wine Company
Located in the town center of Camana Bay, the West Indies Wine Company is the place to go when you're looking for a good glass of vino. Why? Because they've got one of the largest selection in the Caribbean. What's even better is that WIWC also serves 80 wines by the glass, all of which are on tap for you to pour yourself. Unsure of a glass? Get a small pour. Want to go to town on some Sauv Blanc? You can pour glass after glass to your heart's content.
Cayman Islands Brewery
The larger of two breweries on the island (the smaller being the 1981 Brewing Company), Cayman Islands Brewery produces beers perfectly suited to the Caymanian climate. You won't find super hoppy IPAs or double barrel-aged porter-gose hybrids here. Instead, you'll find good, clean, easy-drinking beer. Why would you want something other than that when you're sitting on a beach with the tide coming in and the sun slowly crisping your skin? Caybrew, a lager, is the brewery's flagship, but you can also find an IPA, a mango wheat, a bock, and more available around the islands.
Cayman Spirits Company
If you're looking to get your fix on local liquors (perhaps to make some Cayman Boilermakers), Cayman Spirits Company is the place to go. While Seven Fathoms and Governor's Reserve rums are perhaps their most popular products (again, it's the Caribbean, what would you expect?), CSC also produces a range of other products complement the island lifestyle. A vodka, numerous liqueurs, and even gins are all available at their tasting room.
Events
To add to the bustling food and drink scene, Grand Cayman also hosts three major food and drink-related events every year: Cayman Cookout, Taste of Cayman, and Cayman Cocktail Week, which (more or less) bookend the year for culinary Caymanians.
Cayman Cookout
Hosted by famed chef Eric Ripert, Cayman Cookout is the premier culinary event on the island. Every January, chefs, wine and spirits experts, and others in the culinary who's who gather together for a five-day festival dedicated to celebrating the bounty of talent and good food on the island. If you can think of a famous chef, chances are they are participating this year or have in the past. Anthony Bourdain was a common guest; some key names from the 2019 lineup include Emeril Lagasse and one of the men who seem to single-handedly be helping everyone in need in the world, Jose Andrés. From cooking demonstrations to beach bashes, there is a wide variety of events for participants to engage in.
When: January 16-20, 2019
Taste of Cayman
Occurring less than a week after Cayman Cookout in 2019, Taste of Cayman is a festival that celebrates all things edible and Caymanian. In its 31st year, the festival features local Heavy Cake and mixology competitions, and a wide variety of vendors from around the island. If you're looking to see what Cayman cuisine is like in a nutshell, this event is it.
When: January 26, 2019
Cayman Cocktail Week
Cayman Cocktail Week is the yin to Cayman Cookout's yang — this celebration centers of all things sip-worthy. Whether it's industry legends coming in to do intimate tastings of their spirits, cocktail pairing dinners, or any number of happy hours around the island, the weeklong celebration is a great way to see what's being shaken and stirred on Grand Cayman. Cayman Cocktail Week also allows you to see what the local chefs are cooking up, as many work with their bar staff to produce special menus throughout the week.
When: October 19-26, 2019
Editors' Recommendations