CBD's hot streak shows no signs of cooling down any time soon, as shown by the eagerness with which consumers snap up products containing this cannabis compound. The benefits of cannabidiol create a high demand for CBD products. This results in a somewhat flooded market, which can seem like a good problem to have, that is, until you're planning to buy a container of high-quality CBD gummies you can munch on, and you don't know where to start. Having been in this challenging position a few times myself, I thought it prudent to seek advice from the experts, and ten cannabis industry pros came through with recommendations for the best CBD gummies that are currently available on the market.
Looking for something else to consume? We've also rounded up the best CBD drinks and CBD snacks for you to consider.
Related Guides
Mendi CBD gummies
Many CBD users look to this substance for its pain-relieving properties, and account associate Kaulana Dilliner of Rebellious PR & Consulting in Portland, Oregon (a company that represents numerous CBD brands) considers Mendi CBD Gummies his go-to remedy for muscle aches. "I work out regularly, and I tend to get body pain often, so I use Mendi's CBD Gummies to help recover. They immediately take away my pain overnight, and I feel fresh & new by the next morning. They're also great for sleep, so if you have trouble sleeping, pop one into your mouth, and you'll fall asleep instantly," Dilliner tells us.
Kurativ CBD/CBG gummies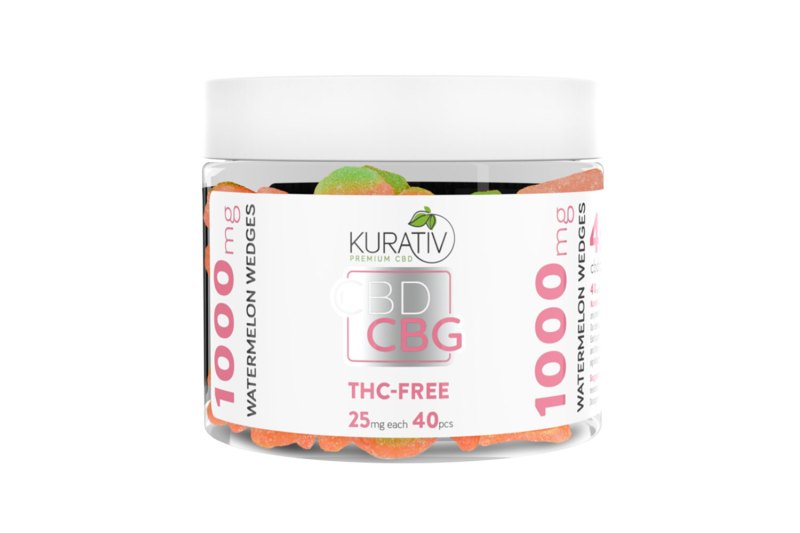 Containing both CBD and CBG, another cannabinoid compound that shows evidence of therapeutic benefits in early trials, Kurativ gummies offer a well-balanced effect. They are an easy gummy to integrate into your lifestyle. "I like Kurativ's CBD/CBG blend in gummy form. The candies themselves are easy to eat (almost too enjoyable!) and have the right amount of softness that I like; I don't like gummy candies to be too tough to chew, and these have a smooth texture and nice flavor. Plus, I like that they are sure to have CBG in there as well. The milligrams-per-servings is easy [to handle], and they fit right into my routine," says CBD writer Stephanie Johnson of Since Day 3.
Wyld CBD gummies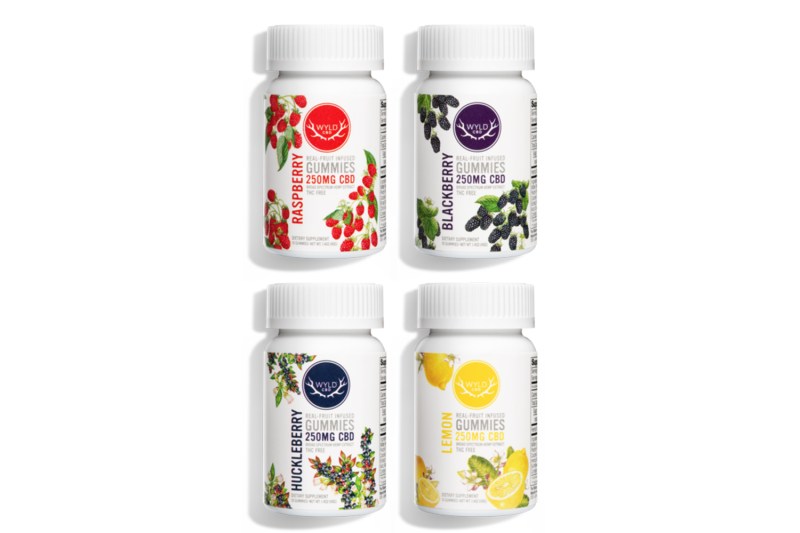 CBD expert and founder Caleb Chen of The Highest Critic opts for Wyld CBD Gummies largely due to the variety of flavors and the overall quality of this product. "I like Wyld CBD's line of gummies because they break away from the monotony with delicious flavors and an eye-popping form factor. Their CBD gummies are not run-of-the-mill flavors — blackberry, raspberry, and even huckleberry — as well as a classic lemon flavor, and they are truly delicious and productive," Chen explains. You can grab a singular 500 mg bottle (20 gummies per bottle) or try the variety pack with all four flavors.
R+R Medicinals CBD Gummy Rings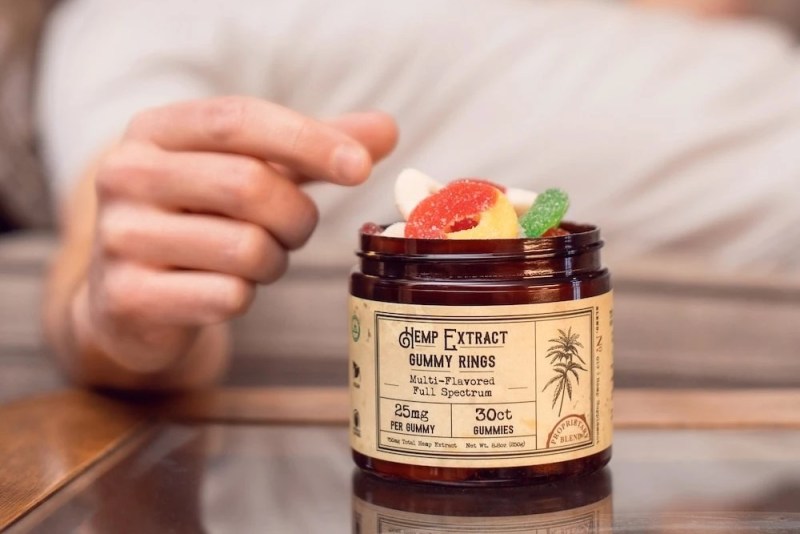 Amsterdam-based CBD expert Winston Peki, the founder of Herbonaut, likes CBD gummies that offer good value, solid potency, and low sugar content. In these categories, he ranks R+R Medicinals CBD Gummy Rings among the best, claiming that "They're one of the only CBD gummies that are a true full-spectrum product (besides CBD, they contain various hemp-derived cannabinoids and terpenes). This matters because other hemp-derived cannabinoids and terpenes are thought to make CBD more effective. Taking CBD as part of a full-spectrum hemp extract is the best way to experience the effects of CBD and produces fewer side effects. [Also], these gummies are the best value for money that you can get. For every $1, you get 15mg of full-spectrum hemp extract with 13-14 mg of CBD. And finally, these gummies have very low sugar content; they're vegan and have clean ingredients."
Plus gummies
Plu s Gummies creates CBD-THC blends (only available for purchase in California and Nevada) and a line of hemp-derived gummies, which can be purchased throughout the country. According to founder and cannabis expert Jamie Evans of The Herb Somm, Plus Gummies are a good buy for CBD newbies and regular users alike: "Bite-size and delicious, Plus Gummies are available in many different flavors and CBD: THC ratio blends. Plus also launched their hemp-derived CBD line last year, available in three different "effects": Balance, Uplift, and Sleep. I've tried both the cannabis line and the hemp line. Plus Gummies are effective and are blended with other healing ingredients to enhance therapeutic effects."
Venma Farms CBD gummies
"With 21mg of cannabidiol [per gummy], Verma Farms CBD Gummies are super tasty, high-quality CBD gummies that are gaining a lot of praise. My favorite flavor is Peachy Pau Hana, but they also come in other flavors, like Beary Beach, Blueberry Wave, or sweet and sour Wahoo Worms. They use USA-grown hemp, and the pack contains a total of 500mg of CBD, split into 20 gummies," says co-founder Marina Avramovic of CannabisOffers.com of her preferred gummy brand, which is available for purchase throughout the United States.
Kiva Midnight Blueberry Camino gummies
Like CBD, CBN (short for "cannabinol") is a cannabis compound that can have a relaxing effect on users, and many enthusiasts use this close cousin of CBD to help improve their sleep quality. If that's your goal, take the advice of public affairs director Spencer Andrews of the March and Ash cannabis retailer in San Diego and try Kiva Midnight Blueberry Camino Gummies. "The Midnight Blueberry Camino Gummies aid with sleep and use relaxing terpenes with a hint of chamomile and lavender for a soothing effect. Each gummy contains 1mg of CB, and can be ordered here," Andrews tells The Manual.
Kiva Confections is California-based and is only available in certain states. These gummies, in particular, are only available in Arizona or California.
Kanha CBD gummies
Antonio Frazierise is president of CannaSafe, a company that tests cannabis for effectiveness, quality, and safety, so he's a highly knowledgeable resource for CBD gummy intel. His top recommendation? "Kanha CBD Gummies are a great product. At CannaSafe, we tested the gummie,s and we found that they are formulated for precision and efficacy. You get a consistent dose and experience with this product."
Kanha CBD Gummies can be purchased at dispensaries throughout California, and you can find a full list of vendors here.
How do CBD gummies work?
CBD gummies work by delivering CBD to the bloodstream through the digestive system. CBD is a compound found in the cannabis plant with various potential health benefits. When you eat a CBD gummy, the CBD is absorbed into the bloodstream through the lining of the stomach and small intestine. The CBD then travels to the liver, where it is metabolized. The liver converts CBD into other compounds that can interact with the body's endocannabinoid system. The endocannabinoid system is a complex system of receptors and neurotransmitters that regulates various functions, including sleep, mood, and pain.
The effects of CBD gummies can vary depending on the individual and the dose of CBD. Some people may feel the effects of CBD gummies within minutes, while others may not feel the effects for up to an hour. The effects of CBD gummies can also vary depending on the CBD form used. For example, CBD gummies that contain CBD isolate may have different effects than CBD gummies that contain full-spectrum CBD.
CBD gummies are a convenient and easy way to take CBD. They are also a good option for people who do not like the taste of CBD oil or tinctures. However, it is important to note that CBD gummies can be expensive.
Here are some of the factors that can affect how CBD gummies work:
The dose of CBD: The amount of CBD in the gummy will affect the effects' strength.
The form of CBD: CBD in the gummy can also affect how it is absorbed and metabolized by the body.
The individual's metabolism: The individual's metabolism will also affect how quickly the CBD is absorbed and metabolized.
The individual's body chemistry: The individual's body chemistry can also affect how CBD interacts with the endocannabinoid system.
If you are considering CBD gummies, it is important to talk to your doctor first. CBD can interact with some medications, so it is important to ensure that it is safe to use. It would be best to start with a low dose and gradually increase it until you find the best amount for you.
Editors' Recommendations