Thanksgiving is here, whether you like it or not. We've set you up with Thanksgiving cocktails and wine recommendations, so at least you've got that going for you. We've even offered some alternatives to roast turkey and a how-to on cranberry sauce. But what of all the leftovers you're likely to be wrapping in tin foil at the end of the night?
First and foremost, reheat things until you grow tired of them. Things like turkey and stuffing and so many of the sides just seem to get better over the course of the week, flavors melding with the added time. Also, check in on your neighbors. Not all of us have access to giant feasts. Put together a few plates of leftovers for the old-timer next door living on his own or the person across the street coming off an injury and unable to cook. It's the thing to do.
But after all that, if you still have some leftovers kicking around, we've got a few ideas for you.
The Bird
There are many things you can do with leftover turkey. A great option is to shred up the leftover meat and use it in nachos. You can even incorporate stuffing in place of other filler, like beans and guacamole. You can swap in some crunchy bread in place of tortilla chips if you like. Also, if tortillas are your thing, make tacos out of your leftovers, utilizing like-minded sides like sweet potatoes, roasted vegetables, meat, and more. In place of salsa, add a little cranberry sauce or simply sprinkle some fresh pomegranate seeds over the top. If you feel like something at least a tad on the healthy side, use the meat in a salad. It accompanies a Caesar perfectly and can also take the place of bacon in a good old-fashioned Cobb.
Once you're down to just the skeleton, make use of that too. Make stock and keep that flavorful juice on hand for future soups or other cooking. You can freeze it practically forever.
Creamy Leftover Turkey and Rice Soup
This Martha Stewart recipe is ideal for dealing flavorfully with some leftover turkey.
Ingredients:
Method:
In a medium pot, bring stock and 2 cups water to a simmer over medium-high heat; add leeks and season with salt and pepper. Reduce heat to medium; simmer until tender, about 8 minutes.
In a small heatproof bowl, whisk together egg yolks and lemon juice. Slowly whisk in 1 cup stock mixture, then gradually stir back into soup. Cook over medium-low heat, stirring, until creamy, 4 to 5 minutes. Stir in turkey and rice; continue cooking until warmed through, 1 to 2 minutes. Season to taste. Serve with dill, more pepper, a drizzle of oil, and lemon wedges.
Starch and Vegetables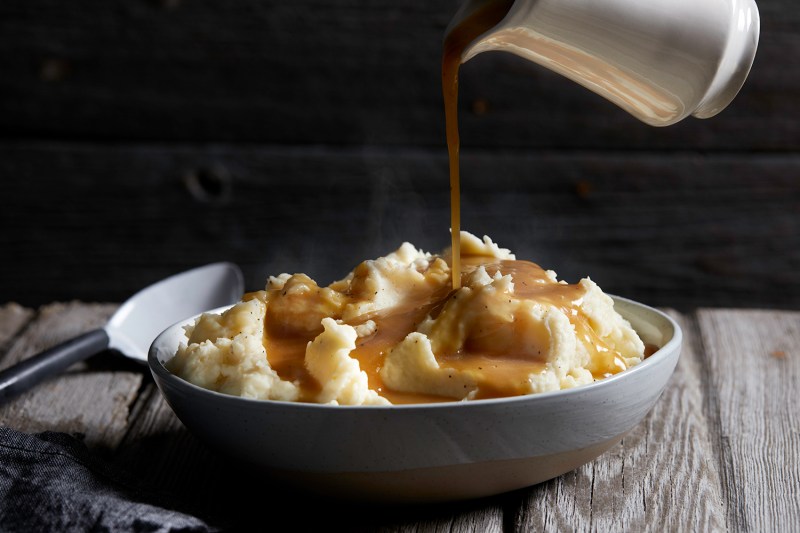 There's a good chance you'll have a mountain of mashed potatoes on your table. Put the remainder to use as mashed potato pizza. All you need is some pizza dough (frozen is fine) and shredded cheese. Plug the potatoes in place of tomato sauce (and add more garlic if you like that sort of thing) and sprinkle some cheddar on top. Trick it out if you wish, with additions like caramelized onion, green onion, creme fraiche, or bacon bits. You can do the same with your leftover vegetables too, just cut them up into bite-sized pieces before you apply them to a pie. Get inventive with the sauce here, trying everything from good hummus to leftover stuffing.
Sweet potato is perhaps the most versatile of the common Thanksgiving dishes. Use it as the main event for some quesadillas and treat it to a little cumin and salt and pepper. For a relatively healthy and easy-to-make lunch, mix it up with some garbanzo beans and spinach in a garden-fresh, highly autumnal bowl. If you're feeling a little more gluttonous, throw some mac and cheese in too for some added richness. We especially like the following pasta recipe courtesy of Food 52.
Sweet Potato Gnocchi
By Posie (Harwood) Brien and Food52
You don't need much to reinvent sweet potato Italian style, just a little good cheese, really. Throw in some greens for good measure to round it all out.
Ingredients:
1 

large sweet potato (about 1 pound)

1 cup 

whole-milk ricotta cheese
1/3 cup freshly grated Parmesan, plus more for serving

1 teaspoon 

salt

1¼ cups

all-purpose flour
Method:
Prick the sweet potato all over with a fork, wrap in a damp paper towel, and microwave until soft (about 7 minutes).
Line a baking sheet with parchment paper.
Scoop out the flesh of the potato and add it to a large bowl. Add the ricotta, Parmesan, and salt and mix until smooth. Add the flour, a little at a time, stirring and then kneading until the dough just comes together — don't overwork the dough as you want it to stay light.
Once the dough comes together, divide it into 6 equal pieces. Roll each piece into a long rope, about 1-inch in diameter. (Dust with more flour as needed to keep it from sticking.) Using a sharp knife, cut the rope into 1″ pieces and transfer the pieces onto the parchment-lined sheet,
At this point, you can either freeze the gnocchi to make later (this is such a good idea for weeknight dinners!) or cook them right away. To cook, bring a large pot of salted water to a boil. Drop in the gnocchi and cook for about 2 to 5 minutes, or until they're tender and they float to the surface of the water. Transfer the gnocchi carefully (they're very delicate and can fall apart easily) to the parchment-lined sheet again.
Serve hot with more Parmesan and some cracked pepper and butter. I like to toss mine with a simple garlic sage brown butter sauce (melt butter until it smells nutty, add some sage and minced garlic, and cook briefly) and sautéed greens or broccoli rabe and cheese.
Gravy
A great way to reincorporate gravy is by way of breakfast. Warm it up and serve alongside some biscuits for a filling and satisfying morning meal. Or, go English breakfast and throw in some beans, toast, and baked tomato in the mix too, all of which dip into gravy quite nicely. For meals later in the day, have at the ready for a good slow-cooker dish like meatloaf. Alternatively, use it to thicken savory sauces or drizzle atop meatballs.
Another thing gravy can instantly upgrade is polenta. It'll afford some meaty flavors and in turn allow the polenta to function as the main course, best with some arugula on the side or the rest of your leftover vegetable spread. If nothing else set some aside for poutine. We all know how great gravy can be in the company of French fries.
Pumpkin Pie Milkshake
(Created by Fitz Bailey)
Got leftover pie? Turn it into a boozy milkshake with the following recipe.
Ingredients:
1.5 ounces Coopers' Craft Bourbon
8 ounces vanilla ice cream
1 slice of pumpkin pie
Coopers' Craft Bourbon Whipped Cream*
*Coopers' Craft Whipped Cream: Add 2 tbsp powdered sugar to chilled bowl, pour in 8 ounces heavy cream, and beat until stiff peaks form. Slowly add 5 ounces of bourbon and continue beating for 30 seconds.
Method:
Add ice cream, bourbon, and a slice of pie to blender; blend until smooth and pour into desired glass. Garnish with sprinkled cinnamon and cinnamon stick.
Editors' Recommendations