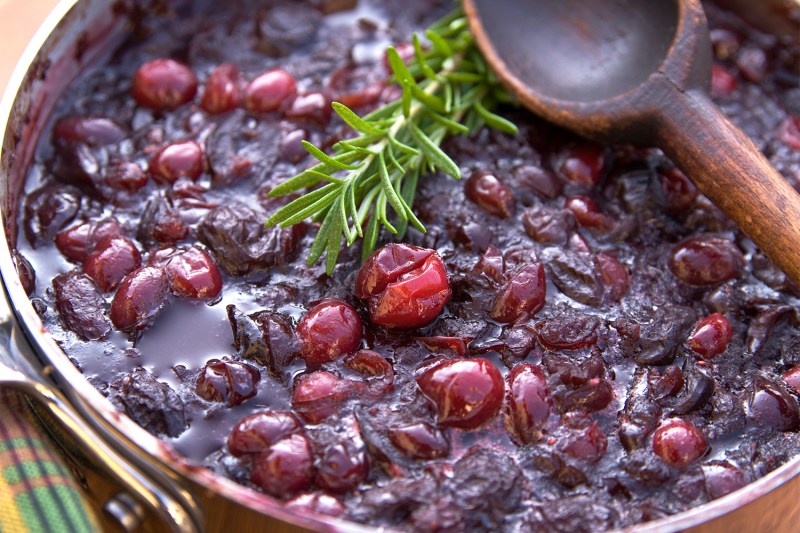 It's cranberry sauce season, people. No, not the still-jiggling stuff you plopped out of a can onto a plate. We're talking real, honest-to-God homemade cranberry sauce made from scratch—by you. It can be done, and it's much easier than you think. Frankly, the cranberries just want to be themselves. You're really just around to nail the consistency and add some enhancements, like citrus or cider vinegar.
Related Reading
Your first inclination should definitely be to spread this stuff on turkey. But cranberry sauce can be used for a variety of other things as well, from a granola or pastry topping with your morning breakfast to a crostini topper with cheese or alongside beef kabobs. It's even great in a lot of salads.
Below are recipes for cranberry sauce, as well as sibling sauces like Wojape and marmalade are great for leftovers. Keep 'em handy as Thanksgiving approaches. And if you're really feeling saucy, sprinkle in some equally vibrant red fruit like pomegranate seeds. It'll complement the flavors and give you culinary presentation points.
Orange-Maple Cranberry Sauce
By Ellie Krieger from Fine Cooking, image by Scott Phillips
We've tried many cranberry sauces but this one from Fine Cooking is tough to top. It's beautifully tart and rounded out by the syrup. Better, it's given another dimension thanks to some zesty citrus.
Ingredients:
3 cups of cranberries (fresh is great but frozen will do)
1 cup pure maple sugar
1 medium orange, grated to yield 1 tsp zest and 1/3 cup juice
Directions:
 Combine the cranberries, maple syrup, and orange juice in a 3-quart saucepan and bring to a boil over medium-high heat.
Reduce the heat to medium-low and simmer, stirring occasionally, just until the cranberries burst, about 5 minutes.
Remove from heat, stir in zest, and let cool to room temperature, about 1 hour. The sauce will thicken as it cools.
Wojape Recipe
By Sean Sherman and Beth Dooley, photo by Nancy Bundt; James Beard Foundation
This indigenous American recipe can utilize pretty much any kind of wild berry and it works particularly well with cranberries. This particular version is borrowed from The Sioux Chef's Indigenous Kitchen via the James Beard Foundation.
Ingredients:
6 cups fresh cranberries
1.5 cups water
Honey or maple syrup to taste
Directions:
Put the berries and water in a saucepan and set over low heat.
Bring to a simmer and cook, stirring occasionally, until the mixture is thick.
Taste and season the sauce with honey or maple syrup as desired.
Red Onion-Cranberry Marmalade
By Thomas Keller via Ad Hoc Cookbook
This recipe from renowned chef Thomas Keller is just what you need with a fridge full of extra turkey. Keller recommends squeezing a little fresh lemon juice over the marmalade before serving.
Ingredients:
.25 cup canola oil
3 cups diced red onions
1 cup chopped dried cranberries
3 cups apple juice
.5 cup apple cider vinegar
.5 cup packed dark brown sugar
.5 cup granulated sugar
1 tbsp apple pectin
1 tbsp grated orange zest (to taste)
Fresh lemon juice
Directions:
Heat the oil in a large saucepan over low heat. Add the red onions and cook very slowly for about 30 minutes, until the onions have softened but not colored.
Add the cranberries and cook for 5 minutes. Stir in the apple juice and cider vinegar.
Combine both sugar and pectin in small bowl, mixing well so that the pectin will dissolve smoothly, and add to the pan, along with orange zest. Bring to a simmer and cook until the marmalade reaches 215 degrees F.
Transfer the marmalade to a canning jar or other storage container, cover and let cool, then refrigerate up to 3 months.
Editors' Recommendations