Sneaker culture has grown side-by-side with the emergence of millennial culture — so much that the resale value alone for coveted shoes from a dizzying array of brands has topped $1 billion, according to multiple research firms.
A new book serves as an encyclopedia of the top influential designers, executives, resellers, and enthusiasts that have built the industry and are taking it into the next generation. Sneakers (Razorbill/Penguin Random House) proves to be a well-researched and captivating look at the ethos of sneakers and the stories behind the stories of a world that exists somewhere between the underground and the local mall.
Authors Howie Kahn, Alex French, and designer Rodrigo Corral start the book by noting they wanted to take an objective look at sneakers as more of an idea than a product. A few months in, they saw their objectivity transform to obsession over the latest releases and those that built them. "Get close and the sneakers will always win," they write.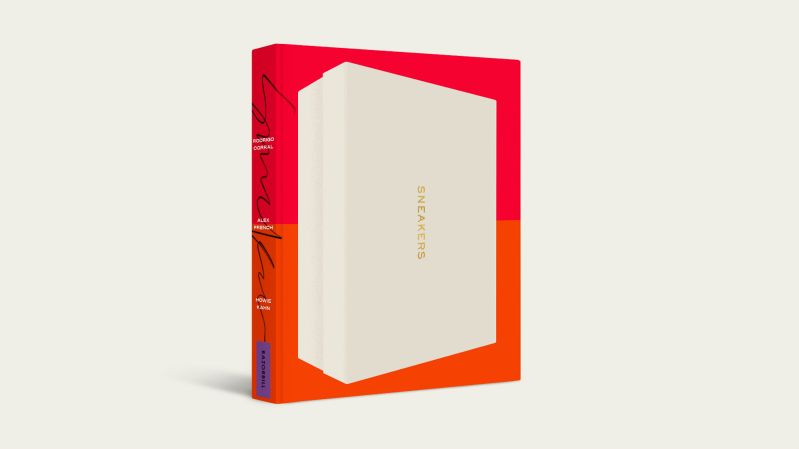 The fact that this book can exist is a testament to that fact. The next 320 pages are revelatory and examine case studies of dozens of people who have turned their passion into a business.
Creator of Sneaker News and co-creator of Sneaker Con Yu-Ming Wu discusses how he began buying shoes one pair at a time. The collecting habit eventually grew from there. His site became a source for news on the releases and collaborations, then developed into Sneaker Con (which is exactly what it sounds like: a home-away-from home for sneaker heads willing to shell out big bucks for their prized footwear).
His story echoes plenty of others, and each is told in a timely progression of sorts. Hypebeast founder Kevin Ma notes how his site was following culture for a number of years before becoming one of the defining digital tastemakers. He also notes how difficult it is to stay on top of this crowded market: "This culture doesn't sleep," he says.
The book's highlight may be the long read about Nike's Doernbecher Freestyle Program, in which kids in treatment at hospitals design shoes that go up for auction; all proceeds going back to the institution. The power of using sneaker culture for good is an inspirational read and marks a transition towards secondary players in the latter half of Sneakers.
British designer Daniel Bailey, who has worked on shoes for NASA among several other big names, is one of the people who will likely lead this culture into its next wave. He makes an interesting point about the crowded market and the continued thirst by its drivers.
"Sneakerheads are really doing themselves a disservice if they don't just give newer brands a chance," Bailey says. And he's right. Much of the discussion in this book revolves around Adidas and Nike, which is fair, but the future is in smaller companies who can put out more variety and newer standard models.
Former Wieden + Kennedy creative director John C. Jay helped drive Nike's evolution into art and culture, and perhaps built a large piece of sneaker culture along with it. For someone that's seen it from the start, his thought that the art has become too cluttered and has strayed too far from its roots is a solid take as well.
Sneakers was obviously developed in an authentic ethos of the culture. It seemingly tackles every side of the industry (good and bad), while illustrating why people would live their lives around a new release. As sneaker culture continues to evolve, this book can be used as a marker to see how far it reaches beyond footwear. The lines at streetwear stores around the country for the latest release (shoe, shirt, wallet, whatever) prove that the buying power and prominence of this market isn't going anywhere yet.
Editors' Recommendations