If you're a fan of diving and American special forces units, then it's time to celebrate. Panerai has released its latest range of Navy SEALs dive watches, and they look good. Four new timepieces are available, though that availability is limited with three of the watches and extremely scarce with the fourth. The whole thing is part of a collaboration that started in 2022 and adds to the already wide range of luxury Panerai watches.
The most limited new watch in Panerai's Navy SEALs comes bundled with a chance to be miserable on a beach. If you're one of the 50 people who will ultimately spend $53,200 on the 47mm Submersible Chrono PAM01402, you'll get more than just the watch. The luxury timepiece comes with a matching travel pouch, an NFT, a collection of "artwork," and the chance to experience "Navy SEALs Training."
High-end watches do more than simply tell you the time. They function as a puzzle piece, telling part of your story to the world. The Navy SEALs experience may add to that, though it may be unfair to expect a very expensive "experience" to put its participants through an exact replica of a training regime that has an 80% dropout rate in real life. Curiously enough, similar, and similarly expensive, experiences exist if you want to get dunked in the sea and screamed at without tacking on a designer watch purchase.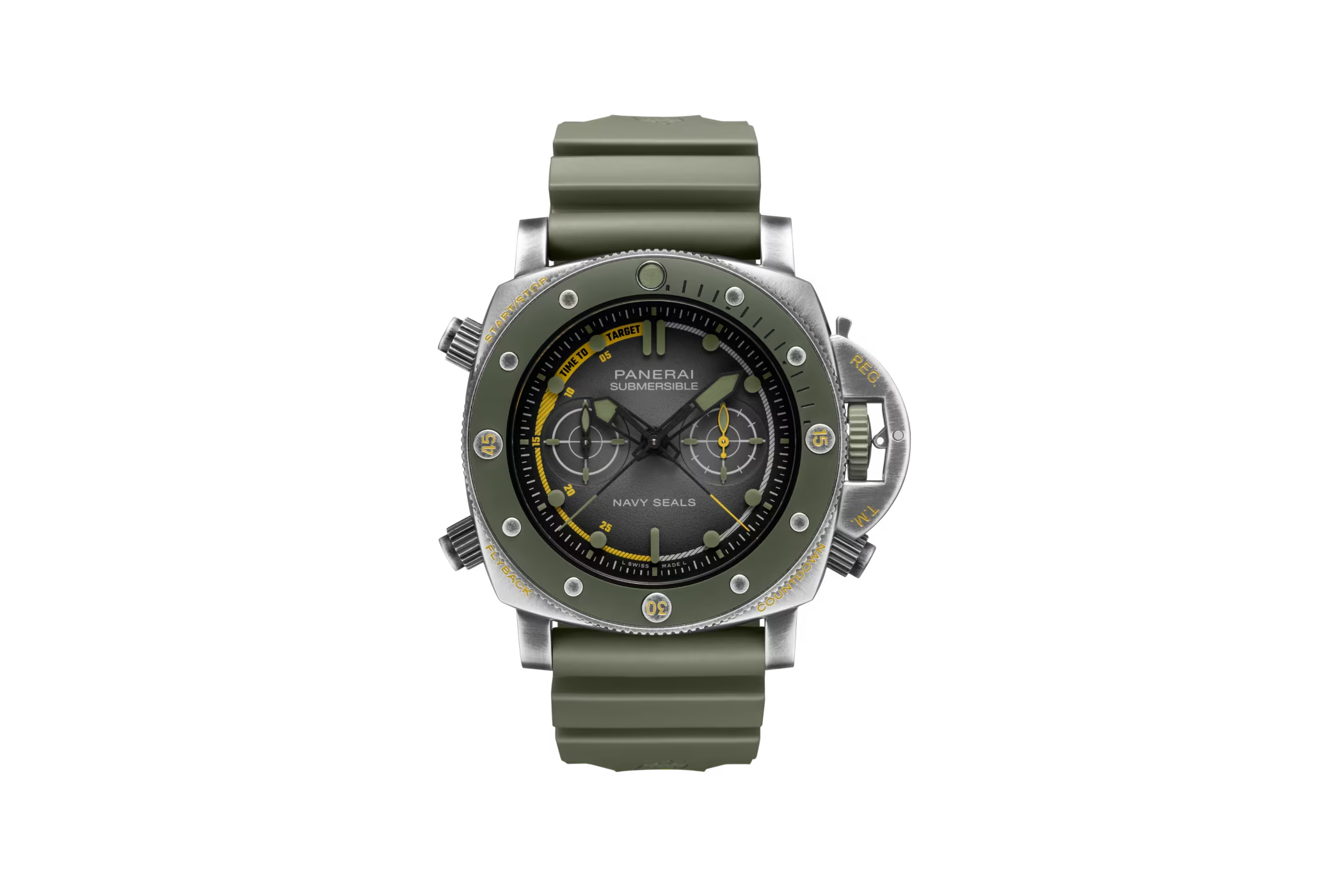 Exquisite details and high-end features
In addition to the SEALS experience, the $61,700 option will get you a spectacularly detailed watch with a P.9100/R movement at the heart of it. The militaristic styling includes a "time to target" countdown timer, 60 minute counter, a flyback function, and an impressive three-day power reserve which should keep the watch moving even if you're perfectly still for 72 hours. The crown is also heavily protected.
Opting not to go ultra-limited will cost you $17,900 for the Luminor Chrono Carbotech Navy SEALs. On the one hand, the carbon fiber case offers something unique. Your Panerai watch will be lighter and cased in a high-end, high-tech material. However, this does impact the functionality — limiting its operating depth to 100 meters. So if you dive beyond recreational depths, this may not be your best option. Only 462 Chrono Carbotech Navy SEALs watches will be made.
If you're looking for a cheaper option, the 44mm Luminor Chronograph in Brunito steel retails for $11,000 and is part of a limited run of 562 pieces. It comes with a P.9200 automatic caliber movement, a 42-hour power reserve, and a set of pretty standard chronograph features, including a tachymeter and two target-motif subdials.
The Luminor Marina PAM01412 is the "bottom rung" on the luxury ladder — retailing for $9,800 and limited to 862 pieces. As with the other watches, it features militaristic styling, the words "Navy SEALs" on the watch face, and an operating depth of more than 300 meters — which is just 30 meters above the current world record diving depth. Panerai's SEALs collection can be purchased in luxury boutiques and on the watchmaker's website.
Editors' Recommendations