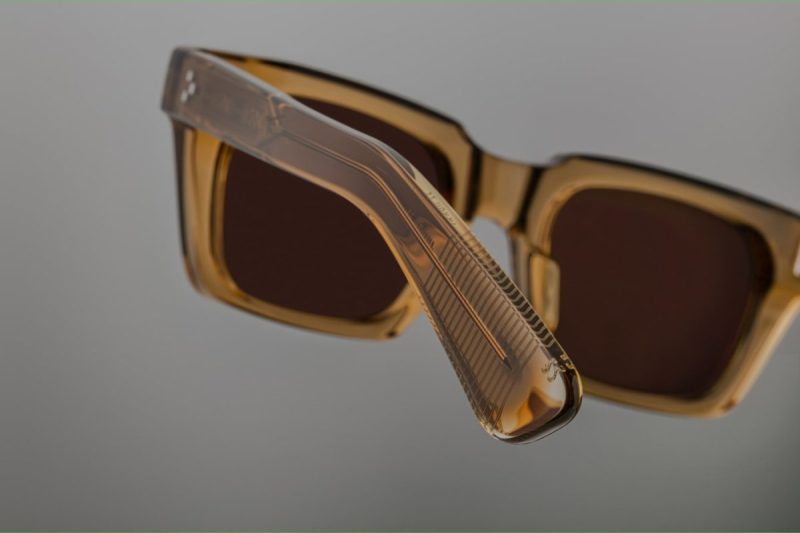 From Top Gun to Terminator to Breakfast at Tiffany's, there's a signature pair of sunglasses on the most famous characters. Some shades have become so popular, they're almost side characters themselves. Whether the frames were made for the role or just fit for the shot, our favorite scenes and the looks in them wouldn't be the same without the right shades, and the Los Angeles-based luxury brand Jacques Marie Mage has been partnering with films and celebrities to elevate their look since 2014 — like the shades Kendall Roy has worn on the latest season of Succession. Their newest collaboration will have us jump through a ring of fire to grab a pair.

The Johnny Cash connection
As one of the most influential musicians and best-selling artists of all time, Johnny Cash exuded cool confidence on stage. The multi-genre artist has a legacy that is as well-known as his struggles and antics, and his prison concerts resulted in some of the most famous live albums that helped him push past The Beatles in sales.
It was from those prison concerts — and his bad boy antics — that Jacques Marie Mage pulled inspiration for their collaboration with Johnny Cash.
The Quentin
One of Johnny's most famous prison gigs was at the San Quentin State Prison in 1969, and the album Johnny Cash at San Quentin went on to hit number one on both the country and pop charts. While Johnny himself wasn't wearing the shades behind the design, an inmate was. A picture was snapped, inspiration was brewed, and the Quentin glasses were born.
The Cash
Obviously, there had to be a pair created for the "Man in Black" himself. A candid photo of Johnny during his El Paso, Texas, arrest in 1965 was the perfect drawing board for the retro Cash specs. In this brush with the law, Johnny had 688 Dexedrine and 475 Equanil capsules (amphetamine and sedatives) and got off with a $1,500 bond, and he walked away wearing a pair of sunglasses you can now get your hands on.
Both pairs have rectangular frames, a retro feel, and a foil mark on the inside of the temple to complete that Cash look. If you want something a little less heavy on your face, Quentin is the way to go.
Films love Jacques Marie Mage frames
If you are as obsessed with Succession as everyone else is and have an eagle eye, you noticed Jeremy Strong's character Kendall Roy sporting the Fellini design in season three.
The Fellini's made another appearance in Creed III on the face of Damian Anderson, as played by Jonathan Majors.
You can't forget Brad Pitt's Jack Conrad rocking the Zephirin pair in the 2022 film Babylon.
Jeff Goldblum wouldn't be Jeff Goldblum without having Jacques Marie Mage creating a signature pair just for his character Dr. Ian Malcolm in the 2022 movie Jurassic Park: Dominion, which was aptly named "The Ian."
Celebs and other stars can't get enough
Not only seen in movies, but the most famous stars and celebrities have a pair in their personal wardrobe or have worked with Jacques Marie Mage to add a pair to their campaign.
Collaborations
The Stanley Kubrick Collection

The Velvet Underground

Lou Dillion
Celeb sightings
LeBron James

Usher

Paul Bettany

Austin Butler
While the price tag might make us mere mortals bug-eyed, when you take into account each pair of Jacques Marie Mage sunglasses is handmade in Japan through a 300-step process that takes around 100 people at least 18 months to complete, you get it. That's definitely the kind of rock 'n roll process Johnny Cash would walk the line for.
Editors' Recommendations