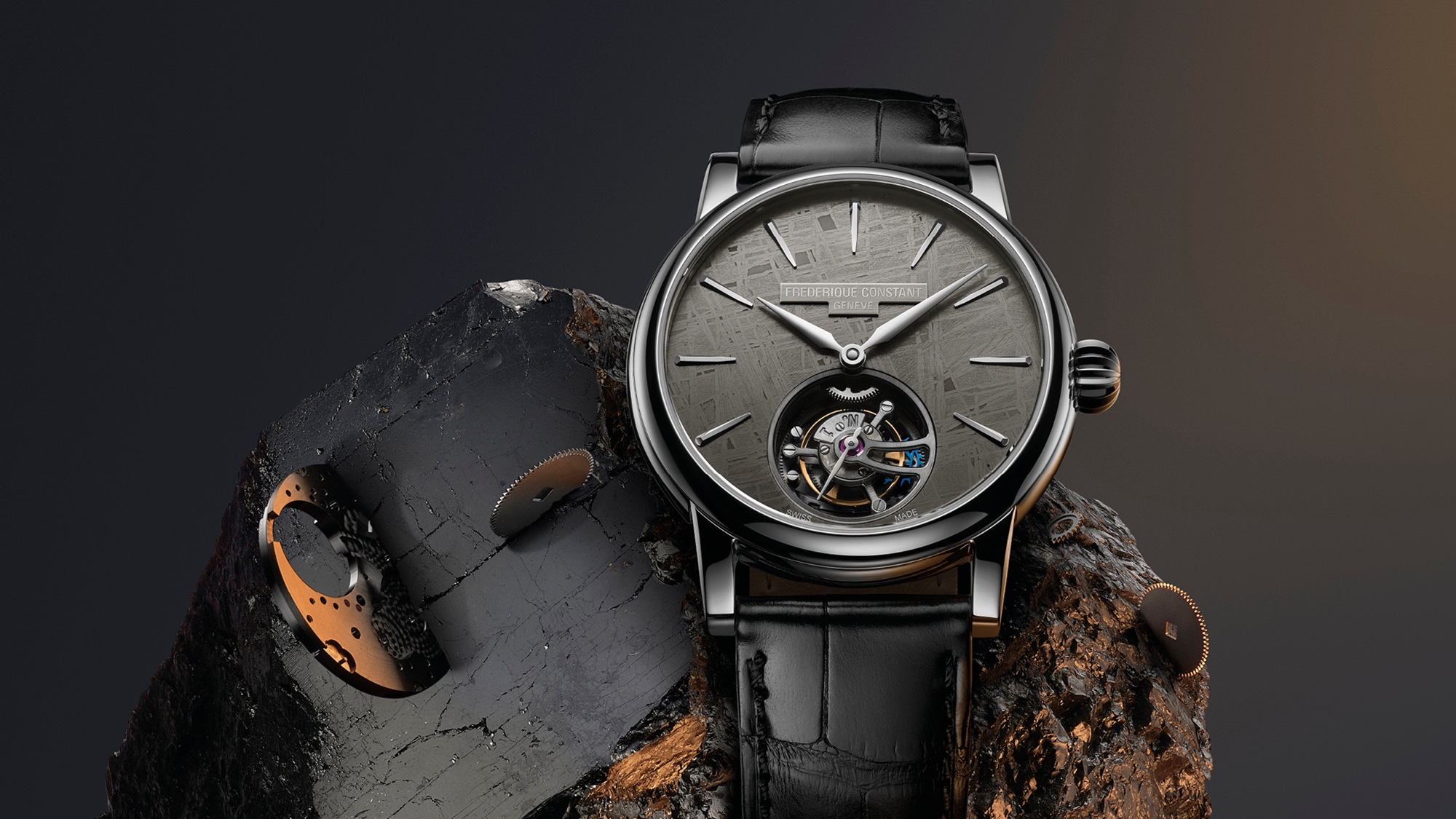 In the world of watches for men, there are brands, and then there's Frederique Constant. The Geneva-based manufacturer (and any fan of watches will know that Geneva watches are simply the best) has consistently pushed the boundaries of luxury watches, and its latest creation, the Frederique Constant Classic Tourbillon Meteorite Manufacture, takes the game to a whole new level. This watch is not just a time-telling accessory; it's a masterpiece that demands your attention.
First things first, let's talk about the star of the show: the meteorite dial. Yes, you heard that right. Frederique Constant has turned to the cosmos for inspiration, and it's a genius move. The dial of the Classic Tourbillon Meteorite Manufacture is crafted from a genuine meteorite, making each watch unique and one of a kind, as every meteorite varies slightly. It's not every day that you can strap a piece of the universe to your wrist, right?
This isn't just a marketing gimmick; it's a testament to Frederique Constant's commitment to crafting unique luxury watches. The meteorite used for the dial isn't just any hunk of space rock; it's a piece of the Gibeon meteorite that fell to Earth in Namibia, Africa, around 4.6 billion years ago. Yes, you read that correctly, billion with a 'b'. The Gibeon meteorite is known for its distinctive Widmanstätten patterns, a remarkable crystalline structure that forms when the meteorite cools slowly over eons.
The heart of the beast
Beneath the meteorite dial, there's a lot more to love about this watch. The Frederique Constant Classic Tourbillon Meteorite Manufacture is powered by an automatic movement, known as the FC-980. With a power reserve of 38 hours, this watch not only looks amazing but performs like a champ. It's not just a pretty face; it's a precision instrument.
One of the standout features of this watch is its mesmerizing 60-second tourbillon, a horological complication that never fails to captivate enthusiasts and showcases Frederique Constant's watchmaking prowess. It's like having a tiny mechanical ballet right on your wrist.
Materials matter
If you're going to make a statement, you might as well do it with platinum. The Classic Tourbillon Meteorite Manufacture is constructed with a platinum case that exudes luxury. At 39 mm in diameter and 10.99 mm thick, it's the perfect size for any discerning gentleman's wrist. The watch features a gray finish that complements the meteorite dial, creating a harmonious and captivating aesthetic.
As if the meteorite dial and platinum case weren't enough to turn heads, Frederique Constant pairs this watch with a black alligator leather strap. It comes with a folding buckle, ensuring the watch fits comfortably on your wrist.
But here's the kicker: The Frederique Constant Classic Tourbillon Meteorite Manufacture is not a watch for the masses. It's for the select few who truly appreciate the art of watchmaking. This timepiece is produced in an extremely limited edition of only 35 pieces, making it one of the most exclusive luxury watches on the market. If you manage to secure one of these, you're not just buying a watch; you're becoming part of an elite club of horological connoisseurs.
The final verdict
In the world of luxury watches, Frederique Constant watches have always been a name that commands respect, and with the Classic Tourbillon Meteorite Manufacture, they have elevated their game even further. While it's not an understated watch, it doesn't scream for attention either. It's the kind of timepiece that connoisseurs will recognize and appreciate. If you want a watch that's more than just a status symbol, the Frederique Constant Classic Tourbillon Meteorite Manufacture is the way to go. The Frederique Constant Classic Tourbillon Meteorite Manufacture comes with a price tag of $44,995.00, marking it as quite an investment.
Editors' Recommendations