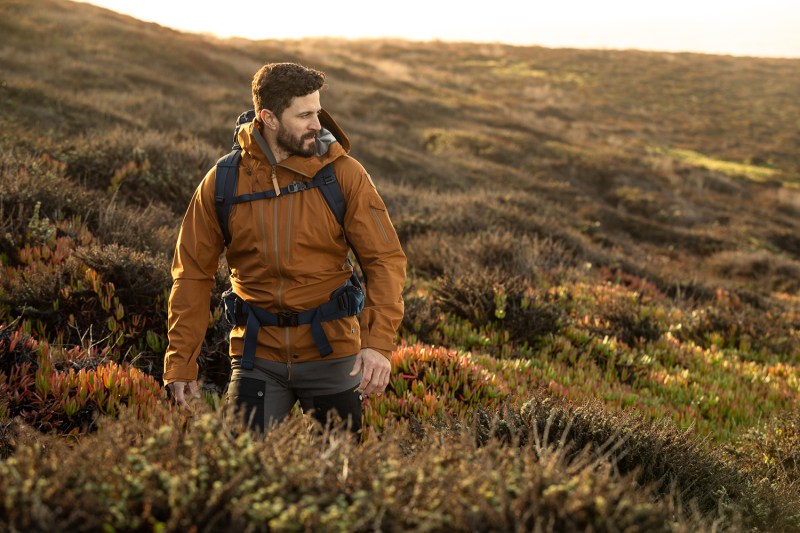 If you've ever made sugar cookies (and what guy hasn't), you know that with even the perfect spacing of the cutters, you're left with a few scraps. The same goes with thousands of yards of fabric, which Swedish outdoor outfitter Fjällräven goes through in any given month. But rather than just dumping them into the ocean like other companies (an exaggeration, but not far from the truth), the company has come up with an ingenious — and completely rad — means of repurposing them. Enter its new Samlaren line.
Translated as "the gatherer" in Swedish, Samlaren is a limited-edition capsule that includes longtime Fjällräven favorites like the Kånken and the Totepack as well as introduces new products like a Greenland jacket-inspired outerwear piece and a five-panel cap. The through line is that rather than cutting them from virgin fabric, all are comprised of remaindered scraps or deadstock fabrics, breathing new life into old materials. The result is distinct, multi-colored pieces from a company long known for its monochromatic offerings that carry an environmentally friendly backstory.
"It's a manifestation of having a pragmatic approach to resources, using what we have in the best way we can," said Henrik Andersson, Fjällräven's global creative director, in the release.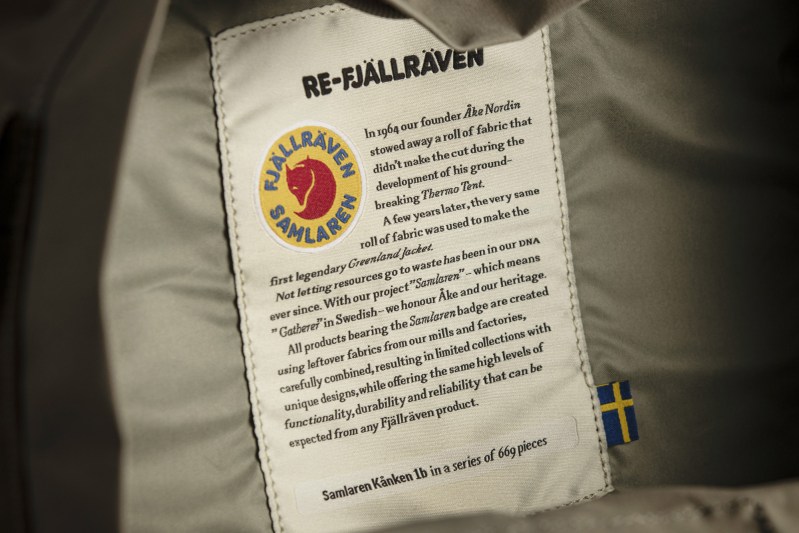 Despite only being weeks old, with an inaugural drop on March 1, the company has enough faith to pledge continued releases within the capsule in periods to be determined. While it hasn't committed to which styles will be released or adapted, nor the exact frequency, the one point it has emphasized is that this Samlaren concept is something it hopes to phase out over time through increased efficiency.
Related Guides
"If we become as efficient as we want to be in our product development we will not have any leftover materials to work with," said Christiane Dolva Törnberg, the company's head of sustainability. But she's quick to note that for the foreseeable future, Samlaren's source material is an unavoidable byproduct of even the most cutting-edge manufacturing. It's safe to say that the concept will extend through the coming years even as the company wishes to eliminate it over time.
Of course, even products made from repurposed materials aren't worth much if they fall apart at first wear. Fjällräven made its bones in durable outdoor clothing and equipment, and its G-1000 fabric is one of the original water resistant, breathable, and durable fabrics that performs year after year with only minimal maintenance. Despite their unorthodox appearance, every Samlaren piece has the same storied resilience as its normal line.
Founded in 1960, Fjällräven established its reputation through its products' durability. Ironically, that durability means that whatever waste it generates will remain in landfills longer than their peers'. With its new Samlaren concept, its legendary fabrics are more perfectly utilized, with fewer scraps moldering underground and instead getting dirty in the outdoors. But if through this effort, you can order a limited-edition piece that may never be re-created? That's something any guy, from hype beast to grizzled outdoorsman, can get behind.
Editors' Recommendations